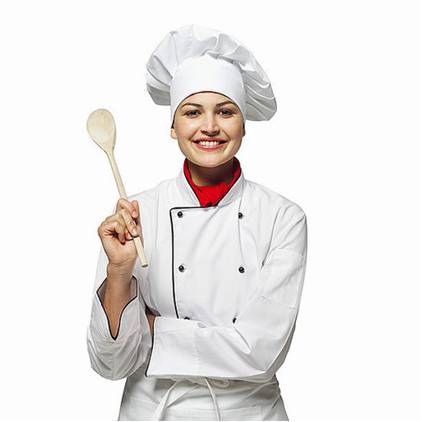 We all want to make our prep time in the kitchen efficient and having some cool kitchen gadgets to help along the way makes this possible.
There are the kitchen staples we use almost every day like knives, measuring cups and wooden spoons but we looked for the most useful kitchen gadgets that would help us do the job better, could be a unique gift for the home cook or chef and best of all would be under $20.00 to buy.
Here, in our opinion, are 10 of the coolest kitchen tools under $20.00 that made us wonder "why didn't we think of that!" These are in no particular order and equally weighted by us as the coolest.
1) Narrow Metal Measuring Spoons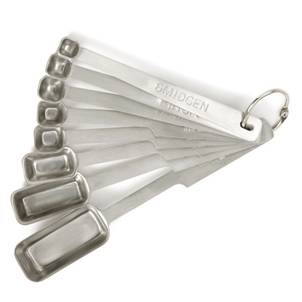 How many times do recipes call for a tablespoon, teaspoon or half teaspoon of some seasoning and your measuring spoons are too wide to fit in the standard spice bottle?
Having an inexpensive set of narrow measuring spoons solves that problem and the Norpro 8-piece Stainless Steel set has a few convenient features that make this set worth adding to your kitchen tool arsenal:
They include both standard and metric measurements
8 spoons have tablespoon, teaspoon, half teaspoon, 1/4 teaspoon, 1/8 teaspoon, dash, pinch and smidgen measurements
Completely dishwasher safe durable stainless steel construction
Bowl rims are level for accurate measuring
Extra long handles for easy gripping
2) Simmer Mat Heat Diffuser Cooking Mat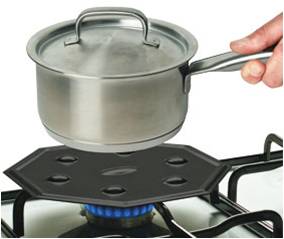 The original Simmer Mat is a heat diffusing plate that works on all types of cook tops from electric coil, gas burner, glass, induction, halogen to barbecue, camping and marine stoves.
It lets you control the temperature of your cooking surface, when simmering, to keep food from sticking or burning in pots, sauce pans, dutch ovens and roasters.
Foods that require a slow rolling boil like sauces, soups, stews, jams and sweets benefit from even heat distribution with a layer of protection between the bottom of your pan and the heat source.
It works with aluminum, glass, cast iron, ceramic, clay and steel cookware.
This 8-inch octagonal shaped unique kitchen gadget is made from high quality steel with a black ceramic finish. Simple to use, you just bring your dish to a low boil THEN add the ARIS Simmer Mat to your cooking surface — no need to preheat the mat.
3) Umbra Kitchen Food Strainer Rinse Bowl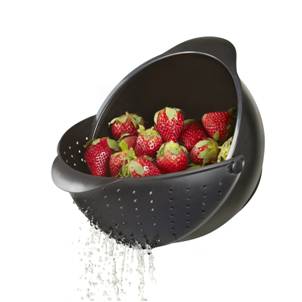 This rinse bowl kitchen strainer combo, made by Canadian designer Umbra, might look more like the helmet of a medieval knight but its handy hinged attached strainer rolls with you for more efficient prepping, cleaning and draining.
This is a food safe, BPA-free molded plastic bowl with an attached strainer that provides two kitchen essentials in one space saving package.
When the bowl is used for mixing, the integrated strainer slides easily out of the way.
It is easy to clean, top rack dishwasher safe and comes in a variety of colors to suit your kitchen decor.
This handy kitchen gadget measures a generous 11-1/2 inches by 9-1/2 inches and is lightweight for easy handling.
4) Premium Professional Pizza Rocker Cutter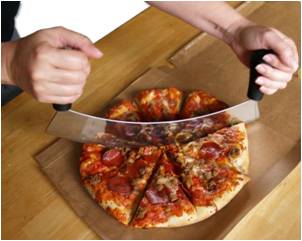 Rock your way to the perfect slice of pizza with this Premier Pizza Cutter from BruArcher.
It swiftly cuts thin-crust or deep-dish pizza into uniform slices.
This rocking style knife, also called a "mezzaluna", provides the mechanical advantage of providing pressure directly above the pizza — requiring less strength and dexterity by the user.
It is simple to grasp the handles at each end and rock the blade back and forth to perfectly proportion the slices the way you want them.
It gives you an "organic" feel to slicing, once you get used to the rocking motion, and is also a great tool for chopping nuts, herbs, chocolate and vegetables with precision.
This kitchen precision cutting gadget has a generous 14-inch stainless steel blade with easy grip wooden handles.
With the rocking blade, there is no worry for the stuck on food that can get trapped in the traditional style pizza wheel and it is top rack dishwasher safe — it makes you feel a little like a chef and a Samurai.
5) Silicone Pot Holder Heat Resistant Gloves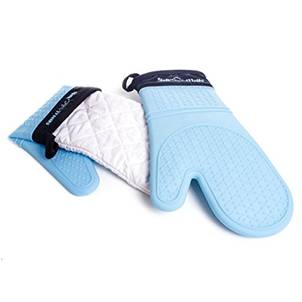 If you've done any cooking in the kitchen you have likely, at least once, inadvertently burned your hand touching a hot toaster oven, pot handle, microwaved mug or oven rack while using standard pot holders.
Pot holders will not always keep our skin protected at 360° from surface heat.
You see silicone grill gloves advertised…able to withstand the handling of hot coals, but these are bulky, uncomfortable and not practical for everyday kitchen use.
These Sili Mitts kitchen silicone pot holders provide a safe option to 482° Fahrenheit for handling cast iron skillets, cookie sheets, roasting pans, pie and cake pans and glass casserole dishes plus keep your skin safe from accidental brushes against oven racks or walls.
Lined with a polyester and cotton quilted fabric blend, these keep your hands from sweating inside and are comfortable — pliable enough to wear even when cleaning warm kitchen appliances.
Made of FDA approved food-grade silicone and beautifully packaged these are one of the best multi-use kitchen gifts under $20.00 for the home cook.
6) Reusable, Refillable K-Cup Coffee Holders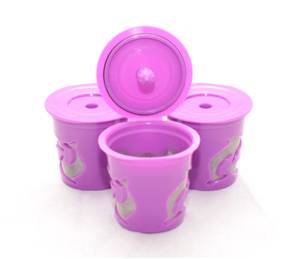 This set of 3 Fill-N-Save Reusable K-Cups work for Keurig brand and other single cup coffee brewers.
It is compatible with Keurig 2.0 Models: K200, K250, K300, K350, K360, K400, K450, K460, K500, K550, K560 and is backward compatible with Keurig 1.0 series models.
Coffee lovers who enjoy single cup coffee makers know how expensive K-Cups, for their favorite coffee blend, can be and the plastic K-Cups are not biodegradable or environmentally friendly.
These little Fill-N-Save refillable coffee pods, while probably not a favorite color choice for some, are made from BPA-free plastic, are dishwasher safe and have the same stainless mesh panels you will find on the permanent filters of many coffee makers.
They are assembled with a silicone o-ring for a tight secure seal ensuring your morning coffee or tea remains grounds and sediment-free.
7) Makimy Meat Shredder Claws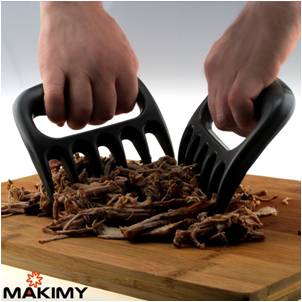 This set of six-pronged meat claws from Makimy shreds pulled pork shoulder, beef roast, turkey and chicken in seconds for sandwiches, casseroles, soups, stews and wraps.
These multi-purpose, professional grade claws are also great for serving pasta, holding that watermelon in place to slice, tossing a salad, lifting a roast or turkey or just about any task in the kitchen or outdoor barbecue where nicking or burning your fingers is not an option.
The smooth rounded edges and wide grip provide comfortable handling for all hand sizes.
The claws measure approximately 6-inches wide and about 5-inches in height and are heat resistant to 450° Fahrenheit.
Nicely packaged for gift giving, these meat shredding claws are a hard durable plastic, top rack dishwashers safe and backed by a 100 percent satisfaction guarantee by the manufacturer — clearly one of those kitchen gadgets you will reach for time and again.
8) Makimy Silicone Basting Brush Set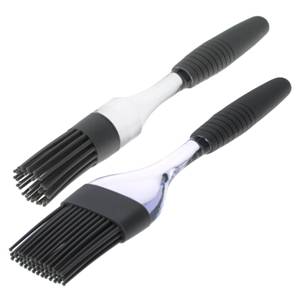 Another must have kitchen gadget is this Makimy Silicone Basting and Pastry Brush two-piece set, made from FDA approved food-grade silicone.
Professional food grade means this innovative set will stand up to temperatures of 446° Fahrenheit without concern for melting or warping.
Handles and silicone bristles are BPA-free so no worries about harmful toxins touching your food.
Beautifully packaged in attractive recycled cardboard this is the perfect gift for the baking or barbecue enthusiast in the family.
Silicone bristles are great for gripping and holding more of your sauces, marinades, glazes and washes than regular bristle brushes and are easier to clean. Silicone bristles will not warp or fall out.
This non-slip grip pastry and basting brush tool set is top rack dishwasher safe.
9) VREMI Stainless Steel Knife Set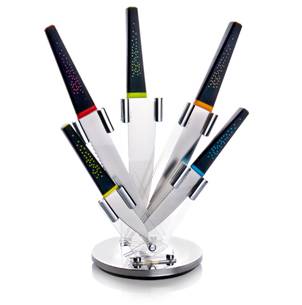 This smart, contemporary design 6-piece stainless steel knife set from VREMI comes with a combination clear acrylic and stainless steel knife block that beautifully displays these kitchen essentials.
The 6-piece set includes a chef's knife, a carving knife, a bread knife, a paring knife, a utility knife and one drawer space saving, blade protecting, decorative knife holding stand.
Combined, these tools give you the slicing power you need for prepping meats, cutting crusty loaves or rolls, dicing and julienning fruits and vegetables, chopping herbs, carving roasts, turkey and chicken.
The colored banding between the handles and the blades and the color at the handle bases are part of VREMI's "peacock tail" design concept when displayed in the knife block.
This knife set is hand wash only and is not dishwasher safe.
This is currently featured (as of this writing) as a new release on Amazon at a 70 percent savings. Prices will not stay under $20.00 for long.
10) OXO Angled Measuring Cups Set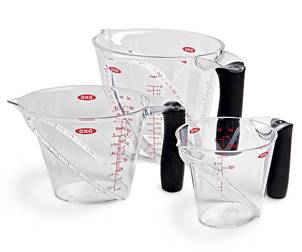 This 3-piece set of Good Grips angled measuring cups from OXO features their patented angled surface that lets you read measurements from the top down — eliminating the need to lift the cup every time you need to read measurements.
No need for continuous adjusting and measurements are in cup, ounce and milliliter  standard and metric increments.
The 3 pieces include an angled 4-cup, 2-cup and 1-cup container with a soft, non-slip, easy gripping handles.
Made from BPA-free plastic, you do not need to worry about toxins touching your ingredients. It is dishwasher safe and is also microwave safe as long as you do not microwave any fats, butters or oils as these may cause the plastic to blister.
Cup dimensions are 6x4x4-inches for the 1-Cup, 7x4x4-inches for the 2-Cup and 9x6x6-inches for the 4-Cup measure.