The word "awesome" and under $10 rarely seem to meet in the same sentence but we found 10 truly awesome kitchen gadgets that exceed expectations and outperform their price tag.
These kitchen tools and accessories are unique little gems that can make a big impact for the home cook, chef, baker or gourmet.
In no particular order, here are the tools under $10 that frankly had us scratching our heads and saying "why didn't we think of that?"
#1 – Brown Sugar Saver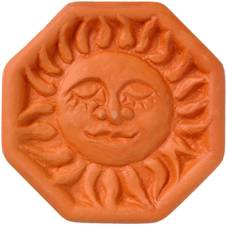 We've all had brown sugar in our pantries that is soft and pliable when it is first opened. The more we dip into the bag the harder it gets.
Each brown sugar crystal is coated with molasses that keeps the crystals from sticking together. Exposed to air over time, the molasses evaporates causing the sugar crystals to stick together. Enter the brown sugar saver…
Just saying, if it works for plants…these little terra cotta squares, only measuring 2.5 inches in diameter, work just like the unglazed clay pots for plants. They are porous allowing air and moisture to penetrate its festive shape. Soak a terra cotta shape in water, wipe off the excess and drop it into your brown sugar bag or canister…Presto! Soft brown sugar again and it lasts for months.
#2 – Herb Scissors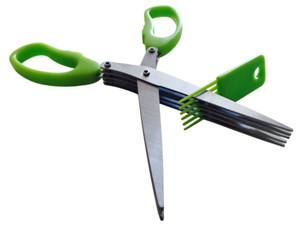 If you chop fresh herbs for a recipe, you know that what grows in the wild is not uniform.
Rolling, twisting and tucking hand movements usually accompany a sharp blade in an attempt to get some uniformity in the chop.
Where herb scissors make a big difference is they're faster than a chef's knife, produce optimally sized pieces for fine cuts, have a soft comfortable grip and sail through tough stems.
The five razor sharp scissor blades make clean cuts without bruising the herb.
They also give you precision cuts for recipes that call for ribbons, juliennes, stripes or minces. It's important to get a pair of herb kitchen shears that come with a blade cleaner —  this gets any sticky wet herbs from between the blades with little to no effort by you. Dishwasher safe is also a big plus.
#3 – Stainless Steel Soap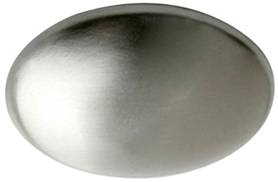 Anyone who has ever chopped onions, garlic or handled fish knows there is always an odor left on your hands that seems to linger no matter how many times you wash them. Stainless steel soap, in a non-porous metal oval or rectangular shape is a pretty handy gadget to have next to your sink.
It all has to do with chemistry…garlic and onions both contain sulfur molecules that transfer to your skin when cutting — these are the same sulfur molecules that get the tears flowing when you slice into an onion. When you add water, it makes it worse because water causes the sulfur molecules to turn into a sulfuric acid.
When you touch stainless, as in holding a bar of stainless steel soap, the stainless metal binds with the sulfur on your hands transferring the sulfur along with the smell to the stainless bar. Of course, you can also rub your hands all over your stainless steel sink for the same result — just might look a little strange!
#4 – Granny Fork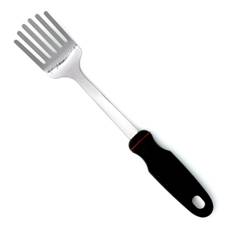 I've had one of these in my kitchen for years and it is always within arms reach and ready to use.
What's a granny fork?
This is basically a six-tined kitchen fork, originally introduced as the "Foley Fork", that is used for everything from mashing potatoes, to beating eggs, whipping sauces, mixing batter, whisking salad dressing, stirring gravies and any number of other uses where an immersion blender, food processor, standard whip or hand mixer are not practical.
Bon Appetit included this in their roundup of favorite kitchen tools and it was a favorite of noted French Chef Julia Child.
What makes this fork an awesome kitchen gadget it that the tines are broad and flat and they do not all lie on the same plane as a standard fork — the unique, uneven curve is why this fork is so efficient.
The Norpro brand features stainless steel tines and a soft, comfort-grip santoprene handle…and, it is dishwasher safe.
#5 – Kitchen Pastry Scraper Chopper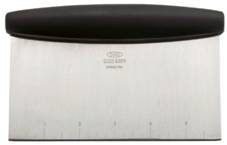 Known by a lot of names such as pastry scraper, board scraper, dough cutter, bench scraper and bench knife, this unique kitchen gadget is not just for the baker.
Yes, it does work great for trimming and cutting dough into smaller pieces but it also scoops up diced or chopped fruits, vegetables, herbs, meats and poultry for transferring to soups, stews, casseroles, roasts, serving dishes, bowls and storage containers in a fast efficient swipe. It is also pretty handy for smoothing out frosting on the sides of a multi-layer cake.
Best with a rubber grip handle, stainless construction and a sharp beveled edge, this inexpensive kitchen tool will last for years of use providing plenty of convenience. It comes with a 6″ ruler etched at the base for measuring lengths of meat, vegetables or dough and is completely dishwasher safe.
#6 – Small 2-Stage Knife Sharpener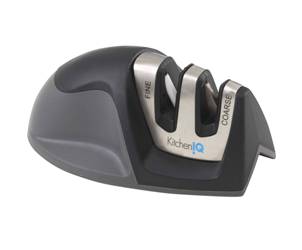 This little 4-inch long by 2-inch high knife sharpener has to be one of the best values for knife sharpening ever. At about $6.00 this sweet little workhorse can easily handle the biggest blades — from paring knives to meat cleavers, this is a fast, inexpensive way to get the edge.
This is a 2-stage knife sharpener meaning there is a carbide blade slot for quickly sharpening rough edges or worn blades and a second slot with ceramic rods for finishing your edge so its razor sharp.
It takes three quick swipes at a 90-degree angle through the carbide slot and then one or two swipes through the ceramic rod slot and you are ready to carve, de-bone, chop, slice, dice, cube and julienne with precision and some sharp, clean lines.
It fits neatly in a drawer, has an easy-grip bottom to keep it stable while sharpening and has an "edge grip" routed in the base so you can use it on a flat surface OR a rolled OR square counter edge for secure, safe sharpening.
#7 – Round Silicone Egg Cooking Rings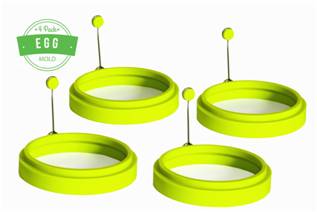 If you like your own homemade version of the Egg McMuffin, then you need a round egg to seat properly on your muffin, scone, crumpet or biscuit.
A silicone egg ring lets you do this in one convenient little shape with all the non-stick convenience that can stand some serious heat.
Set it on a level oiled or non-stick heated surface like a pan or griddle, and add your ingredient. The attached stay cool pin-like arm keeps your fingers free from the heat for easy removal.
The silicone egg ring is also great for shaping burgers, making mini omelets, as a mold for diced veggies, rice, making stacks of mini-pancakes, shaping sausage patties, hash browns, fried mac and cheese — the list of opportunities is only limited by your imagination.
Made from FDA certified and BPA-free food grade silicone these little molds will have you rethinking your food presentation.
#8 – The Bacon Press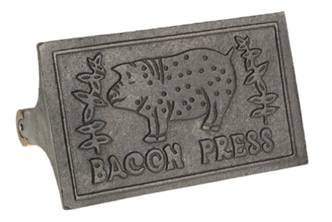 The bacon press is not just for bacon anymore — while having nice flat, evenly browned strips of bacon is great, the press can be used for so much more.
Use it as a tortilla press, saving valuable kitchen storage space by eliminating one kitchen gadget. It also doubles as a panini press, gets you no-flip hash browns or country potatoes, is great for quesadillas, as a bar cookie press and for cooking ham steaks, boneless meats, Cuban sandwiches and grilled cheese.
Because it is made of cast iron, you heat it just as you would a cast iron skillet and have the advantage of cooking two sides at once. This gives you even browning and reduces your cooking time. Just like a cast iron skillet, however, a bacon press needs a little seasoning.
Because it is cast iron, you'll just want to wipe it clean after each use to preserve the seasoning for your next pressing meal.
#9 – Microplane Grater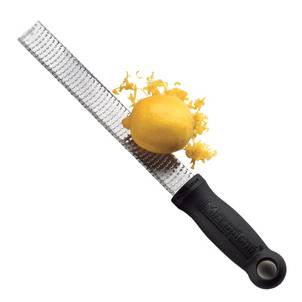 Microplane wrote the book on graters and zesters and there is rarely a cooking show on TV where you do not see the chef whip out their original Microplane grater when preparing a recipe.
This super handy best seller grates and zests everything from nutmeg, to lemons, limes and orange to the hardest Parmesan Reggiano cheese, carrots, radishes, garlic, horseradish and chocolate.
Big names like Martha Stewart and Oprah Winfrey, according to a New York Times article, have offered unsolicited endorsements for Microplane products due to their popularity, quality construction and exceptional performance.
The USA made blade features surgical grade stainless steel for superior sharpness with predictable results each and every use…and, it is top-rack dishwasher safe.
It measures about 12-inches in length with an 8 plus inch blade and comes with a protective blade cover. As THE original grater, it still outperforms its competitors and is the best value in this review at around $5.00.
#10 – Microwave Plate Splatter Cover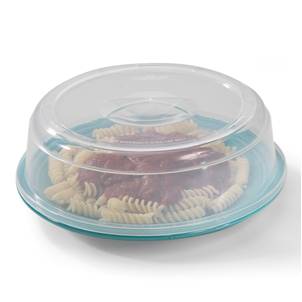 Cleaning the inside of your microwave probably does not rank as a favorite kitchen chore because food, beverages and grease splatters manage to hit every area inside the oven and on the door.
Nordic Ware, leading manufacturer of quality kitchenware since 1950, offers a 10-inch BPA and melamine-free plastic, microwave splatter cover that keeps the inside of your microwave oven clean.
It fits most dinner plates with venting in the lid to prevent it from building up steam. It is also translucent meaning you can watch your food as it cooks.
Exterior cover dimensions are 10.5″L x 10.5″W x 2.13″H, it is completely top rack dishwasher safe and comes with a 5-year manufacturers warranty. It also has an easy-grip handle on the top for fast removal.