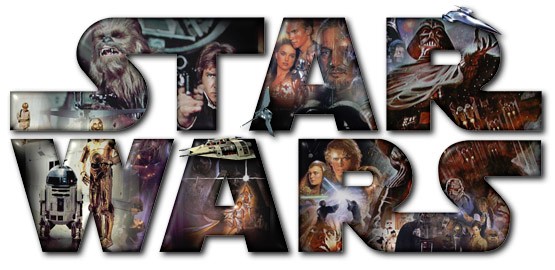 With the advent of Star Wars Episode VII: The Force Awakens it is only appropriate we review our choice for the Top 6 cool kitchen gadgets for the Star Wars kitchen cook or chef.
Each gadget reviewed not only embodies the Star Wars theme but is also a fully functional kitchen gadget that is sure to get used and one that would complement any arsenal of Star Wars kitchen accessories.
These Star Wars gadgets for the kitchen are in no particular order and have been thoroughly reviewed for design, functionality and quality.
#1 – Death Star Design Star Wars Cutting Board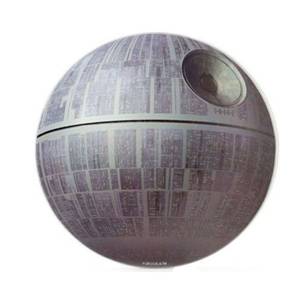 In the theme of the Galactic Empire's moon-sized Imperial military battlestation and planet-destroying superweapon, this flat glass round cutting board is in true Star Wars saga form.
Measuring just under 12 inches in diameter this flat Star Wars cutting board features non-slip rubber feet to keep the board in place while cutting.
This makes an excellent cheese tray or serving platter for small appetizers. It also doubles as a trivet for serving casseroles and hot dishes to table from the oven.
The glass surface is naturally anti-bacterial and odor-free making cleanup a snap. It is heat resistant to 350 degrees Fahrenheit or 180 degrees Celsius. Great value at around $20.00.
#2 Star Wars Ice Cube Trays (Set of 8)
Cool your favorite beverages with familiar Star Wars figures when using these silicon Star Wars themed ice cube trays — also great as chocolate and candy molds.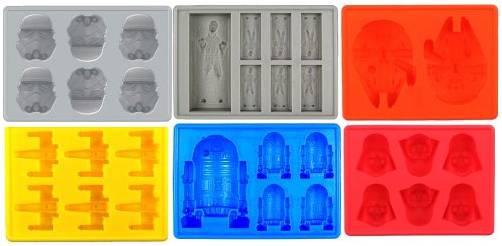 Silicone in kitchenware has become very popular because it is non-stick, long lasting, lightweight, portable, easy to store, easy to clean and is freezer, oven, microwave and dishwasher safe.
This selection of eight (8) Star Wars ice trays featuring Han Solo's Millennium Falcon, the X-Wing Starfighter of the Rebel Alliance, R2D2 – the astromech R2-Series droid with a personality, powerful Sith Lord Darth Vader, the elite faceless enforcers of the Imperial army – the Stormtrooper and the "Man in Carbonite" Han Solo frozen as a sculpture in The Empire Strikes Back.
Trays measure about 7-inches by 4-inches each and are made from non-toxic BPA free 100 percent food grade pure silicone. Trays are heat resistant to 450 degrees Fahrenheit or 230 degrees Celsius. Another great value at around $20.00.
#3 Star Wars Nutcracker TIE Advanced x1 Starfighter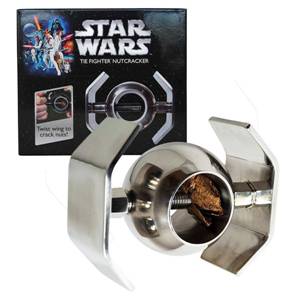 This Star Wars Nutcracker is a replica of the TIE Advanced x1 prototype Imperial starfighter that was intended to replace the standard TIE Fighter.
It was tested by Darth Vader at the battles of Yavin and Mustafar but never made it into production.
Many of its features were later incorporated into TIE/sa bomber and the TIE/IN interceptor.
The Star Wars TIE Fighter nutcracker is made of solid steel capable of cracking apart every "Alliance" of nut in the galaxy — easy to use, just insert the desired hard shell nut into the TIE Starfighter chamber and then twist its wing to drive a threaded bolt through the shell.
The Imperial Nutcracker measures a generous 4×6-inches and weighs just over a pound. It looks attractive sitting on a countertop or table when not in use.
#4 Star Wars Droids R2-Series Salt and Pepper Shakers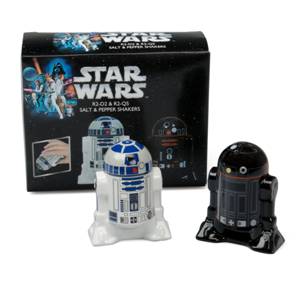 These functional officially licensed Star Wars Droids salt and pepper shakers features two R2-Series droids — R2-D2 and R2-Q5.
After all, having a white droid for salt and a black droid for pepper makes it easier to grab what you need when seasoning.
R2-D2 is the most notable R2-series astromech droid, participating in numerous battles during the Galactic Civil and Clone Wars. R2D2, companion to C3PO is also the droid who helped deliver the Death Star plans to the Rebellion.
R2-Q5 is also an R2-series astromech black droid working for the Galactic Empire and was well equipped with the droid tools to repair Imperial Starships as well as containing hidden spy devices. R2-Q5 was part of the Star Wars Expanded Universe.
These Star Wars salt and pepper shakers measure about 4-inches in height, 3-inches in width and are made from a durable, fired ceramic. Detailing is very accurate and there is a removal stopper on the bottom for filling.
#5 Star Wars Millennium Falcon Kitchen Wall Clock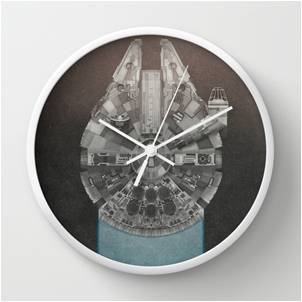 Looking great on the wall of a stainless Star Wars kitchen is this Millennium Falcon wall clock.
The Millennium Falcon, beneath its deceptively shabby exterior, is known as much for its speed, shielding and performance as it is known for its unpredictability and hyperdrive mishaps at the command of Han Solo and his co-pilot Chewbacca.
This is a premium, artist designed Star Wars wall clock that pays homage to Han Solo's YT-1300 modified freighter.
Used in the historic Battle of Yavin, Solo and Chewbacca flew the Falcon to save Luke Skywalker from Imperial TIE fighters. This allowed Skywalker to fire the infamous shot that destroyed the Death Star.
This Star Wars kitchen wall clock measures a generous 10-inches in diameter and is 1.75-inches deep. It comes with a high impact plexiglass crystal face and uses a single AA-Alkaline battery (not included). The frame finish is available in black, white or natural and the hand color is available in black or white.
#6 Han Solo Carbonite Star Wars Bottle Opener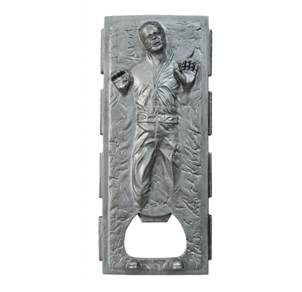 This super stout and sturdy stamped metal Star Wars bottle opener features the infamous "Man in Carbonite" Han Solo.
Darth Vader turned Solo into a carbonite sculpture as a test to ensure that a human, Luke Skywalker would survive a similar freezing. Modifications he made to the freezing chamber were successful allowing Solo to live through the process in a state of suspended animation.
While in this state, Vader released the Solo sculpture to bounty hunter Boba Fett, who then sold it to Jabba the Hutt for 250,000 credits. It was later destroyed by Princess Leia when she freed Solo in Star Wars Episode V: The Empire Strikes Back.
This Han Solo Carbonite bottle opener measures approximately 4-inches long and 2-inches providing a good grip to pop the top on your favorite beverage. It is also a super strong magnetic opener so you never have to worry about misplacing it — just stick it to the door of your refrigerator or other metal appliance.