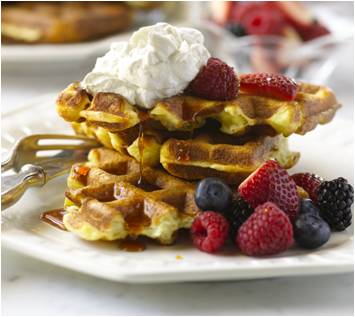 The best Belgian waffle maker will give you those golden crispy sides and fluffy middles that Belgian waffles are known for.
They'll be able to stand up to the caramelized bananas, sliced fresh strawberries, creamy ice cream, crispy crumbled bacon or anything else you choose to top them with!
Be seduced by the appetizing aroma of vanilla that emanates from the rich batter during cooking.
What other food gives you the potential to turn a breakfast staple — that debuted in the U.S. at the 1964 New York World's Fair — into a savory lunch or a rich dessert?
Creating your own waffles with the best Belgian waffle maker will have you thinking that you'll never want to eat another pre-packaged frozen toaster waffle again!
What Features to Look For in ANY Waffle Maker
The characteristics that go into making the best Belgian waffle maker or any type of waffle, are as follows and each of the waffle makers in this review meet all of these quality features:
Respected, established Brand
Even heat distribution
Steam guard to protect your hands
Easy release non-chemical coating
Fast warm-up timing
Simple clean-up
Premium quality construction
Superior customer support
Solid manufacturer's warranty
Below are our picks for the Top 5 waffle makers in no particular order. To complement any waffle maker purchase are also some essential accessories — waffle tongs, a waffle cleaner brush, and 53 different recipes, including more than just waffles, to create using your new waffle maker — these are bundled at a savings below.
#1 – Our pick for the Best Economy Belgian Waffle Maker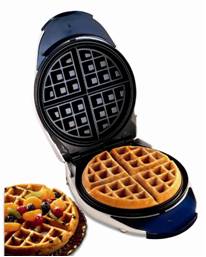 If you want predictable quality without a lot of bells and whistles then the Proctor Silex 26070 Belgian Waffle Maker is great choice if you want a smaller, inexpensive waffle maker.
It makes one single 7-inch round Belgian waffle at a time, and takes about five minutes to cook it. While this is probably not the right choice for a large family, it will work well for couples, singles and smaller families with patience.
This Belgian waffle maker does not have multiple indicator lights, browning adjustment features, or audible timers found on some of the higher end models BUT if you want to try your hand at making Belgian waffles — this is a good place to start.
You will always get consistent browning and even heat distribution for each waffle you make without having to continually lift the lid to see progress.
The grids are not removable but do have a non-stick coating to aid in cleanup. This value waffle maker measures just 5.5 x 9 x 12 inches so it also makes for easy, space minimizing storage and it weighs just over 3 pounds.
This is one waffle maker worth taking a look at because it costs around only $22.00.
#2 – KRUPS F654 Belgian Waffle Maker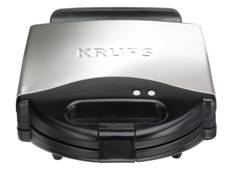 Pour in your batter, close the cover of this KRUPS Belgian waffle maker, and watch the ready indicator that lets you know your waffle is getting brown and when its ready.
Heavy-gauge cast aluminum grids distribute heat evenly, while internal sensors maintain precise temperature control for consistent results every time.
This value priced waffle maker, from the trusted KRUPS brand, will get you the fluffy waffles you love with the browned crispy 1-inch deep pockets that will hold lots of melted butter and syrup.
It features an ON-OFF light, a READY light, a closure latch and non-stick coated plates. An important note is that the plates, on this KRUPS F654 ARE NOT removable for dishwasher cleaning. Cleaning is recommended using a damp sponge with a drop of dishwashing detergent.
Plates need a light coating of butter, margarine, vegetable oil or a non-stick coating spray before you pour your batter and crispy waffles are ready in just 4 to 6 minutes depending on the type of batter you use.
KRUPS backs this with a 1-year warranty against defects in materials or workmanship. The waffle maker measures 13 x 4.5 x 10.2 inches and weighs about 8 pounds. The closure latch lets you store this standing on end to safe valued counter, pantry or cabinet space.
#3 – Waring Pro Double Belgian Waffle Maker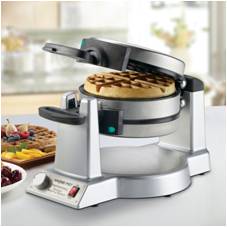 This Waring Professional Double Belgian Waffle Maker cooks two thick, delicious Belgian waffles at the same time and is offered at a 53% savings, as of this writing, at Amazon! Great for larger families impatiently waiting for breakfast.
This is an easy-to-use option for a  Belgian waffle maker that guarantees thick, delicious waffles that are crispy on the outside and light and fluffy on the inside.
This Waring Pro waffle unit's rotating function helps evenly coat the batter on both the upper and lower waffle plates so both waffles come out perfect at the same time.
Your result will always be gourmet-quality Belgian waffles with extra-deep 1-inch pockets to fill with maple syrup, whipped cream, ice cream or fresh fruits and berries.
This takes up a little more space than a single waffle maker model but if you have the room to store it, you won't be disappointed.
#4 – Waring Belgian Waffle Maker Plus Omelets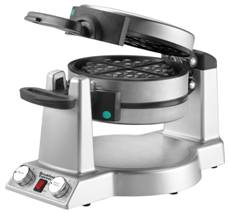 This Waring Pro WMR300 Belgian waffle maker features 1-inch deep Waffle Grids — AND an omelet at the same time. Currently offered at Amazon, as of this writing, at a 53% savings.
Featured is a waffle compartment on one side and an omelet or pancake compartment on the other side — making it easy to satisfy breakfast requests for family members,
It comes with a separate browning control adjustment to make waffles the way you like then — adjusting for different batter types and personal preferences.
You can take the guesswork out of cooking because a "RED" indicator light will tell you when the waffle maker is in the "ON" position and a "GREEN" indicator light lets you know that this waffle maker is ready to bake.
You will hear six "BEEPS" letting you know that this waffle maker has reached the proper baking temperature and then another 3 "BEEPS" to indicate when your waffle, omelet or pancakes are done.
A lock-down lid ensures no peeking so you get even heating for perfect breakfast, lunch or dessert Belgian waffles.
The non-stick coating will provide easy release of your browned, crispy delight ensuring your presentation is as great as the taste.
#5 – Presto FlipSide Belgian Waffle Maker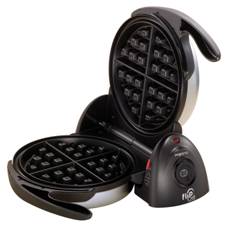 You'll find great value in the Presto FlipSide Belgian Waffle Maker. This Model 03510 comes with a professional-style rotating design bakes extra-thick Belgian waffles in minutes.
The patented, unique 180° flip design evenly spreads the batter for waffles with a crispy outside and fluffy, tender inside.
Featured countdown timer and easy-read digital display signals when baking time is up. It's also very easy to store in cabinets, pantry or on a shelf. The dual function base locks in a vertical position — making for compact storage.
A built-in timer is helpful and works independently from the unit; it does not, however, turn the unit on or off.
The battery used in the waffle maker is a CR2032 3V lithium battery which will seldom need to be replaced. If it does, detailed instructions are included in the Product Manual.
It is well made, easy to use, very non-stick, and one of the best features is it takes up little storage space.
Cleanup is easy — just brush any loose crumbs from the waffle grids. Then wipe the grids with a paper towel or cloth. Not dishwasher safe, but none of the models featured are.
In Summary…
The top 5 best Belgian Waffle Makers, in our opinion, are backed up by quality, time honored brand names and thousands of satisfied customer reviews. You can see above that there are options to suit any budget and they also make a great gift ideas for holidays, birthdays, Mother's Day, or weddings.
How better to kick up a breakfast, lunch or dessert than with something that addresses all your senses for taste, aroma and appearance from simple ingredients with almost limitless possibilities for topping.