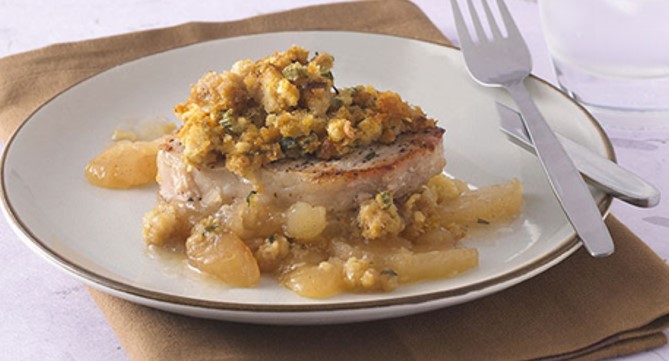 If you're looking for a tried and true boneless pork tenderloin recipe, then this one might just be for you.
Those fans of fast one dish cooking will get sweet and savory flavors in one complete casserole with this recipe.
I've found it, in my opinion, to be a perfect choice when having guests for dinner. Served with a side salad, it's one of my family's favorites.
Stuffing isn't just for turkey anymore. Here's my recipe for pork tenderloin medallions with herbed stuffing and apples. It makes for a great casserole and all the flavors work exceptionally well together.
You may be surprised to learn that pork tenderloin actually provides some health benefits for the diet conscious. You're looking at only about 120 calories per 4-ounce serving.
Boneless Pork Tenderloin Recipe Packs Protein
While pork loin does not contain any carbs or dietary fiber (both of which are found in the stuffing) it does pack a whopping 22 grams of protein which is essential for those managing their weight.
There are a couple of tips for making this recipe I'll offer here. First, make sure you drain and rinse the canned apples. Even the "no sugar added" apples need to be drained and rinsed.
Second, do not use stuffing mixes like Stove Top Stuffing. The bread crumbs in these style mixes are just that – crumbs. This recipe works best with seasoned bread CUBES to get the dressing mounds to retain their shape.

Easy Boneless Pork Tenderloin Recipe is a Casserole
Get plenty of protein in this great tasting, easy boneless pork tenderloin casserole.
Ingredients
2 cups beef broth - low sodium, fat-free or low fat
1 pork tenderloin (3 pounds)
6 cups herb-seasoned stuffing mix (cubes)
2 cans sliced apples, drained (20 oz. Type used for pie filling)
½ cup celery, chopped
½ cup onion, chopped (or 3 tablespoons dried minced onion)
¼ cup butter or margarine, melted
½ teaspoon sage, ground
½ teaspoon cracked black pepper
⅓ cup dark brown sugar, packed
2 tablespoons olive oil
Salt to taste
Instructions
Set Convection Oven to Convection Bake 350 degrees F
Cut pork tenderloin into 12 medallions (slices)
Flatten each medallion to about ½ inch thick
Sprinkle slices with black pepper and brown in olive oil on both sides
Lay slices flat in two 12"x7-1/2"x2" baking dishes
Mix sliced apples with dark brown sugar
Spoon apple mixture on pork tenderloin slices
Mix together herb-seasoned stuffing with beef broth, sage, onion, celery and melted butter
Press some of the stuffing mixture into a ½ cup measuring cup
Unmold stuffing and add one stuffing mound to the top of each medallion
Bake uncovered until the pork is done (about 40 minutes)
Garnish and serve
This makes 2 casseroles of 6 servings each
An unbaked casserole can be frozen if securely wrapped.
Convection baking a frozen casserole (unthawed) would be at a Convection Bake temperature of 375 degrees F and at an increased cook time of 1 hour.