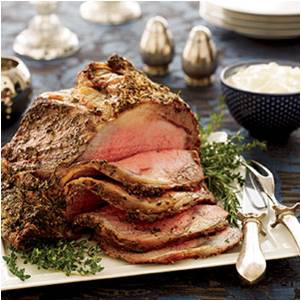 We've  put together the best carving knife guide to show you why the tools you use to slice through meat or poultry are just as important as the cut of meat or how it is prepared.
The features of a razor-sharp carving knife, the shape and weight of the handle, the blade material and edge type all play a role in achieving the perfect slice.
(See the keys for good balance, blade type and fit in our article HERE.)
Whether a carving knife is used for Sunday dinners, holiday meals or special gatherings with family and friends — having the right piece of cutlery for carving in your kitchen collection is essential.
We'll provide insight into the features for some of the top consumer-rated carving knives plus provide some useful tips that make carving an art easily accomplished.
About the Best Carving Knife Brands Featured
The knives featured here are top-rated, as the best, by actual users. While type of material, blade length and cost will factor into a lot of purchases, some consumers are brand loyal or want to know more about the manufacturer producing the knife or knives they are considering.
Below is basic brand information, including Better Business Bureau (BBB) ratings where available for the carving knives in this Guide.
BRAND
YEAR FOUNDED
/ AGE
LOCATION
BBB RATING
CALPHALON
1963
USA
B RATING
CHICAGO CUTLERY
1930
USA
N/A
J.A. HENCKELS
1731
GERMANY
C- RATING
KOMACHI / SHUN
100 + YEARS
JAPAN
N/A
VICTORINOX
1884
SWITZERLAND
N/A
WUSTHOF
1814
GERMANY
N/A
ZYLISS
1948
SWITZERLAND
N/A
What's included in this Carving Knife Guide?
We've included 9 columns which will show you what the knife looks like as well as what the features of the knife are like its blade length, handle material, manufacturer's warranty, consumer rating and cost. The cost legend for this Guide is as follows:
COST LEGEND
$ = $20 or less
$$ = $21 to $50
$$$ = $51 to $75
$$$$ = $76 or more
Best Carving Knife Guide
What's the Difference between Carving and Slicing Knives?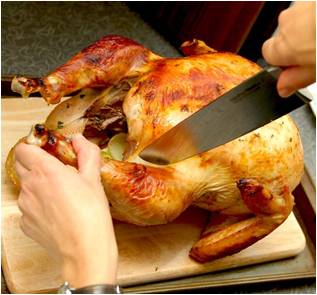 Depending the manufacturer and brand, the terms carving and slicing for knives are generally interchangeable. When compared to a Chef's Knife, carving and slicing cutlery have thinner, longer blades for producing thin more uniform slices of meat and poultry.
These sharp knives are used in a "sawing" motion for clean cuts — and because they are thinner than Chef's knives, are not suited to chopping.
They can be anywhere from 7-inches in length to 15-inches and can have either a rounded tip or a pointed tip. Rounded end knives work well on beef top round roasts, boneless hams, meatloaf, boneless turkey breasts, pork roasts and other cuts of meat or poultry where the knife will not need to navigate bones. A pointed end performs better for cutting around bones or joints.
Slicing knives can have serrated or straight edges and usually contain rounded or blunted tips to improve meat separation.
For best results when choosing a carving or slicing knife is to be certain the knife's blade is long enough to cut through a large roast in a single stroke without tearing any meat fibers as is often the case with a serrated edged knife.
Top 10 Tips for Carving Meats and Poultry