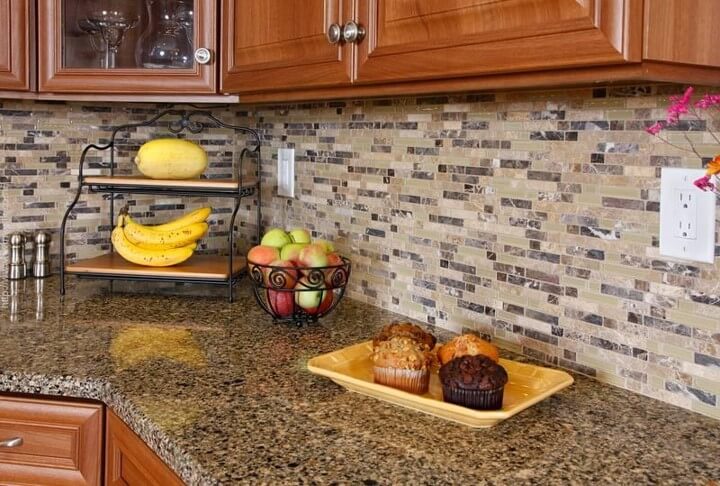 Recently, focus in the kitchen has shifted to backsplashes as more homeowners begin to see the decorative potential for self-expression. This is largely due to the wide range of materials available to cover this understated but essential kitchen area.
In this guide, we'll take an in-depth look at the backsplash and its function as well as provide you with considerations for taking this element of kitchen design to the next level.
What is a Kitchen Backsplash?
Any material that covers the area of wall space between your kitchen counter top and underside of your upper cabinets is considered a backsplash.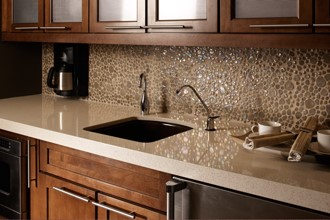 For decades its been known for blocking spills, splatters and crumbs that would otherwise get behind your counter or cabinet. It is also used to cover any gaps that may occur between counter tops and uneven walls.
Plus, a backsplash is a means to protect against water damage. You don't want water getting into the wall behind your cabinets and you surely don't want mold, especially behind the sink.
Today, however, a backsplash, while still providing the functions it is intended for, presents you with a blank slate of opportunity to add a little pizzazz to your kitchen.
Will a backsplash add value to my home?
Simply, a decorative backsplash gives your kitchen a "finished" look. Many have a standard four (4) inch backsplash off the countertop with another twelve (12) inches of painted drywall above it to the bottom of your cabinets.
Consider the possibilities when you complete the look by having the backsplash fill the entire open wall space from countertop to cabinet bottom. It's filling in that extra twelve (12) inches of drywall that gets you a very tailored, finished product.
One thing to consider when choosing a backsplash, is to have a contrast of at least 2 or 3 shades difference from your countertop. If there is no distinct separation in color, then it will look like your countertop is running up the wall.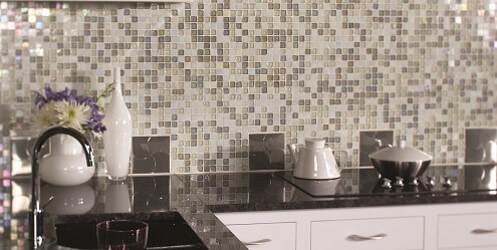 Choosing a Backsplash Material
Popular kitchen backsplash materials generally fall into three categories…natural stone, porcelain/glass and metal.
When choosing a tile backsplash in one of the above materials, your design options are nearly endless. Select the beauty of natural stone tile, the richness of a wood-look tile, the sleek shine of a glass mosaic or the ultra-modern cool look of metal for an upscale look.
Glass Backsplash Tiles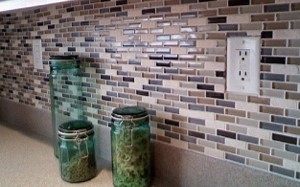 Porcelain and glass tiles will be your easiest to maintain as they are virtually impossible to stain — as long as you pay a little extra attention to the tile grout. Glass mosaic tile patterns often mix a range of shades to create a multicolored look that can bring a kitchen to life.
Glass tile is also easy to clean — always an important feature in the kitchen, and it reflects a lot of light.
The modern look of glass tiles will add shine to your kitchen creating a contemporary feel, and can be a great contrasting element against the warmth of wood cabinets and natural stone countertops.
Natural Stone Backsplashes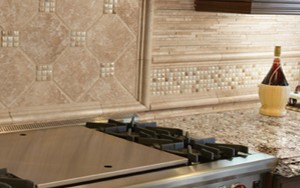 Backsplashes of natural stone tile will never go out of style. Generally made of neutral and natural shades of brown and gray, natural stone can easily be matched to an existing kitchen design.
The varying textures and color patterns immediately draw attention with their unique detail.
Natural stone, however, like the beautiful look of travertine is a very porous, soft material and is likely to absorb anything that touches it. Natural stone backsplashes  are not maintenance-free and require sealing every six (6) months. If you don't mind the extra labor, they are THE preferred pairing with granite and other natural stone countertops.
Metal Backsplash Designs
A not so mainstream third option is metal. The metal backsplash can be used as a design element in contemporary or industrial-style decor, to add texture or contrast, or to add to the richness and drama of a kitchen or bar area.
Stainless steel, copper, bronze, and nickel look backsplashes are becoming a hot trend for kitchens. Although the idea of a metal backsplash may seem a little clinical or commercial, modern styles today often incorporate metal finishes into home decor.
With a wide range of styles available, a metal backsplash can work in a modern or traditional home, a rustic farmhouse, or a sleek contemporary space.
10 Tips for Installing a Tile Backsplash
Regardless of whether you are using glass, porcelain, natural stone or metallic tiles, here are a few considerations that will help make this kitchen project easier:
Study your kitchen space. If you have a large kitchen with a high ceiling then larger format tiles will offer scale and drama to your new backsplash design. For smaller kitchens and lower ceilings, consider a smaller tile profile.
When you look at tile runs, your eye naturally scans the direction in which they flow, making them seem longer. Tiles installed in a horizontal run visually suggest a longer wall. Installing tiles in a vertical pattern will make a ceiling seem taller.
When choosing a tile color range, think long term. Will you still feel the same way about the brightly colored tile design you choose today…a dozen years from now? Will potential buyers like your artistic expression if you ever decide to sell?
Neutral backsplash shades need not be boring. Supplement neutral shades with unusually shaped tiles in contrasting colors or darker shades to add interest. Smaller mosaic tile designs usually come in sheets where decorative elements are already laid out for you.
When measuring your wall area to determine the quantity of individual tiles or tile sheets, be sure to add 10 to 15 percent more in your calculation to account for cuts and waste. This also applies to any decorative elements you add to your wall with the tile.
If you decide to add decorative accents to your tile backsplash such as medallions or trim pieces, take your home's overall theme or style into consideration. Let's say your home has a rustic style — then around and in-between your natural stone tiles use decorative accents that have rugged edges or a rough surface for contrast and interest.
If this is your first tile backsplash installation, lay out your preferred pattern on the floor or a counter top so you can visualize how all the pieces will fit together.
Start your installation from the middle of each wall rather than the ends and remember that smaller tiles and the more detailed designs will require more cuts.
When laying tile yourself, you will generally need a tile saw, a tile cutter, a mortar trowel and a drill with a hole saw attachment for tiling around pipes.
When you grout your tile know that a narrow grout line is better than a wide one. This is especially true for tiling the wall area behind your stove or cooktop where spatters can occur. It is also important to seal the grout separately from the tile and in addition to the tile to keep the installation looking pristine for many years.
Get the Look for Less…But!
Costs for backsplash materials will depend on the style and type of natural stone, glass or metal tiles you choose to install together with the square footage of wall space you want to cover.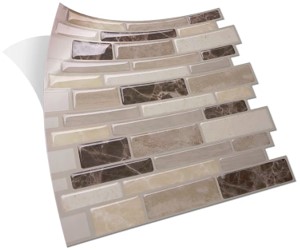 Expect to pay anywhere from $2.00 per square foot (12 inches by 12 inches) for some natural stones such as marble to upwards of $25.00 per square foot for glass mosaic tiles or stainless steel tiles.
This includes the tile cost alone and does not include costs for any professional installation, wall preparation, grout or sealing materials or the tools to perform the installation yourself.
A Value Option
There is a less expensive alternative and that is a thin, gel based, epoxy and plastic peel and stick (faux tile) option for use as a backsplash.
These are usually sold in packages of six (6)  10×10 or 12×12 inch tiles covering about 6 square feet of wall space. They require a flat, smooth and cleaned surface to ensure the adhesive will stick to your wall.
Some brands are heat resistant for use behind cooking areas and these tile sheets can easily be cut with a good, sharp pair of scissors to fit your wall space.
Because the sheets are made from an epoxy material, they are also water resistant, mold resistant, have anti-bacterial properties and are easy to wipe clean. You also save the cost of grouting and sealing. Most faux tile sheets, however, do have a glossy finish providing a look that may not appeal some.
Top Considerations for Peel and Stick Backsplash Tile
First and foremost, these are still a thin peel and stick alternative to a real tile installation. Unless the surface you attach the sheet to is smooth, unblemished and clean, you run the risk of the adhesive not properly binding.
When using peel and stick tile, your faux "grout lines" are part of the stamping process when the adhesive tile sheets are made. When you butt two tile sheets side by side, however, you will not have the same natural-looking grout joint as the stamped sheet and may notice the seam where the two pieces meet. This will be more noticeable with lighter colors than darker.
Depending on how close your tile sheets are installed to a heat source, the lighter shades may yellow from repeated heat exposure. Tile sheets are still a type of plastic and though heat resistant are not heat proof.
Because these are essentially embossed plastic sheets, you will not have the same 3D effect as you would with a real tile installation.