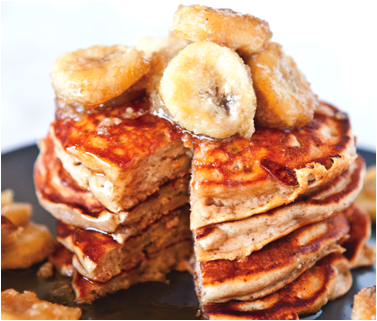 When ordering out, nothing is more satisfying than a stack of those steaming golden brown disks dripping in aromatic melted butter and syrup.
In this best Pancake Griddle Guide, we'll look at some of the secrets to making a pancake perfect and provide our thoughts on the five (5) best consumer rated electric pancake griddles to help get you there.
Pancakes evoke a sense of nostalgia — those cozy sunny Sunday breakfasts watching mom or dad flip this fabulously fluffy, tasty delight while the bacon sizzles nearby.
Regardless of how many stacks you may have eaten…they just never seem get boring. Flipping the perfect flapjack, however, takes more than just the right batter and the flick of your wrist.
Secrets to Light Fluffy Pancakes
Cautiously Lose the Lumps
The last thing you want to do is beat your pancake batter to death. The more you mix, the more you send the gluten in your flour into overdrive.
Gluten is a combination of natural proteins found in wheat. Gluten molecules are activated when you add moisture to your flour causing the molecules to stretch.
Overbeating your pancake batter will make them dense and chewy, rather than light and fluffy because of the activated gluten.
Gently fold the ingredients together until the wet and the dry are incorporated without the lumps.
Get Out of the Skillet
Griddle made pancakes will win over skillet cooking every time — that said, I'm sure there are plenty ready to argue this point.
Think about it, pans with sloping sides are not flipper friendly and neither is:
an uneven pan bottom
a skillet bottom too thin
a skillet with metal that does not properly conduct even heat
The results can be burned, under cooked or unevenly cooked stacks of flapjacks, not to mention the time it takes to prepare enough to feed a hungry family.
Check Your Baking Soda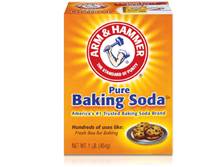 Baking soda is one of the ingredients in a batter recipe that gives your pancake its loft — making it fluffy.
If the baking soda in your pantry is over 6 months old, it won't properly do its job — that is making your pancake batter rise better when it hits the heat.
Why Buttermilk is Better
Using buttermilk over regular milk provides a chemical reaction when paired with baking soda.
The acids in buttermilk, when combined with the baking soda, provide even more lift to your pancake while adding a very subtle tang to the taste.
This not only creates a fluffier flapjack but balances well with the full fat smoothness of butter and the sweet sensation of syrup.
If you do not have buttermilk, an easy substitution would be to add a squeeze of lemon to your milk before combining it with your dry ingredients.
Bubbles are the Hole-y Grail!
It is in our nature to flip pancakes when we see bubbles starting to form and who can't resist taking a peek with our flipper around the edges to check for browning?
Suppress the urge to flip when you see bubbles and wait, wait and wait some more until the bubble burst and you see holes on the surface in their place.
Unpopped surface bubbles are still filled with batter that need seconds more to cook. When you see a pancake on your griddle full of burst bubbles (leaving surface holes) then that is the time to flip. This provides more even surface browning.
What Features to Look for in a Pancake Griddle
If we've convinced you to look at pancakes in a whole new way and an electric griddle is in your future, then there are a few things to consider before making a purchase:
Are you looking for a pancake griddle only or do you want a multi-purpose griddle and grill combo with reversing or dual plates, both ribbed and flat, for other items besides the pancakes, eggs, bacon, sandwiches and hash browns a flat side can accommodate? Think about a multi-purpose combo unit if you also want to grill steaks, chops, burgers, hot dogs, fish, veggies and chicken indoors.
All electric griddles operate on standard household current and require preheating — this can vary by brand and model up to 15 minutes to reach optimal temperature. Check preheat temps listed by the manufacturer if this is an issue for you.
Note the configuration of the handles on the unit. Some manufacturers have handles on the griddle plate, that may pose a risk for burns if grabbed while others have handles on the unit holding the plate. Look for phrases like "cool touch".
Does the griddle come apart for easy cleaning? Some models have handles that detach from the base in addition to a removable drip tray and plate that are all dishwasher safe. Some are recommended for hand washing only.
What do you know about the brand — how have other consumers rated their customer service? Amazon is a great resource for both satisfied and unsatisfied customers.
What type of warranty does the manufacturer offer against any defects in materials or workmanship and for what period of time? If your product proves defective, does the manufacturer pay for the return shipping or do you?
Our Top 5 Electric Griddles for Pancakes
Listed below, in no particular order, are five (5) highly rated griddles for pancakes made by well-known, established brands. Each has features and conveniences to get the job done so you can focus on enjoying a stack and not have to worry about the cooking.
The best thing is none of the selections in our review below will empty your wallet! Most are around the $50.00 price point and only the Zojirushi is around $100.00.
Hamilton Beach Ceramic Electric Griddle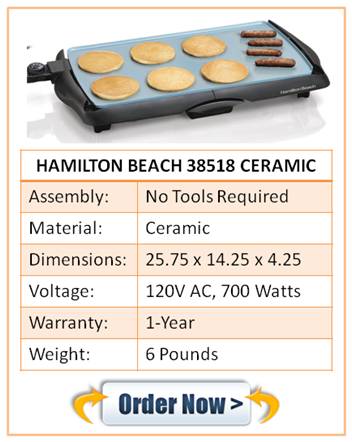 Simple in its design, this Hamilton Beach Model 38518 electric pancake griddle is value priced with a large ceramic cooking surface in comparison to the others below with a non-stick coated metal surface.
The ceramic surface coated with Hamilton Beach's Durathon withstands years of use, up to 4 times longer than the non-stick coated metal surfaces that can scratch, blister or peel after repeated use.
The adjustable temperature control will automatically regulate the cooking surface to maintain your selected heat setting for even cooking.
Depending on the size of your pancakes, the 200 square inch cooking surface can handle 6 to 8 griddle cakes at a time.
The slide out drip tray will catch any batter spills and can be removed for top rack safe dishwasher cleaning.
The ceramic cooking surface and griddle frame are soapy hot water submersible for easy cleanup.
Electric Presto 07047 "Cool Touch" Griddle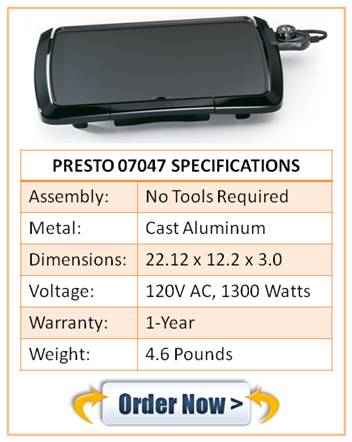 This Presto Model 07047 is part of their "Cool Touch" collection.
Its roomy flat griddle plate is surrounded by a base that remains cool to the touch while cooking.
The Presto Control Master® adjustable heat controller maintains the proper cooking temperature automatically.
The low profile design can also double as a warming tray for the table to keep foods at safe temperatures.
Excess fats and oils on the surface will drain into the wide, convenient drip pan below.
Preheating the Presto 07047 takes only 5 to 10 minutes and you're ready cook on a quick release non-stick surface.
For best results Presto recommends using only wood, plastic, nylon, rubber or silicone utensils to preserve the finish and keep from scratching the non-stick coating.
The griddle plate, frame and drip tray are washable with warm soapy water and are also dishwasher safe.
Oster DuraCeramic Electric Reversible Griddle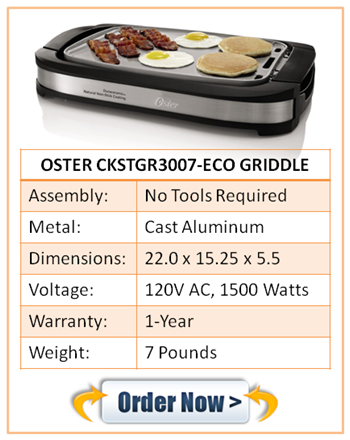 The CKSTGR3007-ECO is a sharp looking multi-purpose griddle option that uses a ceramic non-stick PFOA and PTFE-free cooking surface called "DuraCeramic". It features an attractive, brushed front stainless steel panel that will complement any kitchen.
A convenient 2 in 1 design, it features both griddle and grill reversible plates for cooking eggs, pancakes, bacon and sandwiches as well as steaks, seafood, chicken, burgers and vegetables.
Assembled, it consists of a base unit with removable drip pan that sits inside. Handles are "cool touch" on either end of the reversible plate, flat for griddling on one side and ribbed for grilling on the other.
The temperature control unit plugs into a handle socket with a preheat time of about 3 to 5 minutes.
The cooking plate, drip pan and base are all dishwasher safe but washing with warm soapy water is recommended.
The ceramic cooking surface on this unit needs to be "conditioned" with a small amount of butter or margarine, per instructions, before adding your pancake batter, eggs or other food items.
Hamilton Beach 3-in-1 Multi-Purpose Griddle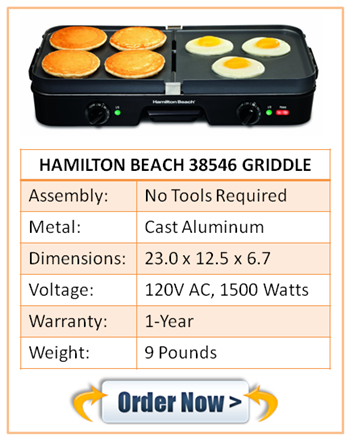 This Hamilton Beach Model 38546, is a 3-in-1 option that features two independently controlled sides and interchangeable plates — giving you a flat griddle surface on each side, a ribbed grill surface on each side or one side can be flat and the other ribbed.
The independent temperature controls give you heat options for flipping pancakes at a lower heat on one side while cooking steak, ham or bacon at a higher, searing temperature on the other.
Preheat time for this unit is 10 to 15 minutes.
One big advantage to two independent cooking surfaces is that you have separate heating elements on each side. This provides greater coverage for more even heating than a single heating element that loops the entire surface as in the other models reviewed here.
The drip pan is strategically located in the middle of the unit below a drain slot — formed at the junction of the joined cooking plates.
Because the base unit contains the heating elements and temperature controls, it can only be wiped clean with a damp soapy cloth. The cooking plates as well as the drip pan are dishwasher safe.
Zojirushi EA-DCC10 Pancake Griddle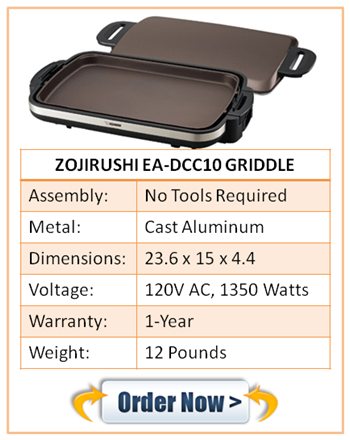 The Zojirushi EA-DCC10 "Gourmet Sizzler" griddle offers you a few more features that the other griddles reviewed here do not.
It has a well-type design where the griddle tray sits inside a body guard. The base is a brushed stainess band-accented black plastic and the griddle tray a warm chocolate brown with a subtle diamond pattern.
This griddle comes with a lid in the same warm brown color that can be used to minimize splatters when cooking and keep foods warm.
The EA-DCC10 model has a "keep warm" function that allows this to double as a warming tray — not available on the other featured units. It also has a 6-foot power cord whereas the other units cords measure about 24-inches.
This unit preheats in about 8 minutes.
The non-stick surface is a titanium-enhanced ceramic coating. Ceramics are free of PTFE and PFOA compounds and the titanium assists in keeping the stick-free surface bonded to the metal for longer useful life.
This is a 5-piece set that includes the main body guard (piece with the stainless accent strip), the heater set (where the heating element and plug are connected), the grilling plate, the lid and a stainless steel rounded edge spatula for flipping your pancakes, eggs and other foods.
All parts, with the exception of the heater set, are warm soapy water washable and are also dishwasher safe.