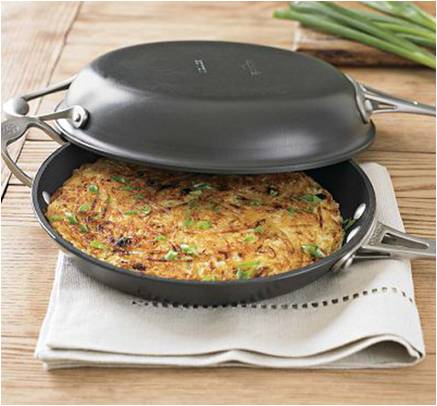 A frittata is the low carb, perfect food where your selection of gooey melted cheeses, aromatic smoked meats, crunchy vegetables and savory seasonings combine with eggs for something extraordinary.
It's a great choice, not only for breakfast or brunch but also for lunch and dinner when you are looking for something quick and easy-to-make.
Here we provide an in depth look at the best frittata pan and…
What you need to know about cooking in a frittata pan
Reviews of our Top 4 favorites
Pan comparisons, sizes, brands, features
Tips for ensuring your frittata is a success
Frittata versus Omelet Difference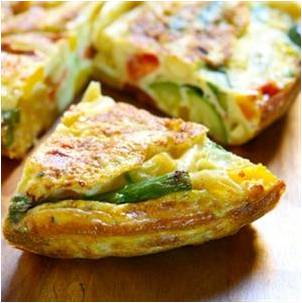 The question "What is the difference between a frittata and an omelet?" is more common than you might think but very easy to answer. The good news is a frittata pan may be used for either!
Yes, both a frittata and an omelet are made with eggs and both have a variety of fillings, but how the fillings are used sets the two apart.
In a frittata, the fillings are incorporated into an egg mixture, much the same as in a quiche.
With an omelet, the eggs are lightly scrambled in a pan and then left to set with the fillings then added into the center of the eggs. The eggs are then folded over to "sandwich" the filling.
The Frittata Pan WARNING
These handy little pans are a great value, easy to cook in and clean after BUT before you buy any pan for making frittatas (or omelets), know that the single biggest reason for pan failure is heat and here is why…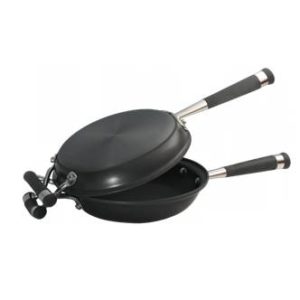 Frittata (and omelet) pans are generally non-stick coated. They are also usually made of aluminum because this metal is such a good conductor of heat and even cooking.
The non-stick coating, however, may start to break down and the pan may warp if overheated — this means temperatures above 500°F.
While you may think your pans won't get that hot keep reading…
Did you know that preheating on high, an empty lightweight aluminum pan for only 1.75 minutes, can reach a temperature of 507°F? Preheating the same pan on high for 2.5 minutes with as little as 2 tablespoons of oil can reach 517°F!
Cooking eggs on medium heat, in a lightweight aluminum pan for 3 minutes, reach safe temps of only around 218°F.
Pan warping and degrading of pan finish are two of the most reported reasons for customer dissatisfaction and are deal killers when it comes to the manufacturer's warranty (and some frittata pan warranties are usually pretty generous in terms of length).
Manufacturers are clear to point out in their product literature, that their pans must not be overheated — so, take caution when cooking in your new pan…do not preheat it in the same way you would cast iron skillet…just remember keep heat to medium and you will enjoy your pan for years.
Our Top 4 Best Frittata Pan Picks
In no particular order, here are our 4 picks for the best frittata pan. We looked at size, brand, customer satisfaction, materials, product warranty, ease of use and features when making our selection.
Cuisinart FP2-24BK Frittata 10-Inch Pan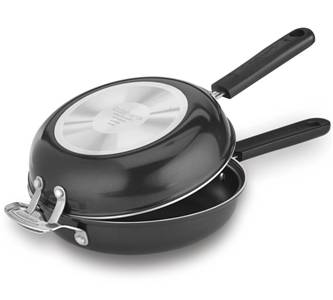 Cuisinart is a brand synonymous with quality. They are currently under the management of Conair Corporation since 1989 but were first introduced to America in 1973.
It was Chefs Julia Child and James Beard who introduced the Cuisinart food processor as a revolutionary kitchen appliance and Cuisinart has been unstoppable ever since.
Their FP2-24BK Frittata Pan lives up to this reputation. With two interlocking pans, your frittata execution will be flawless. Fill one side, cook and flip to cook the other. Each half may be used separately as omelet pans or together. Check out its features but note this will NOT work on an induction cooktop:
Color:
Detachable Lid:
Dishwasher Safe:
Heat-Safe Handles:
Non-Stick Surface:
Oven Safe To:
Pan Metal:
Pan Size:
Stovetop Types:
Warranty:
COST:
BLACK
YES
YES
YES
YES
350° F
Aluminum
10-Inch
Gas, Electric, Ceramic Glass only
Cuisinart Lifetime
Under $30
Nordic Ware 10692 Frittata and Omelet Pan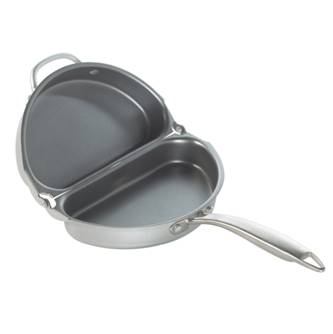 Nordic Ware was started in the basement of a home in Minneapolis, Minnesota by a husband and wife team just after the end of World War II and specialized in Scandinavian cookware.
Today, Nordic Ware, known for their bundt pan and other quality cookware and bakeware, are in over 70 million homes worldwide. They are still family-owned and operated and are a "GREEN" business making sustainability a priority in this "Made in America" company.
This Nordic Ware lightweight, easy-to-use Model 10692 frittata and omelet pan comes with an attached hinged lid, a stainless steel long handle, a PFOA free non-stick surface with interior measurements of  5″Dx 8.63″W x 1.38″H…just the right size for a 5 or 6 egg frittata. This is NOT suitable for induction heat. Some of the other features are:
Color:
Detachable Lid:
Dishwasher Safe:
Heat-Safe Handles:
Non-Stick Surface:
Oven Safe To:
Pan Metal:
Pan Size:
Stovetop Types:
Warranty:
COST:
SILVER GRAY
NO
YES
ONE, LONG HANDLE ONLY
YES
350° F
Aluminum
8.5 Inch
Gas, Electric, Ceramic Glass only
10-YEAR
Under $30
TECHEF Teflon Coated Frittata Omelet Pan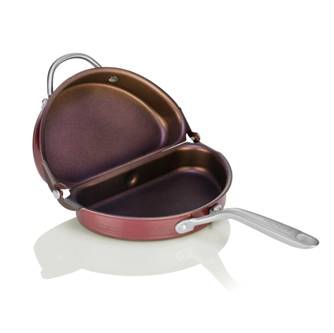 What can we say, it's purple…this TECHEF frittata pan provides the same conveniences of some of the other pans we like and while the color purple may not be for everybody…why not mix it up a bit?
TECHEF has identified the color as "Aubergine Purple" that signifies glory, splendor and the "pure joy of life". TECHEF is a Korean-based company making high quality non-stick cookware since 1982.
Many of their products feature the NEW PFOA-free Teflon non-stick coatings as well as Print Design Technology that enables them to safely apply colors and prints to their cookware without using harmful paints or materials in the process.
They offer a lifetime warranty to the original purchaser against any defects in materials or workmanship. This does not include cooking at unsafe temperatures or misuse. This pan is NOT suitable for induction cooking. It's other features are:
Color:
Detachable Lid:
Dishwasher Safe:
Heat-Safe Handles:
Non-Stick Surface:
Oven Safe To:
Pan Metal:
Pan Size:
Stovetop Types:
Warranty:
COST:
PURPLE
NO
YES, BUT HAND WASHING RECOMMENDED
ONE, LONG HANDLE ONLY
YES, PFOA-FREE TEFLON
350° F
Aluminum
8.5 Inch
Gas, Electric, Ceramic Glass only
LIFETIME TO ORIGINAL OWNER
Under $30
Magefesa Nonstick Frittata Skillet Pan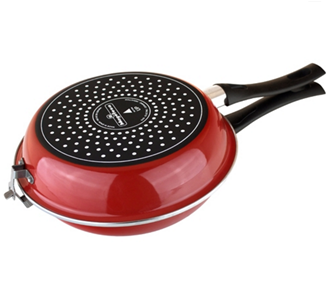 This red imported frittata skillet 2 pan set is made in Spain by Magefesa who are known for their pressure cookers and other high quality kitchen ware. It is easy to master the frittata flip with this interlocking pan set.
What makes this pan duo different than the others is that one pan is slightly smaller than its partner.
When the larger pan covers the smaller, it creates a barrier that keeps eggs from spilling when you do the "flip".
The Magefesa frittata pans are made from porcelain over steel construction with  a non-stick interior and that means it is safe to use on INDUCTION cooktops as well as others.
Porcelain steel cookware is still subjected to high heat warping when compared to aluminum but resists staining, rust and corrosion while providing even heat distribution. This pan's interior needs to be seasoned with oil periodically. Here are some additional features:
Color:
Detachable Lid:
Dishwasher Safe:
Heat-Safe Handles:
Non-Stick Surface:
Oven Safe To:
Pan Metal:
Pan Size:
Stovetop Types:
Warranty:
COST:
RED
YES
YES, HAND WASH RECOMMENDED
YES, TWO HANDLES
YES (FPOA-FREE UNKNOWN)
250-300° F
PORCELAIN COATED STEEL
9.5 Inch
Gas, Electric, Ceramic Glass, Induction
10-YEAR
Under $50
Tips for Making Your Frittata a Success
Frittatas come in all sizes and thicknesses, for example, the Italian frittata can vary from being thin like a pancake to being thick, wrapped in a golden crust and with a creamy center…all largely due to ingredients and how they are prepared.
The one result you want to avoid is having your frittata turn out too spongy, too dry, lacking flavor layers and no texture.
Here are some tips to ensure your frittata finishes full of flavor, with a silky texture that hovers between quiche and omelet.
Cook Wet or Fatty Add-ins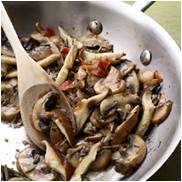 To get the perfect frittata, the egg mixtures needs balanced moisture.
Too much liquid and the eggs will be watered down making the end result thinner.
Vegetables that release moisture like tomatoes, mushrooms, onions, zucchini, summer squashes and raw potatoes are better sauted separately first before adding to your eggs.
Know Your Egg-Dairy Ratio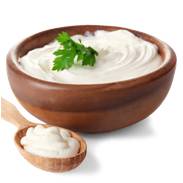 Adding dairy such a full fat milk, cream, sour cream or creme fraiche can make a frittata extraordinary.
As with the wet ingredients, too much dairy can make your eggs too loose. You need not miss the creamy goodness if you remember these two simple equations.
USE ONE HALF CUP OF DAIRY FOR EVERY 12 EGGS AND USE ONE QUARTER CUP DAIRY FOR EVERY 6 EGGS.
Carefully Select a Cheese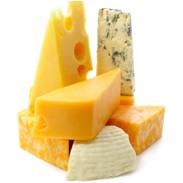 Delicious cheeses add another layer of flavor to a frittata or omelet and you need to know, in advance, how you want your cheese to deliver.
For a creamy texture choose cheeses that have great melting qualities such as pepper-jack, cheddar, Fontina, Gruyere and American.
Cheeses that do not melt as well may still be used but perform better as dollops or dense pockets of flavor. Softer cheeses like ricotta do not melt well and neither do aged cheeses such as Parmesan and Romano.
Size Matters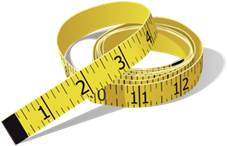 The size of your frittata pan and the number of eggs you use will directly impact the height of your frittata and how long it takes to cook.
As an example, a 10-inch pan is well suited to a 12 egg frittata. You may still use that same 10-inch pan for a 6 egg or smaller frittata but realize the end result will be thinner — and, a thinner frittata will cook much faster. Adjustments should be taken, as necessary, if following a specific recipe.