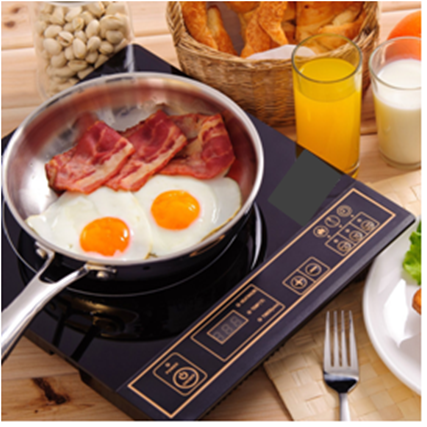 This complete guide will introduce you to an induction hot plate.
We'll share with you what it is, the Top 10 reasons to own one and how to use it to your best advantage.
We will also provide reviews below for what we feel are some of the best induction hot plate brands and models on the market today.
All models reviewed here include settings for Warm, Slow Cook, Sear, Boil, Saute, and Brown.
What is Induction Cooking?
To best explain induction cooking is to start with how induction heating works.
Induction heating is an electromagnetic process that heats an object that conducts electricity like a metal pan.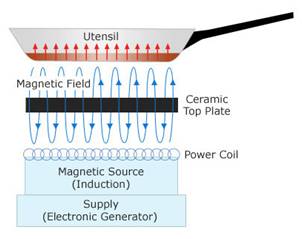 The magnetic field penetrates the object generating electric currents inside the object material.
Because the induction heating process generates heat within the metal of the pan instead of through an external heat source like a gas or electric burner, the pans are heated very fast saving energy.
You might ask "Is induction cooking safe?" and the answer is a resounding "YES" it is very safe and a very efficient cooking  method.
To put this in perspective, gas burning cooktops operate at 30-35 percent efficiency and cost approximately $1.65 per hour to operate, an induction cooktop only costs about $0.12 per hour to operate with an 83 percent efficiency rate.
10 Reasons to Consider a Portable Induction Cooktop
Speed — It takes less time to cook food with a portable induction cooktop because the pan heats up quickly. Unlike electric and gas countertops that usually use a burner to transfer heat to a pan bottom, induction transfers heat directly within the metal of the entire pan. This makes the heating process extremely fast.
Energy Efficiency — Cooking an induction type hot plate is definitely faster when compared to cooking with a gas or electric burner as heat in the induction cooking process is generated within the pan itself  — more of the heat gets instantly to the food resulting is faster, more even cooking.
Safety — Induction hot plates do not get too hot because the heat is created within the pan itself. Chances of it causing a burn will be less likely compared to stove tops. Moreover, the instant response to heat after "power on" is almost immediate. It cools down as soon as you turn off the heat unlike gas or electric burners. The pan is what gets hot not the cooktop surface.
Instant Adjustment — When you are using an induction hot plate to cook, you can adjust the cook time and power settings instantly and with greater precision. Heat can be adjusted in smaller increments depending on what you are cooking or the speed at which you want it to cook.
Ease of Cleaning — Since an induction cooktop does not get too hot, food rarely burns or sticks to the cooking surface. A spill or splatter mean faster cleaning with the swipe of a sponge unlike other cooking equipment that might require a good, long scrub.
Cost Savings — Cooking with induction generated heat is far more efficient when compared to gas or traditional electric ranges. Approximately 80 percent or more of the money that is spent on cooking energy goes right where it is supposed to go – within the pan – instead of in the room.
Time Saving — Cooking in the food service industry or at home, time is of utmost importance. Since an induction hot plate offers a faster and more efficient cooking process, it leads to a shorter cooking time.
More Settings — An induction cooking plate has multiple settings that give you much more precise control of heat and wattage. It offers more temperature increments as well as better performance at very low heat settings.
A Cooler Kitchen — Traditional electric and gas countertops usually waste more than half of the heat that they generate. The wasted heat causes the kitchen to warm up, something that contributes to higher cooling costs in your home during warmer months. With an induction hot plate, almost no heat is wasted because it is being generated within the pan itself.
Ease of Installation — Induction hot plates are usually very thin vertically unlike other types of cooking equipment. They do not require a lot of space below cabinets surfaces. Their portability makes installation very simple and convenient without taking up a large footprint where placed.
Pans for Induction Cooking
Because the induction cooking process is electromagnetic, the cooking vessels need to be able to conduct the electricity generated by the magnetic field.
The characteristics of a good piece of induction-ready cookware is based on the material the cookware is made of. The most common materials would be magnetized steel, iron, cast iron,  and enameled cast iron.
An induction hot plate will not work with glass, ceramic, copper, aluminum and non-magnetic stainless steel (18/10, 18/8 stainless) cookware.
The best induction cooking pot or pan needs to be able to support the magnetic field associated with the cooking process and for that, it needs to be substantially "ferrous" or iron-based. Steel wrapped cookware with an aluminum core will also work.
There is a simple test you can do to determine if your existing cookware is induction ready. Take a magnet of any kind such as a refrigerator magnet and see if the magnet clings to the bottom of your pot or pan. If it DOES, then that piece of cookware is induction-ready — if it does NOT cling or clings very weakly, the cookware will not work.
Best Induction Hot Plate Reviews
We did some extensive research when looking for the best induction hot plate brands and models. We examined features, manufacturers, warranty, operation and existing customer reviews to come up with those that would provide the best value overall to the customer at an affordable price.
Here are the brands and models we like in no particular order:
Aroma AID-513FP Professional Induction Cooktop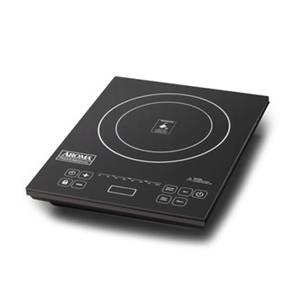 The Aroma Housewares Company is located in San Diego, California and boasts an A+ rating with the Better Business Bureau for quality products and customer care.
Their Aroma Professional Induction Cooktop Model AID-513FP is a professional grade hot plate for home use with a lot of convenient features.
It measures 11.4″W x 15.0″D x 2.2″H inches and weighs just 7.6 pounds.
This induction hot plate, like others, will only operate when induction-ready cookware is used and shuts off automatically when cookware is removed.
Here are the top features for this Aroma model:
Convenient easy to clean ceramic top
Programmable 180-minute timer with auto shut-off
Plus or minus buttons to adjust heat and time settings by minute or degree
Slow cooks for up to 8 hours for stews and roasts
Lock controls feature to ensure settings do not change if Control Panel is touched during cooking
Clean, easy to read LED digital display
INCLUDES Induction-Ready Fry Pan BONUS
Works with Cast Iron, Enameled Cast Iron, Magnetic Stainless Steel and Magnetic Anodized Aluminum cookwares
Wipes clean with a damp cloth
Runs on standard 120V household current
Comes with a 5-YEAR Aroma Housewares Limited Warranty
Includes detailed Owners Manual
Rosewill RHAI-13001 1800W Induction Cooker Cooktop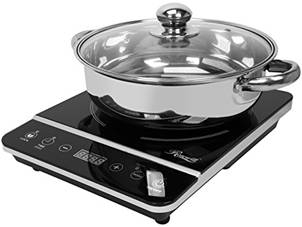 This unit is made by Rosewill Inc., based in China with a U.S. office located in City of Industry, California.
Their Rosewill RHAI-13001 Portable Induction Cook Top has a small footprint conserving counter space, is lightweight and has many of the same features as other models reviewed.
It measures 13.58″ W x 10.63″D x 2.4″H and weighs just 5.1 pounds.
With this induction cooktop, you can braise, deep fry, stew, roast, saute and simmer. This purchase INCLUDES the induction-ready dutch oven and lid shown in the image. The dutch oven has a 3.5 quart capacity.
Here are the top features for this Rosewill model:
Cookware Suitability Detection
Overheating Protection
Power, Temperature, Timer, Incremental Adjustment, Cooking Mode and Lock Features
Rear Exhaust Vent
3-hour Timer Adjustments
Works with Magnetic Stainless Steel, Steel, Iron and Enamel Iron pots and pans
Cleans with a damp cloth and pH neutral detergent
INCLUDES Induction-Ready Dutch Oven and Lid BONUS
Audible Signal at end of timer with Standby Mode
Power Levels between 150 degrees and 450 degrees
Lockout feature for accidental button pushes
Comes with a 1-YEAR Limited Warranty
Includes detailed Owners Manual
DUXTOP 8100MC Portable Induction Cooktop Burner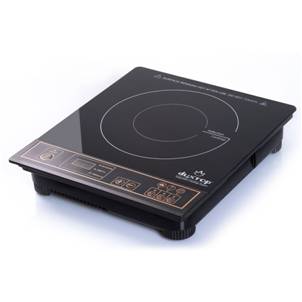 The DUXTOP 8100MC Induction Hot Plate is made by Secura, Inc. who have a U.S. office in Brookfield, WI. Their products are made and assembled in China. They are not rated at the Better Business Bureau.
This DUXTOP Induction Cook Top is an indoor or outdoor cooking option that comes in handy for entertaining — you can use it on the table as a centerpiece for cooking or for outdoor parties or on a kitchen counter or island, anywhere you need extra cooking space — just be sure to have access to standard 120V household current.
It measures 13″D x 11.5″W x 2.5″H and weighs just 6.5 pounds. It comes with a generous 6.5 foot electrical cord.
Self-adjusting burners detect the size of the cookware base and automatically adjust so that very little energy is wasted. This unit can easily accommodate skillets up to 10 inches in diameter for even cooking.
Here are the top features for this Secura DUXTOP 8100MC model:
Can handle pan, food and liquid combined weights of up to 15 pounds.
There are 10 temperature range settings from 140 degrees to a maximum of 460 degrees
It features 10 power levels from 200 watts up to 1800 watts depending on what you cook
This unit can be using for frying, stewing, braising, boiling, sauteing, and poaching
Works with Magnetic Stainless Steel, Steel, Iron and Enamel Iron pots and pans
It has a countdown timer with 5 minute increments, up to 170 minutes
Cleans with a damp cloth and mild detergent
Equipped with a low and high voltage warning system
Has a diagnostic error messaging system that lets you know when something is wrong
Comes with a 1-YEAR Limited Warranty
Includes detailed User Manual
DUXTOP Model 9100MC Induction Portable Hot Plate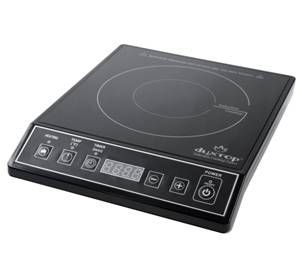 The DUXTOP 9100MC Induction Hot Plate is also made by Secura, Inc.  and like the 8100MC model above, this product is made and assembled in China.
This unit is compatible with induction ready cookware like stainless steel with a magnetic bottom, cast iron, steel-wrapped cast aluminum core, enameled iron and steel cookware.
It measures 11.4″W x 14″D x 2.5″H and weighs just 5 pounds 12 ounces. It comes with a generous six (6) foot electrical cord.
Here are the top features for this Secura DUXTOP 9100MC model:
Can handle food, liquid and pan combined weights of up to 25 pounds.
At a maximum of 1800 watts this unit is 50 percent more powerful than a gas stove and will heat up to temperature 5 times faster than an electric cooking element.
There are four different ERROR codes that let you know if the right cookware is being used, if a cooling fan is malfunctioning, if the cooking surface temperature is exceeding the 460 degree limit and if the incorrect voltage is being used
This unit has a 170 minute automatic timer with audible alert
Easily switch between Power and Temperature Modes based on what you are cooking
Cleans with a damp cloth and mild detergent
Equipped with a low and high voltage warning system and cooks at temperature ranges between 140 and 460 degrees
Cookware alignment rings on the surface ensure even heating
Comes with a 1-YEAR Limited Warranty
Includes detailed 12-Page User Manual
Final Thoughts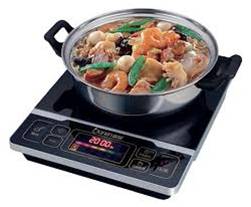 Here are a few final points to consider before purchasing the best induction hot plate for your household — these may help you better decide where and how you would use one.
Induction cooktops will generally require a minimum 4″ diameter pan base for the induction coil to work.
All units will come with a cooling fan that will make some humming or buzzing sounds as the fan cycles on and off with cooking.
It is important to ensure there is a least 4″ of circulation space at the back of the induction hot plate so the cooling fan does not overheat.
Be sure to check the maximum weight that the ceramic cooking surface can handle without cracking. For example, if the weight limit is 15 pounds, then this includes pan weight and food weight combined. As an example, one quart of water weighs 2 pounds — think about the water weight in combination with pan and food weight if cooking pasta, soups or stews.
You cannot use abrasives, scouring pads or solvent type cleaners as these may damage the ceramic surface — and, no part of a portable induction cooker is dishwasher safe.
An induction cooktop unit uses electromagnetic and radio frequency energy that can interfere with radio and television communications as well as pacemakers. You should also avoid placing any objects near the cooktop that may be affected by a magnet such as credit cards or anything with a magnetic strip on the back.