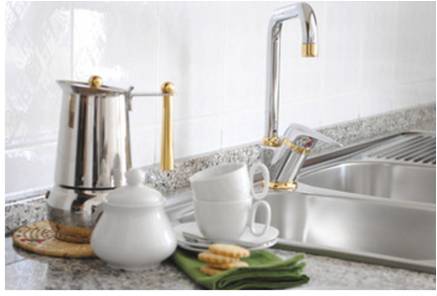 The best kitchen cleaners are not always suited to all surface materials. Specifically, how to clean kitchen marble and granite countertops is not as easy as whipping out a spray bottle of 409, Windex, Lysol or SoftScrub multi-purpose type products.
While these are good general cleaning options for other non-porous kitchen surfaces, they can actually damage your natural stone — dulling or even etching the surface.
Many of these products contain abrasives or acidic ingredients that can eat into the natural stone surface, ultimately requiring buffing, repolishing or refinishing — costing you valuable time and money.
In this article, we will explain what the best and safest daily cleaners are for marble and granite kitchen counter surfaces and why you need them plus, we provide our recommendation for some of the best kitchen cleaners available today.
pH Chart and Kitchen Cleaners
Understanding why some kitchen cleaners are better than others for natural stone starts with a basic pH chart.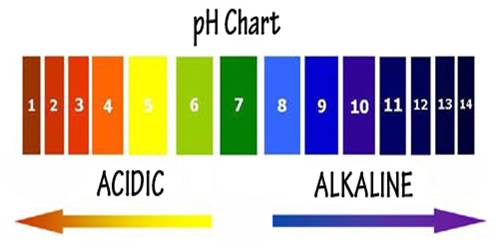 A pH chart illustrates a scale that measures how acidic a substance is. In relation to a porous natural stone, the more acidic (or alkaline), the more damage it can do to the stone and its surface.
The scale goes from 1 to 14 measuring which substances are more acidic in the lowest range and those that are more alkaline in the highest number range.
Kitchen countertops are often more exposed to acidic substances (fruit juices, tomatoes, vinegar) while bathroom countertops are more likely to be exposed to alkaline products (ammonia, bleach, toothpaste, metal cleaners, antacids) that do not react well with marble or granite.
A pH chart rating of around 7 means a kitchen cleaner is pH neutral — being neither too alkaline or too acidic. This is the type of cleaner or those slightly more on the alkaline side are generally safest to use on a daily basis for kitchen natural stone surfaces like marble and granite.
Cleaning Kitchen Granite and Marble Countertop Tips
Before using any spray type cleaner it is best to remove any surface dust, dirt, crumbs, etc. so they do not become trapped in the marble or granite pores — this eliminates the risk of scratching the stone surface when it becomes wet.
When cleaning concentrates are mixed with water, follow manufacturer's recommendations for water to cleaner ratio. Adding more cleaner than recommended may result in streaking or leaving a film on the surface of the countertop.
If you notice your sponge or cleaning cloth becoming visibly dirty as you clean, then be sure to rinse the cloth more than normal.
If you are not using a pH balanced cleaner, then be sure to wear rubber or latex gloves as some alkaline cleaners may cause skin irritation.
While rare in pH balanced kitchen cleaners, those that are NOT low odor emitting means you should provide adequate ventilation when using the product to eliminate any sensitivity to fumes.
Check to see on product labeling that the natural stone cleaner is safe for BOTH sealed and unsealed natural stone surfaces.
It is also important to verify, that when using kitchen marble and granite cleaners, they are SAFE to be used on surfaces where food is prepared.
Unless the kitchen cleaner is labeled specifically for use on marble or granite surfaces, DO NOT use it. This especially means kitchen cleaners that are labeled "multi-purpose" and "multi-surface".
Best Kitchen Cleaners for Natural Stone Countertops
Below are our top choices for the best kitchen cleaners when used on natural stone surfaces such as marble and granite. These are in no particular order and all featured products are pH balanced. This also means they are safe for use in food prep areas and safe for kids and pets.
Click the product name link in the table below to learn more information on the product and see satisfied customer reviews.
Visit http://howtocleanmarble.org for more detailed, helpful information on cleaning marble and natural stone both in the kitchen and elsewhere.