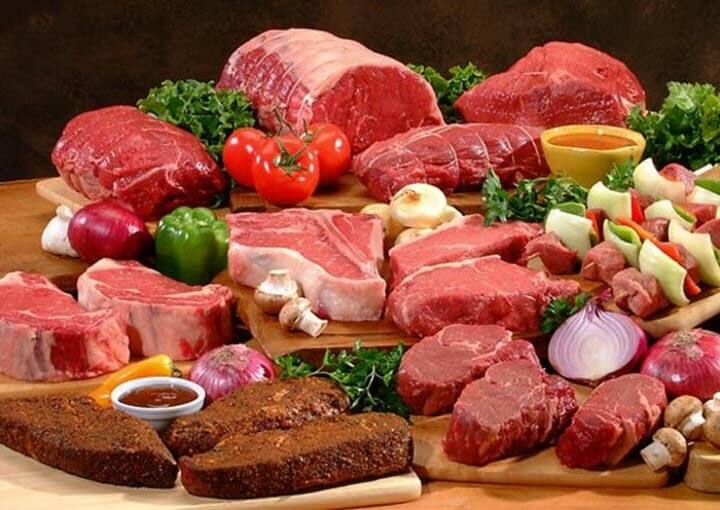 There are many good reasons to have an electric meat grinder in your kitchen — this handy small appliance is about so much more than making sausage.
Electric, standalone kitchen grinders let you blend fresh cuts of meat and seasonings for any number of uses that are only limited by your imagination. The resulting flavors, tastes and textures are unmatched when compared to packaged or prepared meats or foods.
At least when you grind your own, there is no doubt about what's in your grind — not so much with packaged meats!
The best part is it's fast — as an example, you can grind enough meat for six (6) tasty burgers on the grill in just 2 or 3 minutes. Advance your skills in the kitchen by combining cuts like beef, veal and pork for an amazing meatloaf or some of the best meatballs you've ever tasted. Coarsely grind vegetables for soups, stews, lasagna and casseroles.
Parts of a Standalone Meat Grinder
Standalone grinders are all pretty much designed with a similar profile and generally have the same functioning parts. There is a tray located on top of the feed tube (called the Hopper) where extra meat can be stored before being pushed into the grinder.
The "Screw", as much as the motor, is the workhorse of the grinder. It is the part that steadily guides the meat down the grinder shaft toward the blades.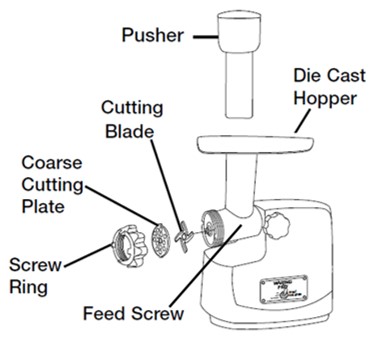 The "Blades" and "Cutting Plate" are what produce the end result. The "Blade" is a small cross-shaped piece with a sharp edge on each arm that rotates against the cutting plate. The cutting plate is a flat piece of metal with holes cut into it — the smaller the holes, the finer the cut of meat.
As the "Screw" forces the meat into the "Cutting Plate", the cutting plate blade cuts it into a fine, medium or course grind.
Last but not least is the cover plate or "Screw Ring" — this is used to keep the "Blade" and "Cutting Plate" in place as it grinds.
Most electric meat grinders give you multiple cutting plate options that will work for just about any food you want to grind. In addition to sausage making you can use different cutting plates for:
Fine Cutting Plate – baby food, spreads, sauces and pâtés
Medium Cutting Plate – relishes, veggies and ground meats used in soups, pastas or casseroles
Course Cutting Plate – ground meats and veggies used in chili, stews, burgers, meatloaves
It also works great for making ham, roast beef or chicken salad and also for making corned beef hash.
The Standalone Electric Meat Grinder Advantage
The best and most distinct advantage a standalone electric grinder has over a manual grinder or a food processor attachment, is that most of them have a reversing function on the motor.
This can be a real time saver if you are trying to grind especially tough cuts of meat that can have connective tissues getting caught in the cutting blades.
The reverse feature also saves a lot of wear and tear on the motor.
Choosing the Right Electric Kitchen Grinder
Anyone interested in an electric meat grinder is going to have a specific usage in mind before buying. Here are some tips on the functions and features to look for before making a selection.
Peak Motor Performance
Because not all cuts of meat are tender, grinding tough cuts can place some wear on an electric motor. Electric meat grinders with a higher peak performance and higher wattage mean a heavier duty grinder motor that can handle the tougher cuts.
Speed Factor
Depending on how many vegetables or pounds of meat you plan to grind, you will want to look at how many pounds the unit can grind in one minute. The faster the grind, the more time you have for other kitchen activities.
Check the Hopper
A large hopper on a meat grinder lets you load the grinder more quickly and saves you time in the transfer of cubed meat or vegetables to the grinder.
Size Matters
Depending on where you intend to store this handy small appliance, be sure that your shelf depth, countertop depth and cabinet heights will accommodate the size of the meat grinder you select.
Overcurrent Protection
Grinding meats or vegetables for an extended period will likely cause the unit motor to heat up. Electric meat grinders with overcurrent protection will stop the working motor for a short period of time until the motor has a chance to cool down. This protects the appliance from overheating.
Best Electric Meat Grinder Usage Tips
If you're new to using a meat grinder, there are some very common rookie mistakes like stuffing too much meat into the hopper and not using the proper sausage attachment based on grind of meat — this is a fast learning curve and your technique improves with use.
Here are some tips for the first time user…
Make sure to cut your meat or vegetable strips or cubes slightly smaller than the opening on the hopper (no stuffing)
Remove all tendon and bones before grinding meat
Meat grinds much better when chilled but not to the point of freezing. This actually helps the meat to retain some of its juices
When you do a lot of grinding, fat can build up in the grinder tube and can strain the motor. If you alternate dry bread with the meat, it helps to keep the feed screw cleaner
Before you start grinding meat, if you take a small amount of fat and run it through first, it will grease or lubricate the grinding mechanism and make the meat go through easier
Try not to make your sausage too thick because this will cause your casings to overstretch and crack
You can season your meat or vegetables either before or after grinding
Best Standalone Electric Meat Grinder – Our Top 5
| | | | | |
| --- | --- | --- | --- | --- |
| | | | | |
| SPECIFICATIONS | Sunmile SM-G73 ETL | Homeleader Brand | STX-3000-TF | |
| CUTTING PLATES | 3 | 3 | 3 | |
| DIMENSIONS | 19.7 x 10.7 x 8.6 | 17.6 x 12.0 x 4.9 | 14.5 x 6.5 x 16.5 | |
| DISHWASHER SAFE? | Hand Wash | Hand Wash | Hand Wash | |
| FINISH | Stainless Steel | Stainless Steel | Stainless Steel | |
| HOPPER SIZE | Extra Large | Large | Extra Large | |
| KUBBE ATTACHMENT | NO | NO | YES | |
| MOTOR REVERSE | YES | YES | YES | |
| MOTOR WATTAGE | 600W | 300W | 600W | |
| OVERLOAD PROTECTION | YES | YES | YES | |
| POUNDS PER MINUTE | 3 | 2 | 3 | |
| POWER SUPPLY | 120V AC | 120V AC | 120V AC | |
| PEAK POWER SUPPLY | 1000W | 800W | 1200W | |
| SAUSAGE ATTACHMENTS | 3 | 3 | 3 | |
| UNIT WEIGHT | 12.8 LBS | 8.8 LBS | 12 LBS | |
| WARRANTY | 1 YEAR | 1 YEAR | 1 YEAR | |
| WHERE MADE? | CHINA | CHINA | CHINA | |
| | | | | |
| | | |
| --- | --- | --- |
| | | |
| SPECIFICATIONS | Gourmia GMG7000 | MAGIC MILL MMG-3000 |
| CUTTING PLATES | 3 | 3 |
| DIMENSIONS | 10.0 x 14.0 x 10.0 | 19.5 x 10.8 x 10.1 |
| DISHWASHER SAFE? | Hand Wash | Hand Wash |
| FINISH | Chrome | Chrome |
| HOPPER SIZE | Large | Extra Large |
| KUBBE ATTACHMENT | YES | YES |
| MOTOR REVERSE | YES | YES |
| MOTOR WATTAGE | 800W | 800W |
| OVERLOAD PROTECTION | YES | Unknown |
| POUNDS PER MINUTE | 2 | 2 |
| POWER SUPPLY | 120V AC | 120V AC |
| PEAK POWER SUPPLY | 2200W | 1800W |
| SAUSAGE ATTACHMENTS | 3 | 3 |
| UNIT WEIGHT | 10 LBS | 15 LBS |
| WARRANTY | 1 YEAR | 1 YEAR |
| WHERE MADE? | CHINA | CHINA |
| | | |