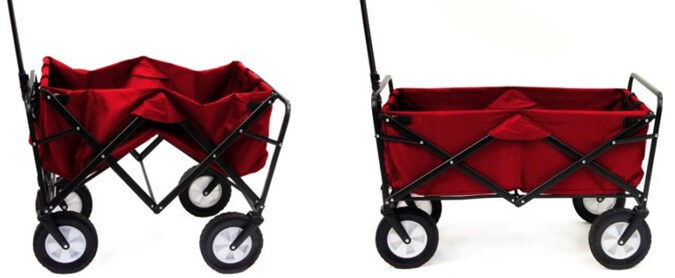 Everybody shops for groceries their own way and my way necessitated I find a folding utility cart or some type of collapsible wagon to haul 20 or more of those over-stuffed grocery bags I accumulate on each trip.
Some people buy their groceries on an as needed basis but my grocery shopping (once or twice a month) can be classified as an event.
While a lot of us start out with the best intentions in getting just what we need, I have a tendency to navigate the grocery aisles like I'm on an expedition hunting for new products to try.
Naturally, plenty end up in my grocery cart and fill the back end of my SUV.
The journey from my garage to my kitchen is no short distance so hauling bottled water, canned goods, and over-sized items like paper towels and toilet paper ends up taking more than few trips back and forth.
Why Consider a Collapsible Folding Utility Wagon?
Needing to figure out how to minimize my effort between the car and the kitchen my initial solution was to buy a traditional kids Radio Flyer Classic Red Wagon but I was shocked to see this simple child's toy costs upwards of $100.00.
After much research, including plenty of shopping online, checking out the big box stores like Walmart, Sam's Club and Target, I ended up buying a MAC Sports Folding Utility Cart in red.
This utility wagon is beyond awesome in my book — so much so I have given them as gifts.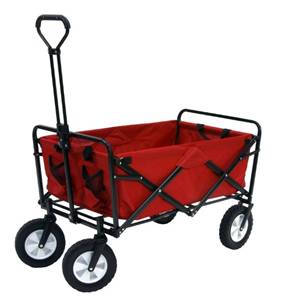 It's available in blue, camo, red, brown, green and black and is one of those items that when you get it, you'll wonder how you ever managed without it.
Features and Benefits of the MAC Sports Wagon
One handy feature in this folding utility cart is it collapses down to just 8″ wide. This makes it easy to store against a wall in your garage, in a basement, in a closet or even under a bed if you're short on space.
It has stout steel frame construction which gives this collapsible utility cart a weight carrying capacity of 150 pounds (although not recommended for carrying kids or pets). Some of its other features are:
It has generous, load supporting 8″ molded wheels
The frame is well-made sturdy powder-coated steel
The OPEN dimensions of the folding utility cart are 35.51″L x 20.2″W x 22.52″D
The FOLDED dimensions of this collapsible wagon are 29.49″L x 20.2″W x 7.99″D
The material is 600D nylon, waterproof fabric — the same used in quality luggage and military tactical vests where durability matters
It comes with a large drawstring bag for storing or transporting the entire unit
There is NO ASSEMBLY required. Buy it — use it instantly!
Benefits of the MAC Sports Folding Wagon
Hauling groceries is just the tip of the iceberg when it comes to the available options for this utility cart's use. Here are just a few things this folding wagon excels at and be sure to checkout out the short video above:
Buy bottled water in 24 and 32 bottle packs? Load up this collapsible wagon and get them to the kitchen in one trip
Makes transporting laundry items such as sheets, blankets, clothes, rugs and comforters both before and after washing easier — less trips back and forth
Great for hauling golf bags, shoes and cooler
Handles all types of school sports equipment from gym bags, to balls, cleats, nets, bats and bases
Great for transporting those 1 and 5 gallon plants you want to add to your garden — not to mention garden tools, potting soil and fertilizer
Packs tents, coolers, camp stoves, sleeping bags and other gear for those camping and hiking trips
Just think of how easy it will be to haul fireplace wood for any cold winter nights
This doubles as a great dock cart for fishing, boating, kayaking, tubing and lake trips
It is also tops for moving boxes full of documents, books, small appliances and office equipment, bottled water, dishes, etc.
On the Flip Side…
While this seems the perfect solution to all common hauling inconveniences, it will have its drawbacks for some. The overall unit weighs about 26 pounds and while this isn't a problem for many users, there will be some people that may have difficulty lifting this folding cart.
There have also be some user comments regarding difficulty in steering this folding wagon which I personally, have not experienced. I think what some don't realize is that the wagon's handle does not turn the wheels, it's the user's direction of pull — be sure to check it out in the video above.
The wheels themselves pivot all the way around and adjust to the direction in which you are pulling the wagon.
Collapsible Utility Wagon is Easy Maintenance
Because you've got a waterproof liner and coated steel, cleanup is easy. Just use your shop vac to vacuum any loose dirt or hose it out with a garden hose. Be sure to let it dry thoroughly before folding it for storage.
In summary, I can't recommend this highly enough and MAC Sports offers a 1-Year warranty against any defects in materials or labor.
I've had mine for 6 years now, use it all the time and it's still in like new condition…one of my best investments.
Due to the popularity of the MAC Sports brand, a number of other brands have produced similar collapsible wagons. Our top 4 picks are below.
Last updated on February 16, 2018 6:29 pm