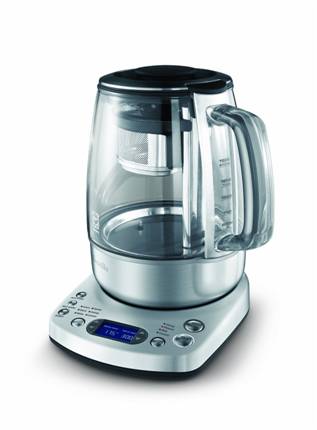 If you love that fresh brewed spot of tea, we like the Breville One Touch Kitchen Glass Tea Maker system that offers the same perks (pun intended) of some of the better coffee makers on the market.
Making just the right cup of tea requires you start with fresh cold water — tea loves oxygen and this is what helps the flavors develop.
Playing a role in the flavor of the water, cold water contains more oxygen than hot. Besides, if you use hot water, you're using water heated and sitting in your hot water heater.
Freshly boiled water, not over-boiled works best for black teas and hot water just at the boil works best for green teas.
The design of this tea maker system takes into consideration all the factors that make a great cup of tea and does it for you so — all you need to do is wake up and enjoy the brew.
Overview of the One Touch Breville Glass Tea Maker
You know when making tea, getting water to just the right temperature takes a little bit of patience — letting that tea brew, in bag form, takes up to 3 minutes and loose up to 7 minutes (the larger the leaf the longer the brew time).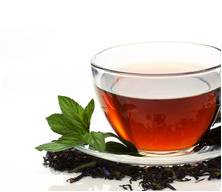 That time can be better spent pounding the snooze button one more time, getting the newspaper or starting your morning meal.
This is a tea lovers programmable maker that provides an experience resulting in the perfect cup of tea — every time.
It works for all types of teas, water temperatures, and steep times.  It has a patented moving tea basket that allows hot water to circulate around and through individual tea leaves for maximizing infusion and flavor.
With the convenience of a coffee maker, you just set the timer and wake up to perfectly prepared tea — ready and waiting for you.
No worries about over steeped tea because the moving tea brewing basket raises the tea leaves above the water level at just the right time.
How the Breville Tea Maker Works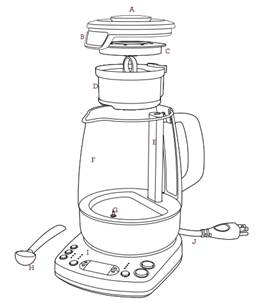 This is an electric glass tea kettle system that operates based on programmed functions located in the base of the unit. With the Breville One Touch you get the following components and a super detailed instruction manual:
Kettle or Jug Lid
Stainless Steel Scale Filter
Tea Basket Lid
Stainless Steel Tea Basket
Jug post that attaches magnetically to the tea basket
Glass tea kettle or jug
Tea Scoop
Electric power base with cord storage
Your electrical power base contains the buttons and features that will let you choose just how you want your tea to be brewed.
There is a "Tea Type" button where you select either Black, White, Oolong, Green, Herbal or Custom tea. Include is a button where you choose mild, medium, strong or custom steep times. You will see a "Basket" button for auto-lifting and lowering the tea basket to promote optimum circulation around tea leaves.
A backlit LCD timer lets you set the brew time and temperature to suit your personal preferences.
To use this electric tea kettle start by filling the jug with desired amount of cold water. Take the tea basket, remove its lid and use the provided scoop to fill the basket with tea leaves — amount based on personal taste. Put the lid back on the basket and slide the basket onto the magnetic post in the jug. Make your selections by pressing the buttons on the power base and you're ready to go.
What You Need to Know About this Tea Kettle
As with any purchase, there is always the fine print with important information that's usually not available to you until after you have purchased the product. Here's what we think you would want to know about this Breville BTM800XL before you make a decision to buy:
The power base of the tea maker should never come in contact with water as this can affect the electrical system components.
Glass kettle should be allowed to completely cool before immersing in water. Hot glass in cool or cold water can affect the structural integrity of the glass itself.
The Breville glass kettle holds 51 ounces of water making 41 ounces of tea maximum per brew cycle. 51 ounces is just over 6 cups.
Finer tea particles and leaves will infuse more quickly than whole leaves. As a result, finer tea particles often release too much tannin too quickly, creating a harsher taste. Brewing time will need to be adjusted based on type of tea you use.
Tea Maker has "Maximum" and "Minimum" fill lines. Over filling above the maximum line can result in burns from boiling water. Under filling BELOW the minimum fill line can result in the unit shutting off before the brewing cycle is complete.
Included instruction manual offers preset temperatures and tea brew times that you can elect to use or override with your own preferences.
Harsh chemicals, steel wool, or abrasive cleaners should not be used to clean the inside or outside of the glass tea maker as these may scratch the surface.
Only the glass tea kettle lid, tea basket, basket lid and scoop are safe for the dishwasher.
The Breville All-in-One One Touch BTM800XL Tea Maker comes with a 1-Year Warranty from DATE OF PURCHASE against defects in materials or workmanship.
$199.99
$380.00
23 new from $199.99

Amazon.com
Free shipping
Last updated on February 19, 2018 10:32 pm