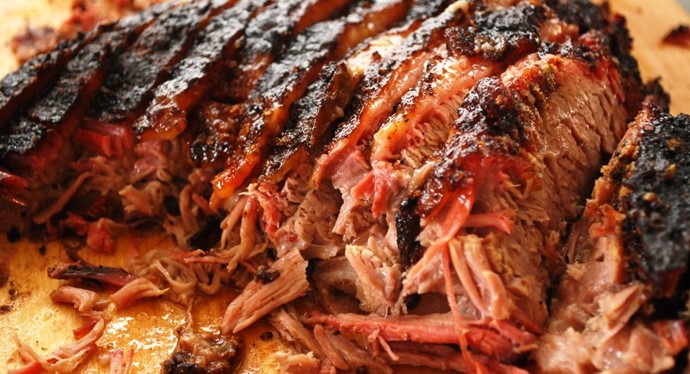 Indoor smokers for meat are an option to get you that fork-tender brisket, chicken or sausage, when you want them — in the comfort of your kitchen and without any impacts from Mother Nature.
Here we will take a look at three (3) options for the best kitchen indoor meat smokers.
All have the capacity for creating wood smoked chicken, fish or vegetables in addition to smoking tougher cuts of meat, sausages and ribs — all have different features and are at different price points.
Our guide will detail the features of each Brand as well as provide their pros and cons so you have all the information you need to make an informed buying decision.
About Smoked Meats, Fish and Poultry
Grilling is great, but smoking a cut of beef, pork or chicken gives it a distinctive color through curing and permeation of smoke along with another deeper flavor dimension you can't get from a barbecue grill.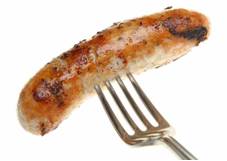 Cooking consistently low and slow gives the smoke from hardwood chips, time to distribute through the meat or poultry; and also allows it to tenderize naturally through the smoking process.
For example, in smoked brisket the natural connective tissues found in this cut of meat, break down, become tender and ultimately change into a basic sugar through slow smoking. This gives it a lightly sweet taste — that in partnership with the hardwood smoke, adds a depth and richness to the flavor of the meat unlike any other.
The smoking basics require you to have enclosed heat, wood chips, sufficient air circulation for even heat distribution, and rubs or seasonings to suit your flavor palette.
Some, not all indoor electric or gas smokers, use water as part of the smoking process. A simple rule to remember is that the smoke needs to be moving around the food so you do not get a build up of creosote which can make meat or poultry taste bitter.
Features of the Top 3 Indoor Kitchen Smokers
Camerons Stovetop Smoker

Nordic Ware Kettle Smoker

Demeyere Resto Smoker

Dimensions
15.0"x11.0"x3.5"
13.0"x13.5"x6-7/8"
15.0"x7.0"x4.0"
Weight
7 pounds
9 pounds
6.6 pounds
Power Source
Gas or Electric Stove
Cooktop
Oven
Grill
Gas or Electric Stove
Cooktop
Oven
Grill
All cooktops and Oven
Water Smoking
Yes
Yes
Yes
Dishwasher Safe
Yes
Hand Wash
Yes
Warranty
7 Years
5 Years
Full 2 Year
Wood Chips
Fine
Fine
Standard or Fine
Made From
Stainless Steel
Coated Steel
Stainless Steel
Recipe Booklet
Yes
Yes
Yes
Indoor / Outdoor Use
Indoor, Outdoor
Indoor, Outdoor
Indoor
Smoking Rack Included
Yes
Yes
Yes
Made in
China
USA
Belgium
Hot or Cold Smoking
Hot
Hot
Hot and Cold
Food Capacity
Unavailable
Unavailable
Unavailable
Thermometer Included
No
Yes
No
Speed Cooking
No
No
No
COST
Under $50
Under $100
Under $100
Camerons Stainless Steel Stovetop Smoker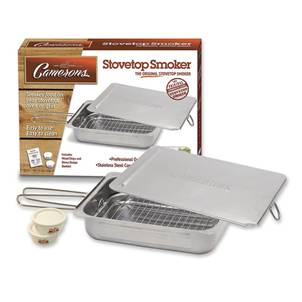 The least expensive of the featured indoor meat smokers, Camerons Stovetop Smoker resembles a covered 9-inch by 13-inch baking pan with a lid and rack.
About 1 to 2 tablespoons of wood chips that are finely ground are placed in a mound in the center of the pan. The included drip pan is placed over the top of the wood chips and the included smoking rack is placed on the drip pan.
Your meat, poultry, fish or vegetables are placed on the smoking rack and then the lid slides over the whole assembly during the cooking process.
Made from stainless steel, it's an attractive, durable unit that is completely dishwasher safe. It also conducts heat very well.
One point to mention, if considering this indoor smoking assembly, is the overall depth of this unit is only 3-1/2 inches — you will need to consider inches lost in this dimension for the drip pan and smoking rack leaving approximately little more than 2-1/2 inches in height for food.
Pros for Camerons Stovetop Smoker
It works indoors for smoking as well as outdoors on a gas or charcoal grill
Crafted from stainless steel, this set is dishwasher safe
Non-stick cooking spray may be used for easier cleanup
The smoker will work on gas stoves, electric stoves, induction cooktops, ceramic cooktops, glass cooktops, in ovens or on grills
This unit is not restricted to just smoking meats and poultry — it can also be used as a steamer, poacher and roasting pan
It's affordable for casual smoking use
Detailed instructions are included for use, care and maintenance together with a recipe booklet
It has a generous manufacturer's warranty against defects in materials and workmanship as long as the unit is used per manufacturer's instructions
Cons for this Stove Top Smoker
The lid is not completely air tight and smoke will leak from the corners — placing this unit under a working exhaust fan will help
Because the usable space between the smoking rack and the lid is narrow, overfilling will not permit proper circulation of smoke
Tenting this smoking pan for thicker cuts of meat will not improve circulation and may cause condensation to build up and drip
Overheating the pan at any temperature above medium heat may cause the pan to warp (pan will heat to 375 degrees on medium heat)
Using the smoker over a campfire will blacken the unit requiring cleaning with steel wool or fine sand paper
The fine ground wood chips are not as easy to find as standard wood chips unless you grind your own
This product is made outside the US and is imported
Nordic Ware 365 Indoor Outdoor Kettle Smoker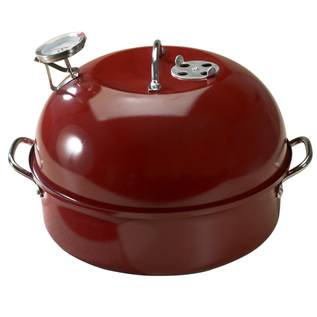 Since 1946 Nordic Ware has consistently been making top quality kitchen products — all made in the USA.
There Nordic Ware Kettle Smoker is another in a long line of sustainable offerings that use BPA-free and melamine-free materials with nonstick coatings that are water-based rather than solvent-based.
This indoor outdoor smoker comes with a high domed cover, a base pan, a water pan, nonstick smoking rack, thermometer, recipe booklet and wood chips.
To use it spread 1 to 2 tablespoons of fine ground hardwood chips over the bottom of the base pan. Position the drip pan (for a dry smoke method) without water over the center of the base pan.
Place the non-stick grill rack on top on top of the drip pan and place your meat, poultry, fish or vegetables on the grill rack.
Place the domed lid on the smoking pan and insert the thermometer through the provided small access hole in the lid. Thermometer should not pierce the food being smoked.
Turn your stove on medium high heat and turn your exhaust fan on high. Just as smoke begins to come out of the vent holes, completely close the vents for dry smoking.
The heat should then be turned down to medium. Keep your eye on the thermometer and adjust heat per manufacturer's recommendations in the Owner's Manual.
Pros for this Kettle Smoker
Large enough to handle family-sized portions
Domed lid promotes good smoke circulation
All components are Made in the USA
Nonstick surfaces are sustainable water-based and not solvent-based
Can be used indoors on a gas or electric stove or in an oven
Can be used outdoors on either a gas or charcoal grill
Suitable for water smoking or dry smoking
Easy hand washing with nonstick-coated surfaces
Included thermometer makes monitoring temperatures simple
Comes with a 5-Year warranty against any defects in materials or workmanship
Cons for the Nordic Ware 365 Smoker
Not recommended for the dishwasher to preserve nonstick surfaces
May not work properly on flat glass or ceramic cooktops because smoker pan diameter exceeds heat element diameter
Little bit of a learning curve to maintain heat and smoke levels
Fine ground wood chips are not as readily available as standard
Lid is not completely air tight and will emit a small amount of smoke – exhaust fan should be used indoors
Demeyere Resto Indoor Stovetop Smoker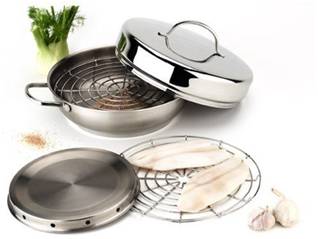 Another one of our picks for the top three indoor kitchen meat smokers is the Demeyer Resto Stainless Stovetop Smoker — easy to use and similar to the Nordic Ware smoker in terms of performance.
It costs a little more than the other two but is made from 18/10 stainless steel with a 3 layer 4mm stainless steel base — an attractive addition to the stainless kitchen.
This indoor smoker comes with a domed cover, a deep fry base pan, a smoking chamber and a nonstick smoking rack — all of which are dishwasher-safe.
As with the Nordic Ware smoker, meat, poultry, fish, vegetables and fruit may be either dry smoked or wet smoked. The smoking chamber (the stainless plate with holes) lets the smoke surround the food for better penetration and flavor.
The key to this smoker is moderation in consistent temperatures. It is not necessary to use extremely high heat to achieve superior smoking results.
This unit measures about 12.5 inches in diameter and will work with just about any cooking surface i.e., gas, electric and induction cooktops or in the oven.
Pros of the Demeyere Resto Smoker
Demeyere is a member, since 2008 of the ZWILLING Group, founded in 1731 in Solingen, Germany including J.A. Henckels respected international brands.
This unit is suitable for wet or dry smoking and needs only 2 tablespoons of wood shavings for great results.
Made from 18/10 stainless steel with a mat finish base pan and high gloss stainless steel lid.
All components are dishwasher safe.
Domed lid and smoke chamber plate promote excellent smoke circulation for deeper flavors in foods.
Great for fish, pot roasts, pork roasts, cornish hens, chicken, turkey breasts, sausages, vegetables and fruits.
Will work on gas, electric, ceramic, glass and induction cooktops as well as in the oven.
Comes with a full Demeyere 2-Year Warranty
Cons of the Demeyere Resto Indoor Smoker
This is made outside the US in Belgium and imported
The domed lid may not be tall enough to smoke whole chickens or turkeys
Not recommended for use outdoors or on a grill
At 12.5 inches in diameter, not suited to large families