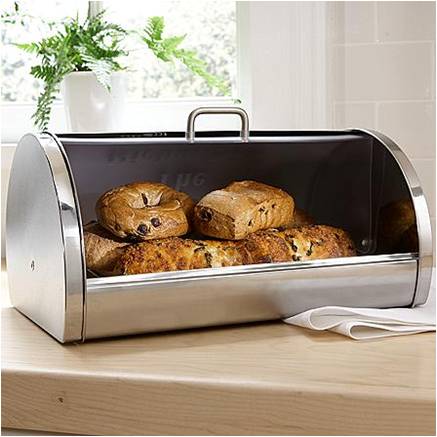 Adding a stainless steel bread box to your kitchen is a smart choice for storing those tasty rolls and crusty loaves.
Our complete guide to the best bread box will tell you why plus we'll include our Top 4 favorites.
We all know that bread is not created equal — with different grains, textures, shapes, leavening and ingredients, there is a loaf or a roll to appeal to the taste buds of just about anyone.
You don't need to be a baker to appreciate that tearing into a crusty, freshly-baked loaf ranks well above the supermarket sliced variety, as shown in the 2015 bread sales below.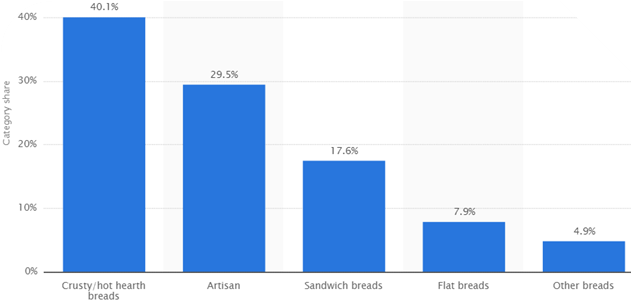 Keeping those crusty loaves fresh for days longer can be accomplished with a stainless bread box and here's how…
The Life and Death of a Loaf of Bread
The lifespan of a loaf of bread begins when the bread cools after the baking process. When bread bakes, the starch granules absorb moisture from the surrounding gluten.
As bread begins to cool and age, that moisture migrates back from the starch to the gluten and recrystallizes making the bread harder and eventually stale.
Bread Tip #1 — The bigger the bread, the longer the shelf life.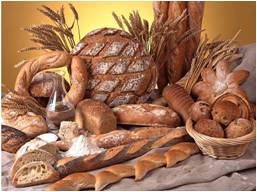 All bread will ultimately go stale, but there are things you can do to delay the inevitable…
First, don't slice the entire loaf…use only what you need for a meal or snack.
Place the cut side down in your bread box or on a cutting board until you're ready for more.
This will help keep the remaining loaf fresher, longer.
Bread Tip #2 — Slicing the whole loaf significantly reduces your bread's shelf life.
Second, keep it out of plastic wrap (that can make the bread chewy) AND the refrigerator (whose environment supports mold spores!).
Mold spores are everywhere and in order to grow, mold needs enough nutrients, such as a slice of bread in combination with the right environment…warmth and/or moisture.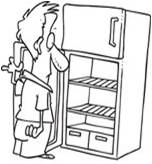 Storing your bread in plastic (which traps moisture) and keeping it in a warm or moist environment (like on or in the refrigerator), you're giving mold spores everything they need to grow unchecked.
You might be surprised to know that the amount of moisture in a stale loaf of bread and a freshly baked one is about the same — it just resides in a less desirable place from the bread eater's taste perspective.
This is where a kitchen bread box, made from stainless steel, works to your advantage — it minimizes exposure to moisture and helps extend the shelf life of pricey but tasty artisan crusty creations.
Why a Stainless Steel Bread Box?
Stainless steel kitchen storage containers are made of a steel alloy that includes a percentage of chromium (between 12 and 30 percent).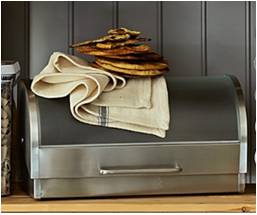 Chromium is a metal with a high polish,  that resists tarnishing, and has a high melting point.
It is the chromium content in stainless that keeps the steel from easily corroding or staining.
Stainless steel material is created from all natural elements and is:
Widely used in the food industry for kitchenware
Sanitary (no BPA and phthalates leaching from plastic)
Recyclable (one of the most recycled metals on Earth)
Will not change the taste or smell of your bread
Virtually indestructible and a good investment
More practical and lightweight than glass or ceramic
In addition to the above, a stainless steel bread box is an attractive styling option that complements the stainless kitchen while providing safe harbor for your artisan loaves and rolls.
Best Stainless Bread Box Features
Just like bread varieties, not all bread boxes are created equal. Here are some things to consider when making your selection…
Is it true stainless?
Getting a true stainless steel food storage container, as in a bread bin, is better than getting one that is plated with stainless steel or has a coating over stainless steel.
Stainless plated kitchenware has a tendency to chip and degrade over time and when this occurs, you run the risk of those chips ending up in your food or bread.
A higher grade is better
Check, if offered by the supplier, the stainless steel grades of the bread box. You've probably seen numbers such as 18/0, 18/8 and 18/10 when referring to stainless flatware. It is a grade of stainless that lets you know how much chromium and nickel is in the metal.
The first number being the chromium percentage and the second the nickel percentage. Chromium provides rust resistance in the metal and nickel provides its shine. The higher the numbers, the better the quality.
Consider your space
Bread boxes come with roll front, fall front or in a lid lift style — this is a matter of personal preference, although, the roll top or fall front works best for countertops where useful kitchen under cabinet space is limited.
The Importance of Venting
In airtight bread boxes, air cannot circulate around the loaves to regulate the humidity level inside the box. When the humidity rises, in a box without venting,  it creates the perfect environment for mold.
Vented metal interiors as in stainless, are very effective at keeping the correct amount of moisture in while allowing air to circulate around the loaves for extended freshness while keeping the bread from drying out.
The Little Extras
Magnetic closures, rubber bottom feet or legs, smooth gliding hardware, easy grip handles and fingerprint-proof finishes are all little extras that make an ordinary bread box something valued and a good investment when added to your kitchen arsenal.
Top 4 Stainless Steel Bread Box Reviews
Brabantia Fall Front Bread Box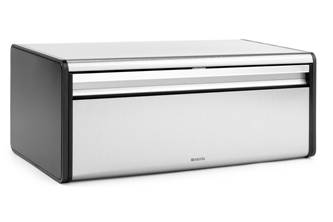 This popular Brabantia Model 299186 matte finish bread box comes from the Danish household products manufacturer, of the same name, who got their start in 1919.
They are an environmentally conscious manfacturer with many of their products certified by the European equivalent of the U.S. FDA (food and drug administration) and EPA (environmental protection agency).
This attractive option for storing artisan loaves and rolls weighs just under 4 pounds. The flat fall front opening provides slightly more head room in the bread box interior when compared to a roll top design. Sells for under $60.00.
PROS:
Fingerprint proof matte steel finish
Magnetic latching flat front opening
Rubber feet on bread bin bottom
Ventilated for just the right amount of air circulation
Measures a generous 7.36 x 18.3 x 9.84 inches
Flat top for stacking other kitchen items such as canisters
Includes hanging holes on the back for wall mounting
Comes with a 10 -Year Guarantee
CONS:
Crumbs may be difficult for some to wipe from interior
If buying from Amazon, ensure seller name is Brabantia and not a 3rd party seller
Not made in the USA – manufactured by either Brabantia in Belgium OR their China manufacturer Greenwood Housewares
WMF Roll-Top Stainless Steel Bread Bin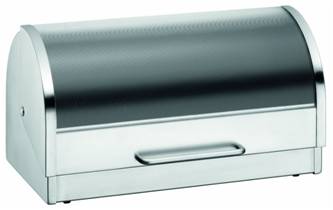 From their "Gourmet" collection is this Model 06.3441.6030 German engineered, premium stainless steel bread box from WMF products.
German WMF Group are culinary experts with more than 160 years in manufacturing only the best in cooking, drinking and dining.
They tout their designs as products with "attitude" providing the optimum in high quality materials and well engineered functionality.
This roll top design bread box is made from 18/10 stainless steel material that is superior in corrosion resistance, hard-wearing, durable and easy to clean.
This unit provides the perfect climate for storing bread, rolls, cakes and pastries. It weighs a hefty 8.6 pounds — about double the weight of other bread boxes and sells for under $90.00.
PROS:
Smooth glide roll top is made from frosted, tempered glass that is opaque
Made from Cromargan® 18/10 stainless which is rustproof, acid resistant, unbreakable, scratch resistant and extremely durable
Has rubber grommeted feet for countertop slip resistance
Large, wide handle for easy open and close
Measures a generous 15 1/2″ x 8″ x 8 1/8″
Comes with a Limited Lifetime Warranty
CONS:
Engineered in Germany, made in China
Hand wash only
Crumbs may be difficult to remove for some
Does not have pre-drilled holes for wall or cabinet mounting
Gefu RONDO Stainless Steel Bread Bin
The Gefu Model 33600 stainless steel bread box, with its kidney-shaped design is not for everybody and you'll need to dig deep into your wallet to own one.
GEFU is a German company with about 70 years of experience in producing extremely high quality kitchen tools sold in 47 countries around the world.
Their products are said to be "unbreakable" and go through a stringent quality management and inspection process with specific focus on food safety, exceptional materials, user safety and user friendliness.
They have received a number of awards for first class quality, design innovation and high performance and this stainless steel bread box with the roll top lid fits the bill. It measures a generous  17.5 x 11.2 x 9.6 inches and sells for about $135.00 including free shipping.
PROS:
Kidney shape provides a stable base with four (4) nylon feet to prevent table and countertop damage
Made from high quality stainless steel that is rust and corrosion resistant and does not scratch
The darkened safety glass panel in the roll top lid keeps natural light out of the bin that can dry breads
It features a wide, easy lift handle on the lid with a smooth mechanism for ready access to baked goods
There is venting between the lid and bread bin to provide optimal air circulation, preventing mold but without drying the bread
Comes with a 5-Year Warranty
CONS:
This bread box is hand wash only with no removable or dishwasher safe parts
Product is made in Germany and not the USA.
No pre-drilled holes for wall mounting
Cannot store any other items on top of the bread box due to domed lid
Brabantia Roll Top Bread Box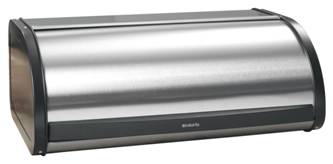 This Brabantia Model 299445 stainless bread box features a sleek design and a lower profile for those with limited under cabinet space.
Deep and wide, it still has plenty of room to store a couple of large loaves of bread or assorted rolls and pastries.
This unit weighs just 3.5 pounds and measures 6.88 x 17.63 x 10.62 inches. Brabantia is located in Belgium and has been making quality, long lasting kitchen products for nearly 100 years with a US based office located in Cranston, New Jersey.
With a matte finish stainless steel design, this bread box is finger-print proof for easy maintenance. It also features a dimpled interior bottom that allows the precise amount of air circulation to keep bread fresher, longer.
It sells for around $50.00 and makes an excellent companion to other stainless steel accessories.
PROS:
High quality matte finish stainless steel that resists rust, corrosion and fingerprints
Black metal sides and black plastic trim on lid complements overall design
Interior bottom is stamped with a raised dot pattern design to promote the precise air circulation needed to keep bread fresh without drying out
The flat top provides storage area for small containers
A smooth glide mechanism with the a full width black lid grip and noise dampening design provides silent, easy opening
Comes with a 10-Year Guarantee
CONS:
Made in either Belgium OR at Brabantia's China facilty — Greenwood Housewares
There are no pre-drilled holes for wall or cabinet mounting
Does not include rubberized feet or legs for countertop seating
Hand wash only — no removable parts
If ordering from Amazon, ensure seller is Brabantia and not a third party seller
Conclusion
We looked hard for value-priced stainless steel bread boxes and found plenty in the $20 range but all were imports from China, rebranded to different sellers with no traceable manufacturer or decent warranty in this price range.
In fact, a labeled best seller we reviewed still received a number of comments about "denting easily" or the material was of "soda can thickness", or "cheap and flimsy" not making our requirements for the "best stainless bread box".
Quality construction and materials, innovative design and operation, a solid manufacturer-backed guarantee from an established, reputable supplier and/or distributor were the essential qualifications used to determine our selections for the best.