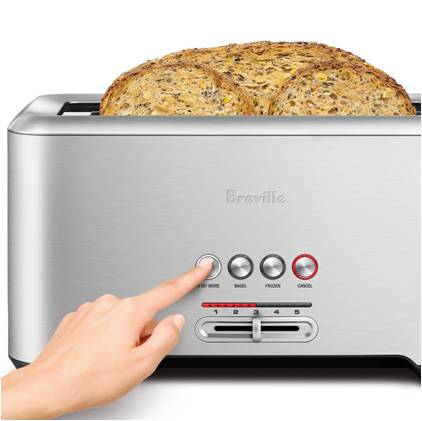 Nobody likes burnt toast, bagels, toaster waffles or fruit breads in the morning — and few have the time to stand by the toaster to ensure breads and baked goods come out the way you want them.
Getting a quality long slot toaster, from a trusted brand, can eliminate that headache and this article will tell you why.
We will provide the top reasons you should consider owning one along with our five (5) favorites and the features that make each worthy of review.
Nothing can shape your day better than a warm, baked good lightly toasted with the nooks and crannies that are just waiting to absorb a velvety pat of butter or sweet dollop of jam.
Top 7 Reasons to Own a Long Slot Toaster
Can't you just smell warm baked bread, wrapped in the richness of melted butter, with just a hint of sweet cream notes transporting you to a welcoming, peaceful state of mind?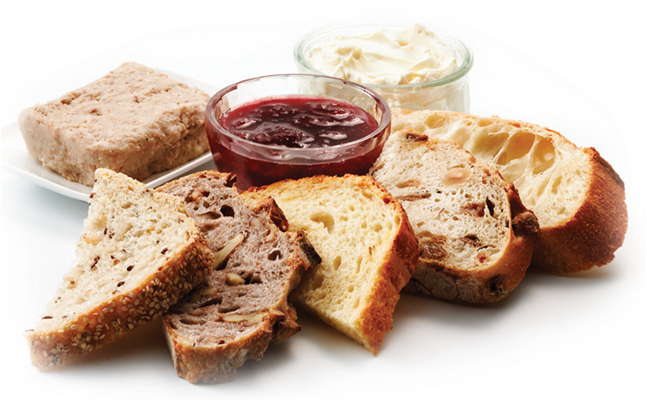 It is a great way to start your day and here are the reasons why taking the next step beyond the standard 2-slicer makes perfect sense.
The obvious reason is that breads and baked goods are not all the same size. Many people are getting away from the bagged sandwich breads of yesterday in favor of the more wholesome artisan breads that just don't seem to fit a standard toaster.
If you are a baker or buy whole loaves at the bakery then you have the option to make your slices the way you want them. Cut the bread in thick slices straight across for a hearty toasted sandwich or on the bias and both will fit if your toaster has long slots.
Toasters with long slots are great for toasting tortillas that can then be cut up in strips and used in soups or salads.
Because all baked goods are not the same, that oversized toaster waffle or piece of Texas toast that you try to make it fit a standard toaster will not get stuck — eliminating your risk of electrocution when you try to fish it out with a fork.
Most trusted brand toasters with long slots are loaded with features that did not come with your standard model. One big feature is a cool touch exterior that is especially nice if you choose chrome or stainless steel finishes.
Longer slots also mean a slimmer design presenting a narrower profile and taking up less valuable countertop space.
Depending on the brand and model their are some that can accommodate grilled sandwiches such as grilled cheese, paninis and egg and cheese biscuits
Our Top 5 Favorite Long Slot Toasters
Breville BTA830XL 4-Slice Long Slot Toaster is Smart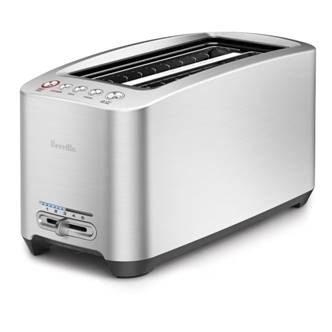 This Breville brand long slot toaster Model BTA830XL brings more to the table then just toast. It has a cool touch, cool features and a cool look.
This is a smart toaster that can handle artisan breads, crumpets, bagels and just about anything you need toasted with long to short and thick to thin slices.
The toaster itself measures 7″W x 15.75″L x 7.75″H. The two slots are 9.75″L x 1.5″W  and can handle two normal slices in each slot for a total of four. It weighs just under 8 pounds.
Here are the facts and features that make this Breville BTA830XL model tops in its class:
All components are food safe and compliant with all applicable U.S. product safety regulations
It is made from die-cast metal meaning the toaster body is made from single mold for added strength
There is an LED blue Toasting Progress Indicator bar….toaster bling
Also has a Lift-and-Look button so you can see toasting progress….more bling
Features Toast, Bagel, A-Bit-More and Frozen buttons
Long toaster slots are self centering for even toasting, extra wide and deep for larger bread
Convenient concealed cord storage for the 36-inch power cord and  it operates on standard household current
Comes with a 1-Year Limited Guarantee
You should also know that there is:
No single slice feature
Toaster goes into standby mode if no button pressed for 30 seconds
Toaster requires manufacturer "burn-off" before first use meaning toaster is set on darkest setting without bread to remove any oils left from manufacturing process — there may be slight odor
Made and assembled in China.
Crumb tray is not dishwasher safe
Cuisinart Long Slot CPT-2000 Toaster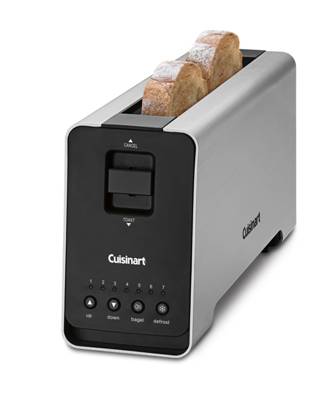 Cuisinart is a name synonymous with quality kitchen products since culinary giants Julia Child and James Beard put them on the map when introduced in the US in 1973.
With some of the better product guarantees, you know you have a brand that stands behind their products.
The Cuisinart CPT-2000 is a  2-Slice option in long slot toasters, with the narrowest profile of those reviewed here.
It measures 15.7″L x 4.45″W x 7.16″H and weighs just 7.4 pounds. The single slot on this CPT-2000 model measures 10 inches in length.
Besides the nice, wide slot on this toaster, here are the other features that make this an attractive buy:
All components are BPA-Free and compliant with all applicable U.S. product safety regulations
Features fingerprint resistant extruded aluminum housing for an artisan appeal
Has one touch motorized lift and lower feature for toasting
The one sided bagel control feature gives you perfectly toasted cut side bagels
The CPT-2000 has 7 Shade Settings plus cancel and Defrost options
Comes with a Cuisinart 3-Year Limited Warranty
You should also know there is:
No audible alert when toasting is complete
No auto-off function — manufacturer recommends unplugging after each use
Crumb tray is not dishwasher safe
Made and assembled in China
Kenwood TTM610 Long Slot Sandwich Basket Toaster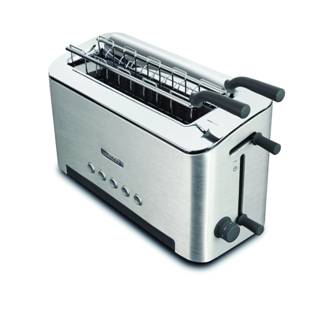 Kenwood toasters are all about adding some European style to your kitchen with colors, sizes and finishes to match just about any decor.
Their Persona Toaster TTM610 long slot, brushed aluminum toaster not only toasts but also grills in one sharp looking, counter space saving package.
The slots are adjustable with different heat settings giving you the precision to crisp croissants, toast, bagels and grill paninis with a convenient bread and sandwich cage.
Similar in size to the Breville BTA830XL, this toaster measures 15.4″L x 9.6″H x 6.02″W and weighs about 7 pounds.
Long and wide slots on this Kenwood TTM610 model are just two of its convenient features:
Adjustable bread/sandwich basket fits perfectly to the size of your bread. Great of croissants, paninis, grilled cheese, etc.
Features 4 dedicated, illuminated toast bagel, defrost, and cancel buttons
Has a Peek and View lever function to check the progress of your toasted baked goods or sandwiches
The one sided control feature lets you perfectly toast the cut side of bagels
Wide tray for superior crumb collection and grilled sandwich spills and SureGrip touch points for easy handling
Comes with a Kenwood 1-Year Limited Warranty
You should also know that the:
Slide bar slot adjustment measurements are in millimeters not inches for US buyers
No auto-off function — manufacturer recommends unplugging after each use
Crumb tray is not dishwasher safe
Engineered in the UK but made and assembled in China

KitchenAid KMT4116CU Long Slot 4 Slice Toaster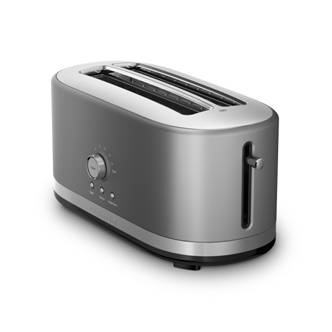 Many people are brand loyal and KitchenAid is one that has millions of quality large and small appliances, cookware and gadgets in households worldwide.
Providing worthy competition for some of the other top brands, this KitchenAid Model KMT4116CU 4-slice toaster comes with a stylish look and convenient features in a compact, space-friendly design.
It measures 16.5″L x 7.78″H x 7.75″W and weighs about 7 pounds.
With a beautiful contoured design, all metal construction and a smudge-resistant painted metal housing, this elegant toaster has a few features worth mentioning:
There are three LED indicator lights for bagels, defrost and keep warm functions. The bagel control lets you toast cut side only.
The toasting shade control knob on the front panel features 7 different settings along with a Cancel button
Comes with a High Lift Lever to remove small bread slices and gauge toasting progress AND has an audible alert when done
A cord-wrap under the toaster lets you adjust cord length based on the toaster location
Two rugged steel, double-width crumb trays can be easily removed and are dishwasher-safe
Comes with a KitchenAid FULL Hassle-Free Replacement 1-Year Warranty
This long slot toaster has:
No auto-off function — manufacturer recommends unplugging after each use
Made and assembled in China
Breville BTA730XL "The Bit More" 4-Slice Toaster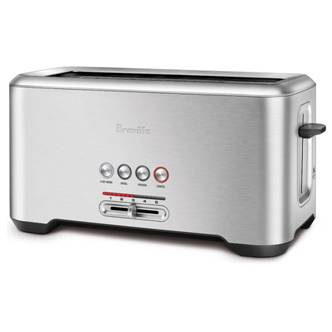 This Breville BTA730XL long slot 4-slice toaster is a slightly less expensive model then its big brother Smart toaster model BTA830XL reviewed above.
The only difference between the two models, besides the approximate $80 price difference, is the BTA830XL comes with a solid die-cast metal body with back-lit buttons and a fully motorized one touch Lift and Look button to check toasting progress. All the other functions are the same.
The BTA730XL model is a powerful 1800 Watt toaster, that features an eye-catching full stainless steel body and measures 15.75″L by 8″D by 7.75″W. The long slot length of 10″L x 1.5″W is suited to just about any shaped breads.
It weighs just 5.5 pounds in comparison to the other toasters reviewed here and also comes equipped with some pretty convenient features:
This toaster comes with an "A Bit More" Button for 30 second extra toasting increments, a Frozen Button, a Bagel Button and a Cancel Button to cover all toasting requirements.
It features concealed cord storage, under the unit to keep countertops tidy.
The Lift and Look lever lets you take a progress peek at what you are toasting and also comes in handy for small bread removal.
The two long and wide toasting slots can handle all types of baked goods from artisan breads to waffles and bagels.
The long slot Bit More 4-Slice toaster features an adjustable volume control with settings for High, Low, and Mute depending on preference.
This toaster has a Breville 1-Year Limited Warranty
You should also know that there is:
No auto-off function — manufacturer recommends unplugging after each use
Made and assembled in China
Crumb tray is not dishwasher safe