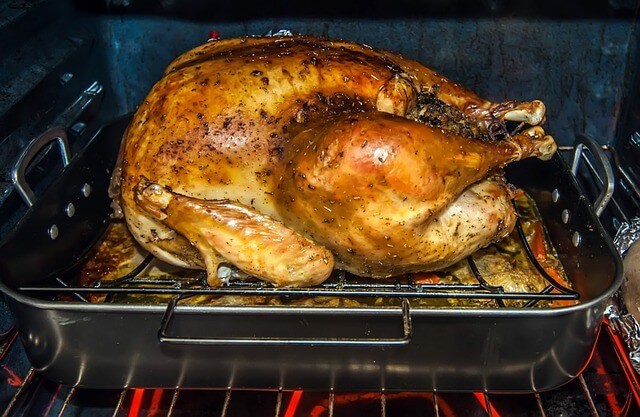 After spending years of making holiday meals and entertaining family and guests you have a undoubtedly committed to memory, the characteristics favorable to selecting the best oven roasting pan.
You learn through trial and error why the pan size, heft (the roaster's weight) and type of metal contribute to the success of any roasting endeavor.
In this review we will cover what makes a good oven roaster, what features to look for and give you our Top 5 tested favorites.
Not all Roasting Starts in the Oven
How many times have you browned a brisket or seared a rib roast before it went into the oven? There are many roasted dishes that start out with stove-top cooking first.
Then there's the after roasting. Some of the best flavors come from those browned bits in the bottom of the roasting pan. You'll generally want to take advantage of any drippings and those little sticky bits to make a deep, rich flavored sauce or gravy. This suggests that in choosing the best roaster pan you consider its stove-top worthiness as well.
A heavier roasting pan is worth its weight in brownability!
One thing many kitchen gourmets fail to consider is safety. Many think about the convenience in cleanup only when choosing that "tinsel" strength aluminum foil pan available at the grocer. Remember, you're sashaying through the kitchen with a turkey or roast the size of a small appliance.
Anything wiggly and wobbly like the flimsy aluminum foil roaster is not only dangerous but it's just plain ugly and not worthy as the centerpiece of your feast. Save yourself the embarrassment of a dropped bird or possible trip to the emergency room and know that the best roaster pan will be something of substance.
Getting a Handle on the Best Oven Roasting Pan
Ever considered a roaster's handles? They come in all types…straight up from the roasters sides, fold down for easy storage and not so easy handling when cooking, flared out from the sides or no handles at all with just a rim or lip around the perimeter…not so easy to pick up with oven mitts.
My preferred handles are those straight up and riveted to the sides with enough room to get a good grip with oven mitts.
Your best roaster pan will have a non-reactive metal interior. Why is this important? Because when deglazing a pan with wine or vinegar or cooking with acidic tomatoes, this can have a chemical reaction with metals like aluminum causing them to discolor and impacting the taste of your food.
No one wants to serve a masterpiece that has an "off-taste" that friends and family can't quite put their finger on or are too polite to mention. When choosing the best roaster pan, consider any of these options:
An Inexpensive Oven-Only Roasting Option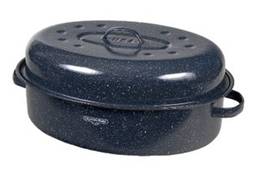 A good stainless or all-clad hard-anodized aluminum roaster pan will cost you in the neighborhood of $100 to $150 or more depending on the brand.
However, those good old time enameled steel roasting pans, the speckled roasters with the lids you see in popular big box stores like Walmart and Target or online at Amazon and eBay work well in the oven.
They are lightweight but not as insubstantial as the disposable aluminum foil style roaster pans. The speckled enamel over steel roasters are not suited to stove top browning, however, but work well as an oven-only option.
These pans are not budget busters and cost around $20.00. I have one of the speckled roasters as well as a Calphalon Non-Stick Roaster in my pantry.
Size Matters in Choosing an Oven Roaster Pan
Before making the decision to invest in the best roaster pan for you, measure the inside of your oven so you know what size your oven can accommodate. Just like when you're baking cookies, you need to ensure you have at least 2 inches of space around your cookie sheet as well as a roasting pan.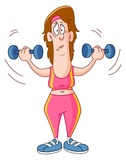 Don't forget to include extra space so you have room to grab the handles when removing that special roast. A roaster measuring 16 inches by 13 inches doesn't sound like a big roaster but it is. It's great for turkeys, large cuts of meat and/or chickens surrounded by vegetables.
This is generally a once in a lifetime purchase so investing in stainless will generate years of exceptional use. A large stainless roaster will be heavy and doubly so when you add a 20+ pound bird to it.  Adding a set of dumbbells to your shopping list at the beginning of the year will have your arms in shape just in time for any holiday feast.
Our Top 3 Choices for Best Oven Roasting Pan
Calphalon Classic Non-Stick Oven Roasting Pan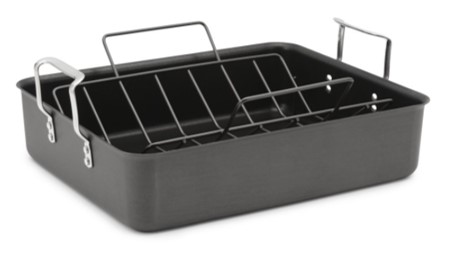 The Calphalon brand is synonymous with quality hard-anodized aluminum cookware.
They began as a small metal spinning company out of Perrysburg, OH back in 1963 and revolutionized premium non-stick cookware with the new hard-anodizing electrochemical process originally developed by the aerospace industry.
Since that time, Calphalon has expanded into other kitchen products sold world-wide.
Their Classic Non-Stick Hard-Anodized Oven Roaster is a large, value-priced option in their bakeware line. It measures a roomy 16×13 inches, comes with a non-stick coated rack and can support a hefty beef or pork roast or a large turkey up to 25 pounds.
The high quality, easy grip stainless steel riveted handles make the transition from oven to stove or table easy with pot holders or oven mitts.
POSITIVES:
Non-Stick finish makes cleanup easy.
The 3.5 in depth captures juices minimizing interior oven splatter.
Double riveted stainless steel handles make for easy lifting.
Non-stick included rack also has handles for transferring meat and poultry to roaster
You get the Calphalon lifetime warranty.
Oven roasting pan is safe to 450 degrees F.
Use oven roaster on Gas, Electric, Halogen or Glass Stovetops, too!
DRAWBACKS:
Recommended for Nylon, Coated or Wood utensils only, no metal utensils.
Not dishwasher safe — hand wash only with mild detergent in soapy water.
Use only non-abrasive brush or sponge for stubborn spots.
Use of abrasive cleaners or cleansers will void warranty.
MAKER Homeware Heavy-Duty Oven Roasting Pan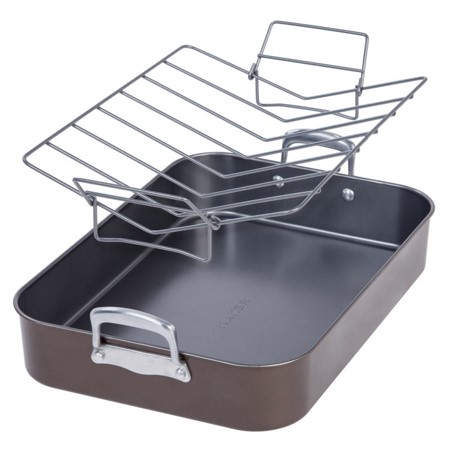 The MAKER brand is a division of IRIS USA, Inc., who since 1994 has been a leading worldwide manufacturer of products for home, office, crafts, hobbies and pets at affordable prices.
Their parent company is IRIS Ohyama Inc., and can be traced back to 1958 with over 1,000,000 square feet of combined manufacturing and distribution space in California, Texas and Wisconsin.
MAKER Homeware cookware and bakeware uses CERAMTEC on their products — a superior ceramic double-layer coating over steel that is PTFE and PFOA free. CERAMTEC coating is heat resistant to 800°C (1472°F), which guarantees performance properties such as no pan warping, no coating weakening or flaking and it holds color fastness on the bakeware.
This large non-stick, rust-proof roasting pan measures 18.82L x 12.42W x 4.66H inches and weighs just over 4 pounds. The oven roasting pan is made from bonded aluminized steel with a bonded ceramic non-stick coating. The internal roasting rack is made from carbon steel, also coated with ceramic to prevent rusting and warping.
This pan has an attractive two-tone finish and yields an even heat distribution for optimal roasting.
POSITIVES:
Ceramic coating provides a highly durable, non-stick baking surface.
The coating on this oven roaster is PTFE, PFOA and Cadmium free.
Deep 4+ inch interior also makes this a great option for baking lasagna.
Roasting pan and rack are suited to oven temperatures up to 450 degrees.
The aluminized steel provides rust and warp-proof performance as well as even heating.
This roaster comes with a Limited Lifetime Warranty.
This is a good quality value-priced option in oven roasters
DRAWBACKS:
While noted as "dishwasher-friendly", it is recommended that the pan and rack be hand washed using a mild, non-acidic and non-alkyline detergent.
Metal utensils and scouring pads are highly discouraged as they may scratch the ceramic coating.
Any scratched ceramic coating will void the warranty.
The ceramic coating makes this roaster not suitable for use under a broiler.
Handles are single-riveted die cast aluminum
Cuisinart Stainless Steel MCP117-16BRN Oven Roasting Pan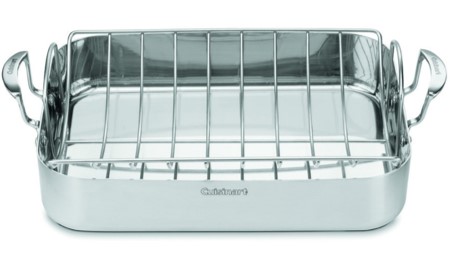 The Cuisinart company was started in 1971 by Carl Sontheimer and he introduced the first electric food processor to the US Market through the National Housewares Exposition in Chicago back in 1973.
Since that time, the Cuisinart brand is world reknown for its high quality kitchen products, competing with the likes of Hamilton Beach, Calphalon and KitchenAid. A premier North American houseware brand, they were bought out by Conair Corporation in 1989.
This Cuisinart Model MCP117-16BRN Oven Roasting Pan is also value priced but one of the heavier roasters reviewed here. It weighs a substantial 9 pounds and measures 20.75L x 6.25H x 13.25W inches. Length and depth measurements include roaster base to handle.
It is crafted from Cuisinart's triple-ply stainless steel construction. This means that two layers of durable stainless sandwiching a single layer aluminum core that provides for even heat distribution, eliminating hot spots.
The brilliant stainless steel shine gives this roaster and the included stainless steel rack a classic look and professional performance.
POSITIVES:
This roaster is oven safe to 550 degrees F.
The internal aluminum layer provides even heat distribution.
A stainless steel finish will not discolor or react with food.
This roaster and rack are dishwasher safe.
The MCP-117-16BRN can be used on any stovetop, in the oven or under the broiler.
It comes with a lifetime Cuisinart warranty.
The stainless finish provides the look and performance of professional bakeware.
DRAWBACKS:
Handles are single riveted and not heat resistant.
There are no lifting handles on the included stainless rack.
Although noted as dishwasher safe, harsh dishwasher detergents may cause pitting in the stainless finish.
Cuisinart lifetime warranty includes repair or replacement only – no refunds.