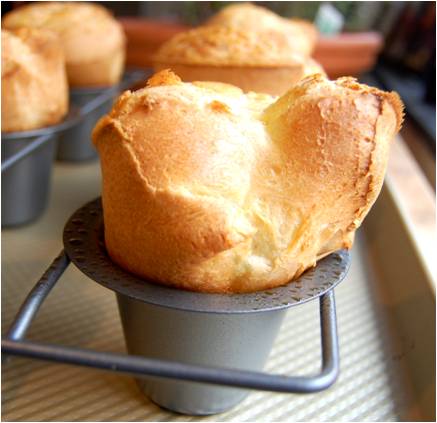 Finding the best popover pan starts with understanding the popover itself and what the keys are to its successful baking.
The popover pan plays an important role in that its deep, narrow wells, force the baking batter to rise up and then out (rather than flatten), producing the familiar golden domed popover shape.
In this review we will share the secrets to the perfect popover batter, the keys required for baking success, what we feel are some of the best popover pans available today and a few of no-fail recipes.
Exactly What is a Popover?
This little baked good, looking a lot like a popped kernel of corn, is simply a hollow muffin, seemingly lighter than air.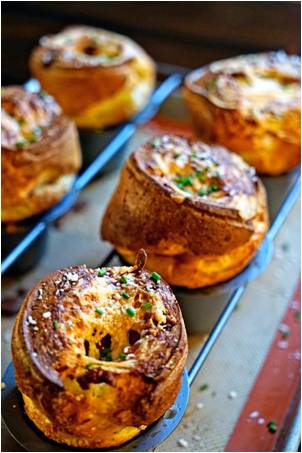 Known for their puffy appearance and delicate flavor these little delights start with a thin batter, similar to pancake batter and require some skill to achieve the perfect airy puffed look and a rich, golden brown color.
Much like a soufflé, this is a no-peek pastry where opening the oven door before the baking is complete can spell a deflating disaster. Opening the door allows cooler air to unbalance the consistent temps needed for a successful rise.
What makes a popover "puff" up is activating the gluten in the batter — and the best method is the good old fashioned way, mixing by hand with a wire whisk. Using a blender or food processor can over mix the batter and may prevent a good rise.
In popover recipes, activating the gluten in the batter provides plenty of edible elasticized bubbles that will expand with steam through baking but will hold their shape without cracking, leaking or deflating.
Secrets to Popover Recipe Success
There are a number of different factors, that when combined, yield success every time when making popovers. To ensure success, please remember these tips:
Tip #1 – All Ingredients Should be Room Temperature
It is important to make sure your eggs, milk and melted butter are all at room temperature before mixing. Eggs, right out of the refrigerator, may be warmed for 10 minutes in tepid or warm water BEFORE cracking.
Tip #2 – Fresh Flour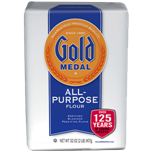 Make certain your flour has not "expired". Flour typically has an expiration date on the bottom of the bag. Flour can last for 6 to 8 months if properly stored — inside its original bag and then in an airtight "ziplock" type storage bag or airtight container.Using expired flour will not permit proper activation of the gluten needed to make popovers rise.
All-purpose flour works best when compared to cake flour or bread flours like whole wheat.
Tip #3 – Size Matters with your Eggs
Pay close attention to the size eggs called for in your recipe. Too much egg yolk can keep your popovers from rising.
Tip #4 – Whole Milk Works Best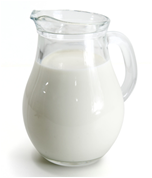 Where possible, use whole milk versus skim milk or low fat varieties.
Skim milk and low fat milk may cause your popovers to burn and may not provide a uniform base in the popover tin.
Oven temperatures can be adjusted down by about 25 degrees when using skim or low-fat milk to prevent burning, however, all ovens are different and you may need to experiment to see what temperature adjustments work best for your oven.
Tip #5 – After Mixing Let the Batter Rest
Mix your batter using a wire whisk until all the large lumps are gone — small lumps are okay. Let the batter rest between mixing and baking, for about 10-15 minutes — this gives the gluten time to develop ensuring your puffed pastry inflates without cracking or leaking.
Also, room temperature batter provides a better rise. After resting, the little lumps will rise to the surface — give them a couple more whisks to combine and then pour into your popover tins, but only about half way to three-quarters full.
Tip #6 – Use a Hot Oven and Hot Popover Pan
Preheat your oven AND your popover pan before adding the batter. Set the popover pan on a cookie sheet in the oven while preheating (lowest oven rack). The high heat, when baking, causes all the steam in the batter to rise at once, pushing the popover to new heights quickly, and the continued high heat lets them "set."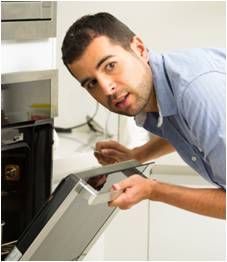 No peeking! Popovers are leavened by steam. If you open the oven door, the heat escapes, the oven cools down, the steam inside the popovers condenses, the popovers collapse and your efforts are wasted.
Tip #7 – Greasing the Popover Cups
To ensure a quick release of these delicious little puffed pastries, grease the cups with butter or vegetable oil and avoid a non-stick cooking oil spray. The non-stick spray will impact the popover rise as well as the stabilization of the popover sides when baking.
Tip #8 – Better out of the pan
Remove the popovers from the baking cups as soon as possible and right out of the oven — letting them sit in the cups to cool may result in soggy or softer sides and bottoms.
Our 5 Picks for Best Popover Pans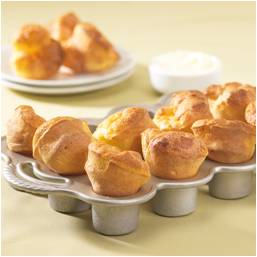 Generally, the best popover pans made of a dark metal and will produce the best crust. Popover tins come in individual cups, spaced baking tins and linked pans resembling muffin pans. The narrower the bottom, the higher the popover as the steam has nowhere to expand in the base and is forced to expand the muffin top.
Even though a number of popover baking pans are offered as non-stick, they will still need to be greased as noted above for easy release. This will also help keep the non-stick coating on the pan and not on the bottom of your popover. The high heat baking temps, needed for successful popovers, can degrade a non-stick coating over time.
Silicone popover pans are inherently poor conductors of heat so stick with a dark metal.
Here are our selections for pans that easily measure up to the task…and all are dishwasher safe!
| | BRAND | CUPS | MATERIAL | COST |
| --- | --- | --- | --- | --- |
| | Chicago Metallic | 12 | Non-Stick Aluminum | Under $25.00 |
| | Bellemain by Epica Products | 6 | Welded Coated Metal | Under $20.00 |
| | Nordic Ware | 6 | Non-Stick Cast Aluminum | Under $30.00 |
| | Nordic Ware | 12 | Non-Stick Cast Alumium | Under $35.00 |
| | Chicago Metallic | 6 | Non-Stick Aluminum | Under $20.00 |
3 Easy Popover Recipes
Basic No-Fail Popover Batter Recipe
2 Medium or Large Eggs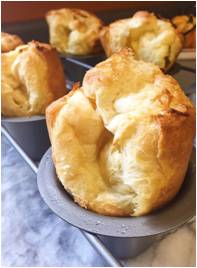 1 Cup All-Purpose Flour
1 Cup Whole Milk
1/2 Teaspoon Kosher or Sea Salt
1-1/2 Teaspoons Melted Butter
Heat the oven to 450ºF. Generously grease a 6-cup popover pan.
Beat room temperature eggs slightly in medium bowl. Beat in the remaining ingredients just until only small lumps are present or smooth (do not overmix).
Fill popover cups about 1/2 to 3/4 full.
Bake for 20 minutes at 450°F with the pan on the lowest oven rack.
After 20 minutes, reduce the oven temperature to 350ºF. (No peeking!) Bake about 20 minutes longer or until deep golden brown.
Immediately remove from the popover baking pan and serve hot. Makes 6 popovers.
Sweet Dark Chocolate Popover Recipe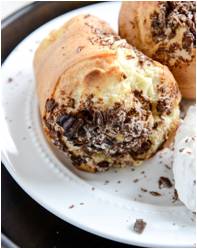 1 Cup All-Purpose Flour
2 Large Eggs
1/4 Teaspoon Kosher or Sea Salt
1 Teaspoon Vanilla Extract
4 Tablespoons Unsalted Brown Butter
4 Ounces Dark Chocolate Grated or Finely Chopped
Preheat your oven to 400°F. Brush inside of popover tins with 2 tablespoons of unsalted brown butter.
Mix together room temperature eggs, vanilla, remaining brown butter and milk until blended — do not overmix.
Add flour and salt and stir until combined. Let batter rest for 10 to 15 minutes.
Fill heated popover cups about 1/2 to 3/4 full and add half of the chopped dark chocolate.
Bake 25 minutes and reduce heat to 350°F. Bake another 15 minutes until golden brown, remove from oven and sprinkle tops with the rest of the chopped semi-sweet chocolate.
Serve warm from the oven with whipped cream or fresh fruit. Makes 6 popovers.
Herb and Parmesan Savory Popover Recipe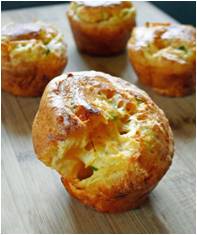 2 Large Eggs
1 Cup All-Purpose Flour
1/2 Teaspoon Kosher or Sea Salt
1 Cup Whole Milk
1/2 Cup Shredded Asiago Cheese
1-1/2 Tablespoons Fresh Chopped Herbs (parsley, chives, thyme, or oregano)
Pinch of Cayenne pepper
Preheat oven and popover baking pan to 400°F.
In a large bowl, whisk together room temperature milk, eggs, herbs and Cayenne pepper until combined and then add flour. Blend until almost smooth.
Fill preheated, buttered popover tins with batter 1/2 to 3/4 full. Top with grated Asiago cheese.
Bake on lower oven shelf at 400°F for about 30 minutes until until risen and golden brown.
Remove from pan and serve immediately. Makes 6 servings.