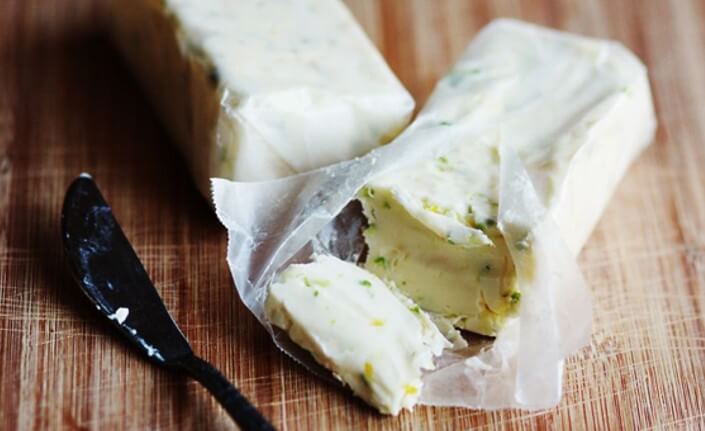 Using flavored butter can add a little gourmet touch to any meal. Did you know it takes 21 pounds of fresh, wholesome cow's milk to make each pound of butter?
Melting at just below body temperature, butter has a luscious mouth feel that imparts a rich, creamy taste to everything it touches.
Just imagine warm bread spread with butter, velvety mashed potatoes, or rich butter cookies. Just a little butter adds flavor to everything from pancakes, vegetables, and sauces to even a great grilled steak.
Butter is the perfect vehicle for spreading flavor around, which is why flavored butter (also known as compound butters) are popular.
Flavored Butter – The Margarine Substitution
Starting with butter that's at room temperature, it's pretty easy to mix in any flavorful herbs, spices, cheeses, wine reductions, and stocks…just put the butter in a bowl with the flavorings, and mix it together with a wooden spoon.
The resulting compound butter can be used to spread on bread, as a topping on a dish, or to place over meats and vegetables.
I know when you see or eat a flavored butter, it's usually melting over the top of a filet mignon. Seriously, it's a tasty "secret sauce" type of partner to potatoes or vegetables or warm rolls from the oven. I'm willing to venture a guess that a lot of you may not have thought of using it for side dishes.
I played around with it on a number of recipes and decided it's a little extra something that makes people think you're some sort of gourmet chef. The recipes I'm providing below can be made by using butter or margarine.
Mustard Flavored Butter
3 tablespoons Parsley chopped
3 teaspoons prepared Mustard
2/3 teaspoon Oregano
1/2 cup softened Butter
French Seasoned Butter
1/2 teaspoon Parsley chopped
1/2 teaspoon Chives, snipped
1/2 teaspoon Tarragon
1/2 teaspoon minced Shallot
1/2 cup softened Butter
Italian Flavored Butter
1 tablespoon Basil
1 tablespoon Oregano
1 tablespoon Thyme
1/2 cup softened Butter
Corn or Potato Butter Seasoning
1/2 teaspoon Rosemary
1/2 teaspoon Marjoram
1/2 cup softened Butter
How Long Can I Keep Flavored Butter?
Since you've gone through the extra effort to make it, here are some tips for keeping it:
Store it in a covered plastic container in your refrigerator for a couple of days after making it to give your seasoning time to develop
If you use UNSALTED butter, it won't keep as long as the SALTED version
The flavored butter will last about a MONTH in your refrigerator and will get more flavorful over time
It will last up to 3 months in your freezer
Use them in side dishes, on vegetables, when you saute or on bread