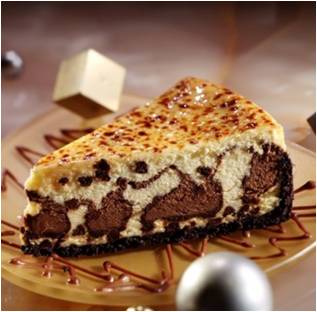 When making a mini or standard-sized cheesecake, owning the best springform pan will help you rise to the occasion by ensuring your cheesecake is presentation perfect.
Here we will give you some tips for making your cheesecake successful in a springform type pan and include our review of some of the brands most popular with consumers.
We'll identify the pan's key features that make them attractive to owners and provide unbiased consumer comments weighing both the good and the not-so-good for the brands and models reviewed below.
Our ultimate goal is equip you with the knowledge you need to make a selection. What we review here is in no particular order and all brands featured are top rated by those who own them and took the time to leave a comment about their purchase.
What is a Springform Pan and How is it used?
The term "springform" pan sounds more technical than it really is. It is just a cake pan that has removable sides. There is a ring-formed strip of non-stick coated metal that makes up the sides of the pan with a latchable clip that holds it securely in place with the pan's base.
Having the ability to remove the sides of the pan by releasing the latch preserves the integrity of the cake's edges. This works especially well when there are delicate layers and also permits cake edges to properly set while cooling without having to worry about the cake sticking to the pan. The design of the pan prevents it from leaking when you add wet ingredients.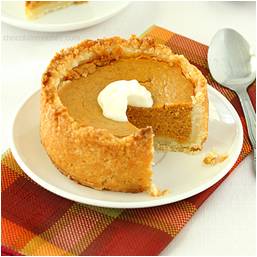 Generally, the most well known use for a springform pan is in the making of cakes (like cheesecake) with delicate toppings, multiple layers or bottom layers that making inverting an ordinary cake pan impractical to get them out.
A springform pan also works great for deep dish pizzas, pies like pumpkin, layered tortilla recipes and just about any recipe that requires the stacking of ingredients where you want to retain the shape.
You are only limited by your imagination. After all, the last thing you want is your delicious creation to fall apart before serving. A springform pan adds a measure of insurance that you won't get in an ordinary cake pan or baking dish.
Before getting into our review, and assuming your primary use may be for making cheesecake, here are some tips to guarantee cheesecake success.
Tips for Making Cheesecake in the Best Springform Pan
Best Springform Pan Options and Features
Your focus, when baking, is much better spent on ingredients so it's nice to know you have a quality pan in your corner. While the performance of a springform pan is similar across all brands, there are features that make some pans more convenient to use than others. Here's what we found:
Best Value Nordic Ware Leak Proof Springform 9″ Pan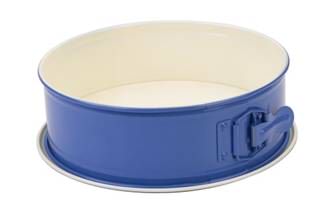 The highest rated and most economical of the springform pans we reviewed is the Nordic Ware Model 55722AMZ Springform Pan. At 9-inches in diameter, it holds a full 10-cups of batter.
This aluminum pan is non-stick, dishwasher safe, leak-proof and is available in four (4) colors – red, light blue, green and yellow. This is sure to add a little pizzazz to any kitchen and make an attractive presentation.
Nordic Ware is a family-owned, American manufacturer of kitchenware products founded in 1946 and probably best known for their bundt pans. This popular, recognized brand name is known worldwide for quality, dependability and value with their products in millions of households.
This pan is very well designed and of the good quality you would expect from Nordic Ware. The bottom has a lower lip that the outside ring sits on rather than just a flat edge — the result, no leaking.
One thing to point out with the four colors it comes in — you do not get to CHOOSE the color you want. Nordic Ware will ship you ANY one of the four colors.
Top Rated Mini Set – Wilton 2105-2174 Mini Springform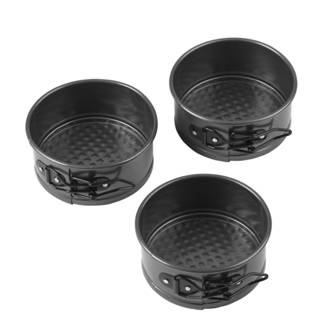 The best springform pan for making individual deep dish delights is a mini springform.
What's nice about a mini is the BAKE TIME is about half that of a full-sized 9″ springform pan — your 50-minute recipe in a 9″ pan will take only 25 minutes in a mini springform pan.
Mini springforms often come in very affordable sets. One of the highest rated mini springform pan sets is the Wilton brand and their Model 2105-2174 Springform Set of 3.
These cuties measure 4-inches in diameter and are 1-3/4 inches deep which makes a very satisfying individual serving of pie, quiche, cake, pizza, ice cream or anything else you like.
What is great about the Wilton brand is that they got their start back in 1929 in cake decorating and candy making — so they clearly know something about cakes!
Their waffle bottoms edge out flat bottom springform pans as just a little extra benefit for quick release. The non-stick coating makes for easy cleanup and is dishwasher safe.
Best Warranty Kaiser Bakeware LaForme Plus Springform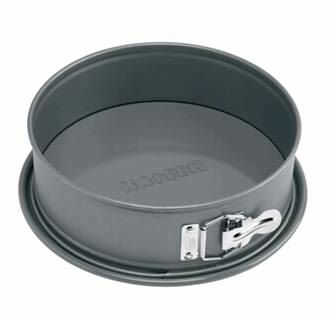 Generally warranties on bakeware can be anywhere from one year to limited lifetime.
In the instance of one year, the manufacturer is clear with regard to the time limit and usually with some stipulations on how the product must be used BEFORE a warranty claim will be honored.
Anything a manufacturer (at their discretion) deems as non-normal use can be cause to void the warranty.
The Kaiser Bakeware 9-inch Laforme Springform Pan comes with a "bumper to bumper" warranty of 10 YEARS.
Kaiser is a German bakeware manufacturer that has been around for some 90+ years.
They are a worldwide premium brand for bakeware. They are also not the least expensive when compared to other premium brands like Cuisinart, Wilton and KitchenAid.
The LaForme Plus 9-inch Springform is the top of the line with the latest in non-stick technology – a high grade enamel coating over heavy-duty steel.
This ranks for best springform pan because the base is cut-resistant — something you will not get with the traditional Teflon non-stick coated varieties
It's designed for superior, even heat distribution and browning with quick release guaranteed.