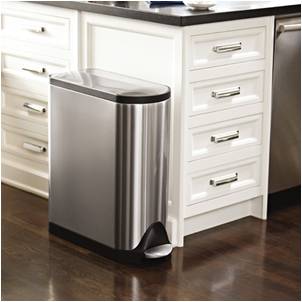 A stainless steel step trash can for the kitchen can create a germ-free, odor-minimizing environment.
It keeps your hands clean while you are cooking, entertaining or preparing meals in the kitchen.
It can help prevent contamination and the spread of germs — in short, it reduces the threat of some illnesses and infections.
A step trash can is a cleaner alternative to the traditional kitchen trash cans with no top lids or with a top hinged lid that folds in.
No worries about cleaning up drips or spills from liquids or foods that hit the hinged lid on the way in. Investing in a stainless steel step can means you want the best — something that looks good and is good for you.
The step trash cans today come in a variety of styles, from slim to accommodate smaller kitchens to round, square or rectangular and in different heights.
They complement the stainless steel appliances found in so many homes and many are made to hold a standard 13-gallon tall kitchen trash bag. Some come with pretty convenient features like a latch to keep curious pets from foraging the remnants of last night's dinner, quiet close lids and removable interior liners for cleaning.
Before purchasing a stainless step trash can for your kitchen, we've put together some considerations before you buy. These are listed below. We have also included our top 5 stainless step options that will use a 13-gallon (50-liter) standard tall kitchen trash bag.
Top Considerations in a Step Trash Can
Don't be fooled by liters! It's easy to think you are purchasing a large volume step trash can when you see advertisements, for example, stating "30-liter step can" — it's easy to think gallons when seeing liters but you may be disappointed in how much it actually holds when you get it home. A 30-liter step can will hold 8 gallons of trash — not a tall kitchen trash liner. A standard tall kitchen trash bag is 13-gallons or 50-liters.
Some of the newer stainless kitchen step cans offer 2, 3 and 4 compartment varieties for those that recycle or compost. Just remember that same 50-liter step trash can still only hold 13-gallons of trash but this now means that the divided spaces are only providing 3, 4 or 5 gallon sections for your trash. Tossing a couple of empty one liter soda bottles in a 5-gallon compartment will leave little room for anything else. You won't be able to use that tall kitchen trash bag and may need to purchase, at a higher cost, custom trash bags from that manufacturer to fit their compartments.
A step trash can in stainless steel is an attractive styling option that is as much a room decoration as it is something to hold trash.
Many homes feature stainless steel appliances — everything from dishwashers to microwaves and refrigerators. A stainless steel step can adds to the elegance of a stainless steel kitchen and adds uniformity to an overall stainless theme.
Stainless steel has a distinctive, sleek appearance that sets it apart from other finishes.
Kitchen step trash cans finished in stainless steel, when compared to molded plastic trash cans, do not absorb odors over time. Plastic trash cans, with continued use will start to smell like the trash they've been holding.
Step cans finished stainless steel are now available in "fingerprint-proof" options — but with a step can, who needs to touch the stainless anyway?
Top 5 Stainless Steel Step Trash Cans
In looking for stainless step cans we wanted only those that would fit a standard 13-gallon (50-liter) tall kitchen trash bag. We did not include any step cans that used non-standard bag sizes or those that would need to be ordered from the manufacturer to work.
All of these trash cans have fingerprint-proof stainless finishes, quiet close lids and most come with removable interior plastic liners for easy cleaning of any bag tears or spills. They also feature different profiles. Some have a curved front and flat back for placing against a wall, cabinet or island. Some open across the widest step can dimension while the Cuisinart step can opens from the narrowest dimension making it a slim line design for an island end or between cabinets.
Most cost just over $100.00 — the Tramontina is just under.
IMAGE
BRAND
DESCRIPTION
COST
Household Essentials Step Trash Can
Measures 27.75" x 16" x 16"
Removable bin liner
13-gallon tall kitchen bag capacity
Curved front, flat back
Quiet closing lid
$$$
Simplehuman Stainless WIDE Step Trash Can
Slow silent close lid
14.5-gallon capacity
Measures 14.2 x 18.5 x 25.8 inches
Fingerprint-proof stainless
Inner plastic liner for bags
$$$
Simplehuman Stainless Butterfly Step Can
Slim rectangular design
13-gallon tall kitchen bag capacity
Heavy duty inner liner
Fingerprint proof Stainless
Silent close pinch-proof lid
Measures 23.3 x 10.4 x 26 inches
$$$
Simple Human Stainless Step Trash Can
Measures 12.8 x 19.8 x 25.7 inches
Fingerprint-proof black and stainless design
Quiet close lid
Internal bag liner
$$$
Simplehuman Touch Bar Trash Can
Measures 11.4 x 15.7 x 28 inches
Top Touch Bar Design - No Step Pedal or Bar
Fingerprint-Proof Stainless
Lift-off Lid for Bag Change
Removable Liner
Easy Glide Nylon Feet
10-Year Warranty
$$$
Here are our top 5 choices for the best stainless steel step trash can for your kitchen. These step trash cans all fit a standard 13-gallon tall kitchen trash bag. These steps can are in no particular order.

Cost scale: $ = $0 to $50; $$ = $51 to $99; $$$ = over $100