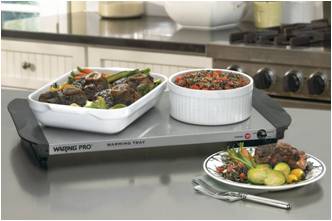 You're probably looking for the best top-rated warming trays for the obvious reason — you want to keep your food warm. After all, you spent a good amount of time preparing your meal and it just tastes better, the way you intended it, when warm or hot.
ARE YOU AT RISK?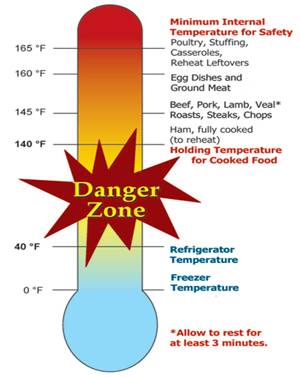 There are some critical health reasons that make your decision to buy a warming tray a really smart one in addition to the fact that nobody really cares to eat cold food!
Before getting into just one option (in our best rated cookware category) of what we think are 3 of the best in class consumer rated warming trays, we would like to share what we found that makes a warming tray — unless you're faster eaters — almost a must-have.
According to the USDA Food Safety and Inspection Service, food should never be left out of a refrigerator for more than 2 hours — this make you think twice about that potato salad you take to those summer picnics!
Leaving food, even cooked food, unrefrigerated for any longer (it drops to one hour if over 90 degrees in room or outdoor temps) and you run the risk of food borne bacteria and illness. If anyone has ever had a touch of food poisoning, you know what we mean.
The great thing about having a quality warming tray is that you have the benefit of control when it comes to maintaining your meal at a safe temperature.
This allows you to spend more quality time chatting with friends and family over meals without having to "wolf" everything down or jump up from the table to start putting leftovers away.
So with that said and not wanting to be on our soapbox about food safety, here are our Top 3 choices for the best warming tray for food. These are in no particular order and do include options suiting anyone's budget.
Toastess TWT-40 Silhouette Cordless Warming Tray Review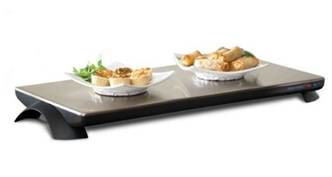 This Toastess Model TWT-40 cordless warming tray is ideal for entertaining as well as for everyday use.
The fact that it's cordless makes it convenient to place just about anywhere.
It stays hot for 60 minutes after unplugging and features automatic temperature control which protects against overheating. You'll want to keep your meal warm but you don't want to dry it out either.
The cord is detachable when you need to and it comes with stay cool handles are all designed for your convenience and ease of use. It measures an impressive 28.4 x 14.4 x 4.4 inches accommodating 4 plates.
You will find it perfect for keeping plates warm, especially if you have started to plate a meal but are waiting on a side dish not quite ready. It's also great for keeping small, low casseroles warm without "recooking" them while they sit.
While this unit is made in China it does come with a 2-year warranty which is 1-year longer than most small appliances. The surface of this unit is can be susceptible to scratching so care should be exercised when adding and removing casseroles, pots, pans or dishes.
Broil King NWT-1S Professional Stainless Warming Tray Features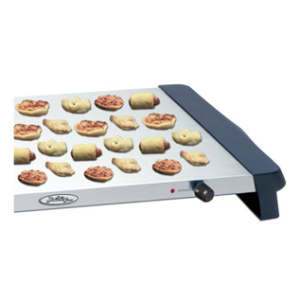 This made in the USA commercial-quality, sharp looking stainless version of available warming trays provides a first class appearance when used for entertaining.
Because the surface is stainless steel it is easy to wipe clean. They offer a unique warranty in that the purchaser receives a 1-year warranty against manufacturers defects HOWEVER, the recipient of this as a GIFT is offered an 18-month warranty.
What's nice about this warming tray is the adjustable thermostat that gives you options between 155 degrees and 205 degrees for temperature adjustment.
This comes in handy when you place heavier gauge dutch ovens or deeper casserole dishes on the tray to keep the ingredients warmed all the way through.
Stay cool handles are a must for any choice of warming tray as are non-skid feet so the tray doesn't slide — both of which are found on this Broil King Model NWT-1S.
This Broil King warming tray has a 3-pronged plug and does not have a detachable cord so you will need to use it near an outlet.
A handy indicator light lets you know the tray is on and working and also reminds you when you need to shut it off. This unit measures  15.2 x 26 x 2.9 inches and weighs around 8 pounds making it pretty easy to handle and store.
Cuisinart CWT-100 Stainless Warming Tray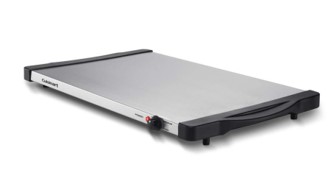 How can you go wrong with just about any Cuisinart small appliance. Their quality products, customer satisfaction and generous manufacturer backed warranties make them a staple in many kitchens.
Their CWT-100 stainless steel warming tray is one of those products. It provides 21×14 inches of surface area to keep two or more dishes at just the right temperature.
It is attractive on any table with its brushed stainless surface and gives you a choice of low, medium and high temperature settings with a convenient, easy-to-use control knob.
With 294 square inches of warming surface and 400 watts of power you get a fast heat up (to a maximum of 200 degrees Farenheit) to maintain the perfect serving temperature without recooking your food.
The easy grip, cool touch handles let you move the tray where you need it, when you need it.
Cuisinart provides a generous 3-Year warranty against any manufacturing defects.