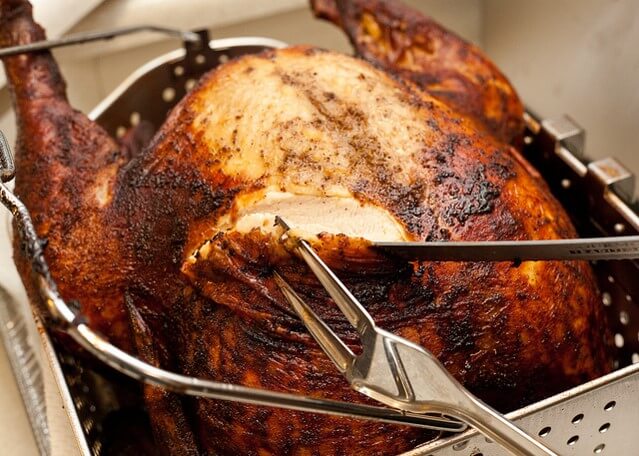 You'd think deep frying turkey would be the last thing someone would want to do today when so much in the media is focused on healthier eating. We're here to say don't fear the fryer!
Our detailed review for the INDOOR Butterball Professional Series poultry fryer by the barbecue masters, Masterbuilt, will change your mind.
Saying "deep frying" these days can conjure up visions of the state fair or carnival variety of deep fried candy bars, cheese balls, fried pickles and funnel cake.
But deep frying, creates a whole new paradigm for this super searing cooking process when you have the right smart design small kitchen appliance. Surprisingly deep fried fowl can be loaded with benefits and not all of them food related…enjoy the big convenience as well.
One of these benefits is the ability to cook your poultry indoors without the smoke, the mess and the dangers often found with outdoor cookers.
Super searing turkey with the Butterball Professional Series Electric Fryer not only makes turkey prep for the holidays and other special occasions more convenient but it is also a go to appliance option for chicken wings, whole fryers, turkey breasts and cornish game hens. Replace the oil with water and use it for steaming vegetables and seafood as another cooking option.
Take the Grease Out of Cooking With Oil
Deep frying poultry with this Masterbuilt marvel will turn out to be a great, economical investment you'll find yourself using year around. This indoor electric fryer can dance circles around any convection oven in terms of cooking convenience.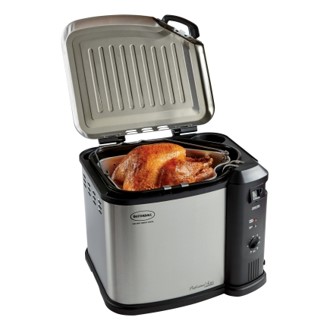 Deep frying poultry not only saves prep time, slashes cooking time and cleanup; but it gives you the same convection cooking benefits of uniform browning, rich coloring with sealed in juices for extraordinary flavor you simply can't duplicate unless you choose to smoke it.
Smoking a turkey takes substantially longer than frying and not everyone likes the taste of a smoked bird…the smoked flavor can permeate meats and poultry overpowering any other flavors, marinades and seasonings.
Deep frying in heated oil, at a precise temperature, provides an all over searing of the skin on the bird. This in effect, seals the outside of the bird so no oil is absorbed into the meat and the meat remains moist, tender and flavorful.
No more dried out white meat that can happen with traditional oven roasting.
Benefits of this Butterball Fryer by Masterbuilt
This small electric appliance uses 1/3 less oil than a conventional outdoor fryer and it's loaded with convenient features. All of these features combine to provide you with a quality product that not only looks great in your kitchen but provides these convenient features:
Its made from high quality stainless steel construction for years of use
The inner pot is coated with porcelain for easy cleaning
A has an easy set it and forget it digital timer with an adjustable thermostat
Enjoy the safe handling cooking basket with drainage clip
It has a convenient view window and filter on a folding lid
The drain value provides a simple outlet for removing oil when done
One of the best features of deep frying poultry in the Butterball fryer is that the "20 minutes per pound" rule does not apply as in conventional oven baking — how about "4 minutes per pound" frying time?
This unit will hold up to a 20 pound turkey. Cooking and continually basting the same bird in a regular oven and you're looking at 4 plus hours of cook time.
At only 4 minutes per pound, you'll spend that time getting the potatoes, vegetables and dinner rolls together for a meal that takes you little more than an hour to get on the table instead what seems like half the day. And, you have your oven available for baking casseroles or desserts to accompany your meal.
Tips for Using the Butterball XL
Masterbuilt has put together a quick video, included below, that highlights how best to use this fryer for deep frying turkey. The product dimensions are 18.3L x 16.1W x 14.8H and weighs 19.8 pounds so it will fit on a kitchen counter under most kitchen upper cabinets.
Using an injector for liquid seasonings in deep turkey frying is only one option. Make your own poultry seasonings so you can enjoy a variety of flavors for turkey, chicken and Cornish game hens. Here are some rub recipes I use that work just as well for conventional cooking as they do in the electric turkey fryer.
Cleanup is simple because just about everything will go in the dishwasher. The heating element is the only unit that needs a quick wiping with a damp dish cloth.
Another nice feature, using the built-in drain valve, is your ability to save and reuse the cooking oil over again. Oil can be reused another 3 or 4 times.
One thing I would mention is that the oil, after your first use is slightly seasoned from whatever you used on the outside of your bird when deep frying turkey your first time. Each time you reuse that same oil, your seasonings will continue to compound in the oil.
Tips for Using the Masterbuilt Butterball Indoor Turkey Fryer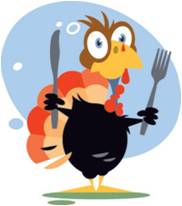 Deep frying turkey, hands down in my opinion, gets you the most moist, tender meat in the shortest possible time over conventional oven cooking. This is a win win for any cook and I no longer bake a turkey in the oven.
If you've never fried a turkey before, doing it indoors and using hot oil can be more than a little intimidating.
Here are some tips to help those first timers or those still unsure if this is the best way to go.
While many of us do this as a last resort, read the product manual. This gives you the parts list as well as basic operational written and visual instructions.
Wear oven mitts, use pot holders or wear rubber gloves when lowering your food into hot oil. When food comes in initial contact with the hot oil, it will let off steam. This will keep any steam heat from touching your skin.
Keep the container your peanut oil (recommended) comes in. After deep frying turkey or other foods, use the handy drain valve to drain oil back into its original container. Cap the container and save the oil for reuse another 3 or 4 times. This saves on the cost of the oil when you can reuse it.
Deep frying turkey takes just 4 minutes per pound instead of the 20 minutes per pound for poultry when cooking in a traditional oven. If you are cooking a turkey breast instead of a whole turkey, then allow 7 minutes per pound. Your meat thermometer should read 165°F.
Oil (about 2 gallons) will need to preheat before you add the food you will fry. Preheating the oil usually takes between 20-25 minutes but Masterbuilt suggests it may take up to 35 minutes. Do this while you're getting the bird ready.
To prevent splatter when adding poultry to hot oil, make sure it is completely thawed with no ice remnants left inside the cavity or outside. Pat your bird dry with a paper towel to remove any moisture. You can use cooking oil or butter on the outside to get seasonings to stick after patting it dry. A room temperature bird works best because adding a cool bird cools the oil temperature.
Injecting marinade will weep through puncture holes in the meat causing some splatter when adding a bird to hot oil. Again, wear oven mitts or gloves to protect your hands when slowly lowering meat into fryer.
The basket is shaped to best fit a whole bird. Be sure the turkey is breast side up as illustrated in the manual. (Yes…a few folks have done it the other way!)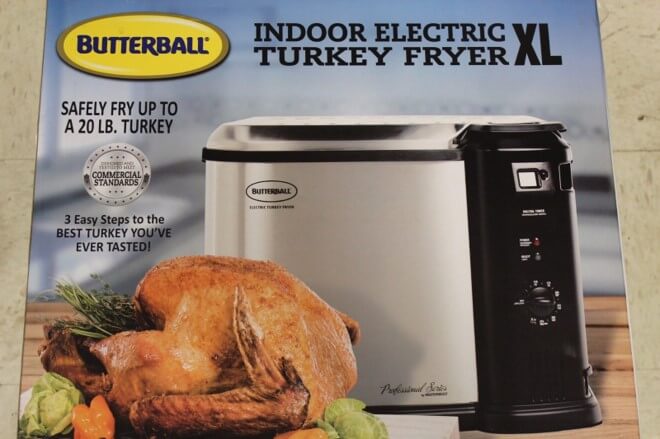 Why is Masterbuilt the Master of Deep Frying?
Masterbuilt Manufacturing is located in Columbus, Georgia and has been an industry leader for 30 years in deep frying and outdoor cooking.

They are an accredited member in good standing with the Better Business Bureau and maintain an A+ rating which is the highest offered. This is an excellent indicator of not only quality workmanship but of customer focus and customer support as well.
Any questions regarding any of Masterbuilt's products, including the Butterball Indoor Electric Turkey Fryer can be handled through any of their contact options below:
Masterbuilt Manufacturing, Inc.
1 Masterbuilt Court
Columbus, GA 31707
Email: customerservice@masterbuilt.com
Toll Free: 1-800-489-1581
Phone: 706-327-5622 (local)
FAX: 706-660-8022
What's in the Box?
What you get with purchase is one (1) 1650 watt small indoor deep frying appliance that includes the outer appliance shell, back cover, lid, basket, inner pot with drain valve, control panel and heating element, breakaway power cord, lifting hook, value spout, safety cap and instruction manual.
This product is warranted by the manufacturer against any defects in materials or workmanship for a period of 90-days from the date of retail purchase.
Conclusion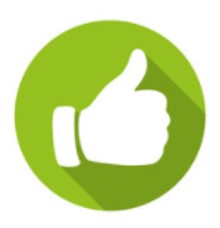 If you're tired of the same old dried bird year after year and are ready for the most flavorful, juicy white and dark meat wrapped in a richly seasoned browned crunchy crust then this admittedly value-priced deep sear turkey fryer will have you wondering why you didn't buy one sooner.
This is an excellent alternative for people who do not have a safe place or the inclination to deep fry a turkey outdoors with hot oil and with propane.
Don't let it's relatively compact size fool you…this Butterball XL Indoor Electric Fryer can deliver because it's Master built (pun intended).
Ready to try your hand at deep frying turkey?
Fries turkeys up to 20lbs. in the aluminum cooking basket with drain clip
Analog controls and digital timer with thermostat temperature control
1,650 watt electric heating element heats oil quickly
Cleaning is easy with the convenient oil drain valve
Usually ships in 24 hours
& Free shipping
Last update was in: January 19, 2018 2:11 am
Fries turkeys up to 20lbs. in the aluminum cooking basket with drain clip
Analog controls and digital timer with thermostat temperature control
1,650 watt electric heating element heats oil quickly
Cleaning is easy with the convenient oil drain valve
Designed and tested to meet commercial standards
Magnetic break-away power cord for safety