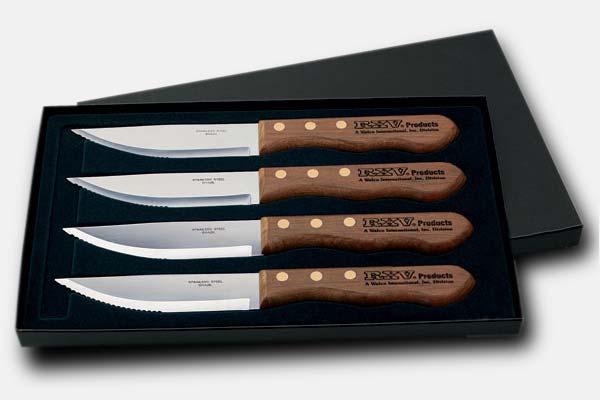 Add a little steakhouse-style to your collection of kitchen knives with the best steak knives for speeding that flavorful cut of meat to your mouth.
Because a good steak knife set can come with different blade shapes and handle types, we want to get you started with a few of the basics things to look for.
In order to make an informed decision to buy, when choosing a the right knife set for you, here are 3 important points to consider. We've also included reviews for six (6) of our favorite sets.
The Best Steak Knives have Good Balance
Not many people think of "balance" when choosing a steak knife. Most look at the blade as an indication of how sharp the steak knife will be. While blade sharpness is an important characteristic, the balance of a steak knife makes a pretty bold statement in the selection process.
This does not mean that a knife literally needs to balance with the weight of the blade when holding it on your forefinger — many people choosing steak knives for sale online don't have the benefit of handling them first. Because steak knives come in different varieties, the maker of that knife is responsible for their own signature balancing in the knife's design. Here are some indicators of good balance when viewing online:
Does the handle look heavy or proportional to the blade?
Is the blade in a straight position coming from the handle or at an angle?
Does it look comfortable to hold and inviting to pick up?
Best Blade Type for Your Steak Knife?
There are basically 3 types of blades to consider when choosing a steak knife. There are no right or wrong selections when choosing a blade and this is more about personal preferences.
Serrated edge – makes it easy to cut through crusty cuts like roasts and breads. Serrated blades will stay sharper longer than straight edge blades due to the number to smaller exposed edges. The cut made by a serrated edge is more like a tear when cutting meat fibers and compared to the clean cut of a sharp straight edge.
Straight edge – Allows for smooth clean cut and when carving will not tear the fibers of meat. This style blade will need more sharpening than a serrated edge but is also easier to sharpen than a serrated blade.
Hollow edge – This style of steak knife blade with measured indentations along the blade's edge. When cutting meats or vegetables, an air pocket is created between the hollow edge and the slice. This prevents foods from sticking to the blade and allows for finer slices.

What Role does "Fit" Play in a Steak Knives?
What "fit" means in choosing the best steak knife is that all of the knife's components are put together with tight tolerances — no gaps should be visible between the handles and the blades and it should look seamless.
Quality steak knives will have a noticeable "fine" fit that contributes to the knife's overall strength and rigidity. A good fit also means that fluids, contaminants, and moisture will be unable to infiltrate the handle shortening the lifecycle of the steak knife.
6 Top Rated Steak Knife Sets
Here are some of the classic best steak knives and top rated steak knife sets (in no particular order) made by well-established leaders in the industry for designing and manufacturing precision cutting instruments.
No. 1 – Wusthof Classic 6-Piece Steak Knife Set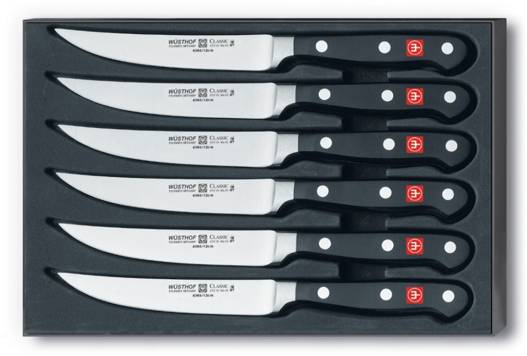 Wusthof is a seventh generation family business and has been around since 1814 so they know a little bit about knives. This 6-piece steak knife set features a super sharp straight edged blade forged from a single piece of tempered high carbon steel.
These Wusthof Model WU9730 classic design steak knives feature a handle design made from a highly durable synthetic material – Polyoxymethylene (POM) – which has a tighter molecular structure to resist fading and discoloration, looking beautiful for years.
This 6-piece set with 4-1/2 inch blades, is one of the priciest in our review (at around $200) and should be hand washed to preserve their finish and blade edge. Their synthetic handles do not mean dishwasher safe. Dishwasher detergents are corrosive and will eat away at the forged steel and synthetic handles causing discoloration and possible rust — potentially ruining your investment.
No. 2 – Victorinox Value Serrated Edge Rounded Tip Steak Knife Set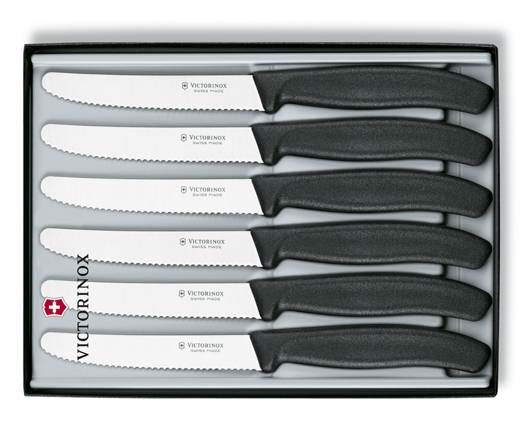 From the makers of the Swiss Army Knife, you can't go wrong with another industry leader around since 1884. Victorinox offers this 6-piece steak knife value option with a rounded tip for safety versus the traditional "spear-type" steak knife design.
These knives are a stamped stainless steel in lieu of the more expensive forged carbon steel knives and have synthetic black plastic handles to maintain hygienic use. The stainless blades come with a lifetime warranty against manufacturing or material defects.
This is a popular choice with 45 users rating these knives 5-star.
No. 3 – Melange Black Ceramic Steak Knife Set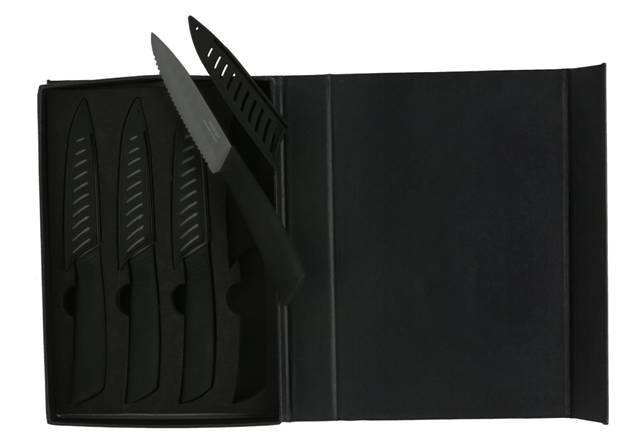 Looking more like military grade tactical knives than steak knives, these Melange serrated blade knives combine the best technology of two different worlds in the creation and manufacture of their razor sharp ceramic knives — the Japanese way of creating a perfectly balanced knife with German state of the art product methods for exceptional quality.
Ceramic knives began in Japan and at one time only used by professionals, but now are available to all and have become so popular in recent years for their ease of use, lightweight handling,  and extra sharp cutting edges. The ultra-modern white bladed ceramic steak knives with steel handles featured here, are made from zirconium oxide (sharper than steel), a material second only to diamonds in hardness.
The stylish design in these 4″ black ceramic blade steak knives have comfort-grip handles that deliver flawlessly for at least 5 years of use with no need for sharpening.  Ceramic steak knives won't rust, deposit chemicals, cause a metallic taste, discolor food, retain harmful bacteria or stain — that can happen with some value steel steak knife sets.
These Melange BLACK ceramic steak knives are available in a set that includes 4 BLACK STEAK KNIVES and 4 BLACK STEAK KNIFE COVERS.
They are NOT dishwasher safe and come with a 5-year warranty. Four (4) knives with blade covers are delivered in a coordinating black wrap-over box for under $35.
No. 4 – J.A. Henckels Stainless Steel Value Steak Knife Set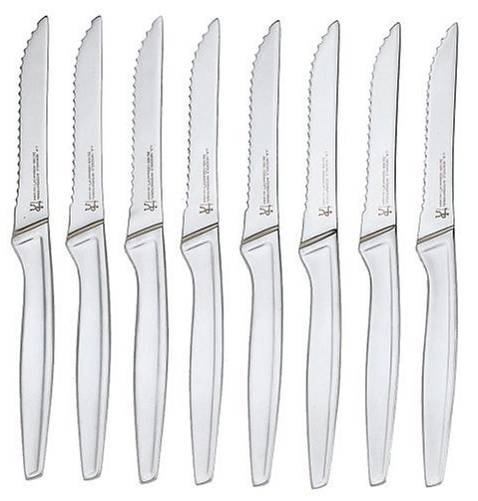 How can you go wrong with an 8-piece stainless steel steak knife set made by J.A. Henckels International? Another leader since 1895, the Henckels brand has represented the best in German steel design and quality in cutlery.
Designed for the value conscious, they offer a lifetime warranty on their products against defects in workmanship or materials. These serrated-edged, spear-tipped blades are sharp and the stainless steel construction guarantees easy cleanup. While listed as dishwasher safe, however, stainless steel does not inherently last over time in a dishwasher due to the harsh chemicals in dishwasher detergents.
Owners of these steak knives consider them some of the best for their price.
No. 5 – Chicago Cutlery 4-Piece Basics Steakhouse Knife Set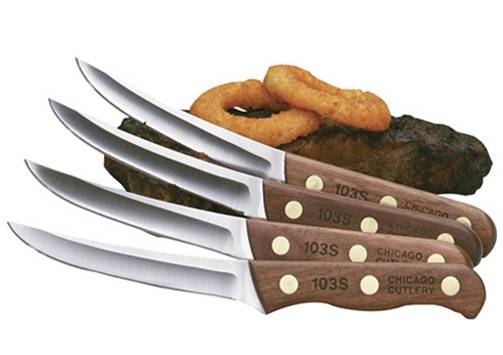 Chicago Cutlery is almost synonymous with the best steak knives. Chicago Cutlery has been around since 1930, getting their start in the meat markets of Chicago. The Chicago Cutlery brand started out as a knife conditioning service that catered only to professional butchers and meat packing plants. In 1969 they began making professional-grade knives for home kitchen use and are known for comfortable, sturdy and well-balanced blades that take and hold an edge for precise cutting.
Their high carbon, stamped, stainless steel blades never need sharpening and the natural wood handles provide a traditional look and feel to the steak knife. Because the handles are wood, they're not recommended for the dishwasher.
Chicago Cutlery products come with a lifetime warranty against manufacturers defects in materials or workmanship and will last for years with normal use.
This 4-piece steak knife set get 5-Stars from 17 reviewers as a great value and a sharp option for an affordable steak knife set.
No. 6 – Dalstrong German Steel Steak Knives (Set of 4)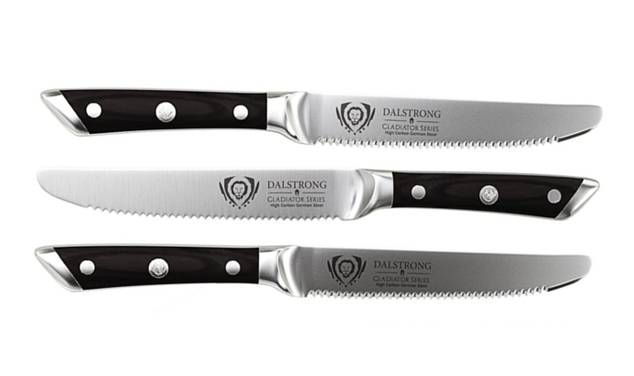 Made from ThyssenKrupp high-carbon German Steel, these Dalstrong Gladiator Series Steak Knives are ever sharp, have riveted handles and are good for the long haul. These serrated edged steak knives are made from a full tang single piece of high quality steel for maximum strength and come with elegant, yet super durable G-10 Garolite handles.
G-10 Garolite is an industrial grade laminate consisting of a continuous filament glass cloth material with an epoxy resin binder. The G-10 handle material is of high strength with excellent chemical resistance in both dry and humid conditions.
The serrated knife blade is expertly crafted at an 18 degree angle so that the "scalpel" sharp interior edge is protected from your plate or other hard surfaces that contribute to dulling straight edge blades.
These steak knives feature the Dalstrong Lifetime Warranty and 100 percent money back guarantee so you can try them out and return for a full refund, no questions asked if not satisfied.
This set includes FOUR (4) serrated edge steak knives with 5-inch blades, an instruction book, cleaning cloth, sheaths and attractive packaging for gift giving.
Be sure to check out the other top rated kitchen products on this website.