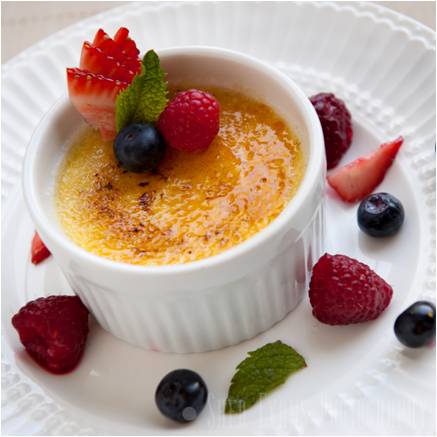 A butane cooking torch is just what you need if you've ever wanted to create the perfect caramelized top for crème brulee like the professionals do on your favorite cooking show.
But did you know there are many more uses for this cool little kitchen gadget than just finishing your crème brulees?
In this guide we will share everything you may want to know about a kitchen torch so you are well equipped the facts should you decide to buy — and, we will also include our top 5 favorites!
What is a kitchen food torch?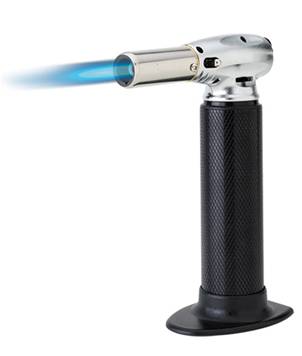 Any butane torch uses flammable butane gas to create a very hot flame. While it also has industrial uses, a small culinary food torch, designed for use in professional kitchens, can reach temperatures in excess of 2500 degrees F.
Surprisingly, butane fuel burns cooler than the other gases. This is still hot enough, however, to melt metals such as gold, silver and copper and can turn many organic compounds into vapor.
When this blue butane flame touches a sprinkling of sugar crystals on your custard, it can instantly melt the crystals into a delicious, bitter-sweet, hard layer of caramel — fast enough to keep your delectables from cooling.
How does a cooking torch work?
Butane cooking torches work similar to cigar and pipe lighters — they will keep a consistent stream of thin air propelled fire no matter at what angle you hold it.
Hand-held kitchen torches are easy to light and have a mini fuel tank that is refillable.
The food torch is typically metal-bodied and has three parts to it. In most standard designs the torch neck is attached to a cylinder shaped handle which stores the fuel. The handle may be attached to a small platform for standing the tool on a kitchen counter.
To use the torch, you press a button as you would any other lighter or electronic ignition as in a gas grill. A piezoelectric ignition system sets the torch flaming at a touch of the button.
Where to buy fuel?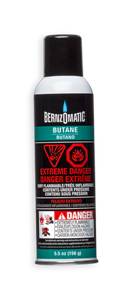 Many torches are sold online without fuel. Fuel will usually have to be purchased separately.
Butane is available for purchase at many big box retailers, grocery stores, outdoor pro shops as well as kitchen specialty stores.
It is also available at home improvement chains like Home Depot, Lowes and Ace and is available to buy online through Amazon and other etailers.
How to light the food torch
The cooking torch should have a brass fuel fitting to let you pour the fuel in, as you would in a butane lighter.
A butane flame should also be a fully oxidizing (blue) flame, using excess oxygen from the air. If you don't adjust the air regulator before you aim at the food, a large flame with a yellow tip may result sending an unpleasant taste of unburned hydrocarbons from the fuel into your food.
Light the torch facing away from the food, adjust for a solid blue flame, and then sear away.
How to choose a small cooking torch for your kitchen
There are a few features that set a great culinary cooking torch apart from the rest. When buying a butane torch, consider the following features to make usage convenient and safe:
The torch should have capacity to reach temperatures of minimum 2500° Fahrenheit to be considered fast and effective.
The handle should be ergonomic, preferably with rubber grips that are comfortable to hold. Some torches have detachable tabletop stand and can be used hands-free.
A gas flow adjustment lever should be present, to help adjust the size of the flame. The roaring and hissing flame should be narrow, dark blue and relatively short. The air control lever should have enough resistance not to move by itself.
Comes with safety lock and meets CPSC Child Safety Requirements to keep things safe from small inquisitive hands.
A fuel level gauge is useful to tell you how much fuel is left in the tank.
Choose a model with a burn time over 60 minutes.
A long anti-flare neck should focus the flame to be very precise and should work from ANY angle.
Top Uses for a Small Butane Kitchen Cooking Torch
A butane torch is not only good for crème brulees, but you can use it for plenty of other things in and out of the kitchen! Here are a few ideas:
Brown a meringue on a pie, baked Alaska or tart
Use for roasting peppers — makes it super easy to remove the skin from peppers and tomatoes
Toast cheese toppings on pizzas or casseroles
Sprinkle sugar on fruit, such as peaches or grapefruit, and caramelize for a quick, delicious dessert
Flame up a marshmallow in a mug of hot cocoa
For breakfast, caramelize the sugar on your oatmeal
Browning meats you have nuked in the microwave
Torch s'mores instead of roasting, and bring the camping experience indoors
Flame your shots, and thrill the guests at your house party
Kitchen torches can be used for soldering, jewelry and craft repairs, wax working
Use it for wood burning, leather crafting, stencil cutting
Kitchen Cooking Torch Comparison Chart
Taking into consideration the points above, we have found our 5 top favorites, based on features and best consumer reviews. We share them below in no particular order.
| | | | | |
| --- | --- | --- | --- | --- |
| | | | | |
| BRAND | EurKitchen | Messermeister | Vie De Chef | |
| Adjustable Flame | YES | YES | YES | |
| Burn Time | 60 Minutes | 200 Minutes | 60 minutes | |
| Child Safety Lock | YES | YES | YES | |
| Ergonomic Design | YES | YES | YES | |
| Material | Plastic | Aluminum | Aluminum | |
| MAX Temperature | 2370° F | 2700° F | 2370° F | |
| Piezo Ignition | YES | YES | YES | |
| Stand | YES | Detachable | YES | |
| Warranty | N/A | Lifetime | Lifetime | |
| COST | Under $25 | Under $40 | Under $30 | |
| Comments | REVIEWS | REVIEWS | REVIEWS | |
| | | |
| --- | --- | --- |
| | | |
| BRAND | Dremel | Blazer GB-2001 |
| Adjustable Flame | YES | YES to 4" |
| Burn Time | 75 Minutes | 120 Minutes |
| Child Safety Lock | YES | YES |
| Ergonomic Design | YES | YES |
| Material | Aluminum | Aluminum |
| MAX Temperature | 2172° F | 2500° F |
| Piezo Ignition | YES | YES |
| Stand | Detachable | Detachable |
| Warranty | 2-Year | 1-Year |
| COST | Under $45 | Under $55 |
| Comments | READ REVIEWS | READ REVIEWS |