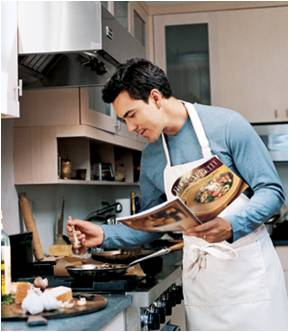 Gadgets in the kitchen are not typically gender specific but we found some cool kitchen gadgets for men that would complement any cache.
The best kitchen gadgets are often the most unassuming and inexpensive.
When factoring in some of those special qualities that only men possess, we've found some gadgets that will complement and make their effort easier and more efficient in the kitchen.
You certainly have to give credit to all those creative minds trying make life in the kitchen easier.
And while there have been many novel inventions and gimmicks, very few find their way into the classification of "must-haves" and "kitchen staple" — most end up on a pantry shelf, in a drawer or sadly re-gifted to someone else.
The Difference between a Gadget and a Gimmick
A gimmick is a product or special product feature that makes it stand out from similar products. It is often considered a novelty item and not overly relevant to the product's function. Gimmicks often have a short life because they are poorly designed or rapidly lose their appeal.
Gadgets, on the other hand, which may also be considered a novelty serves the purpose of a specific task and are classified as small self-contained units of high performance in relation to their size and cost.
Ironically, the first atomic bomb was named "The Gadget" by the Manhattan Project in the early years of World War II.
3 Cool Kitchen Gadgets and Must-Haves for Men
Kitchen Knife Sharpening Stone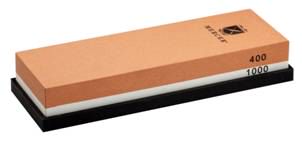 A man can cook well with the right tools and that starts with a sharpened knife. There's no disputing that a sharp knife cuts better, requires less pressure making it safer to use.
Knife sharpening is a bit of an art but each guy develops his unique style and owns the blade he sharpens.
There are plenty of knife sharpening gadgets on the market but a simple, inexpensive whetstone gets the job done.
Many mistake the part of the word "whet" in whetstone to mean "water" because it is often seen used with water or some type of lubricant. However, the word "whet" actually means to "sharpen a blade".
It is a stone made from either synthetic or natural quarried materials and is produced in different grades with grit particles ranging from course to fine. This will define the sharpness of the blade it is used on.
For kitchen knife sharpening, we like the Mercer Cutlery 400/1000 Grit Sharpening Stone. It is made from "corundum", an extremely hard mineral sometimes containing iron, magnesia, or silica, that occurs in gem varieties such as rubies and sapphires and also is used mainly in abrasives.
This stone comes in two grit grades, 400 and 1000, the later being for a finer blade finish. This whetstone includes a non-skid silicon tray to keep the sharpening stone from sliding on the surface it is being used on and protecting the work surface underneath it.
It can be used as well for razors, scissors, pocket knifes and many other blade types making it a pretty versatile tool that will pay for itself time and again.
Kitchen Mandolin Food Slicer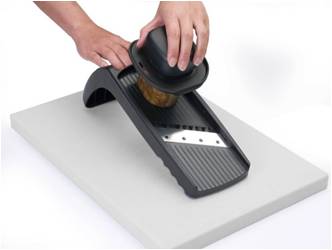 Mandolines are a handy kitchen food slicer for creating uniform slices of fruits and vegetables as well as cheeses and meats.
Much more convenient than pulling out your food processor, a mandolin comes with multiple cutting blades for many different cutting options — from thin slices of red onion to garnish a burger to natural cut potatoes for some of the best french fries ever.
We like the kitchen mandolin made by Progressive International. This handy compact model is big enough to get the job done and has a feature or two not found in other mandolin brands.
Notice the scalloped edge on the bottom at the end of the mandolin slicer in the image. This allows the mandolin to sit comfortably over the top of  different sized bowls or dishes to keep your work space cleaner.
It includes three (3) double-sided cutting blades for six (6 ) different cutting options — you can thin slice, flip for super thin julienne or medium slice and then flip for medium julienne plus thick slice and then flip for thick julienne.
Cutting plates store underneath this kitchen slicer when not in use and the comfort grip handle, even for the meatiest of hands, provides secure holding during use. It measures just 4.50 inches x 13.00 inches x 6.25 inches for easy storage in a drawer or cabinet.
It's completely dishwasher safe and the blades are stainless steel so you are guaranteed they won't rust and will hold their super sharp cutting edge.
Derwent Pepper Mill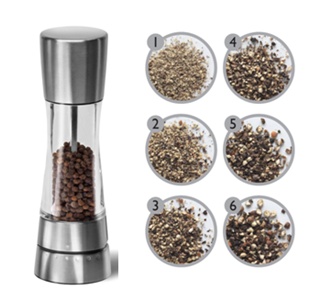 You can find pepper grinders for anywhere from $20 to upwards of $100. The very expensive ones are usually hand-crafted from exotic woods.
While they can be very beautiful, it doesn't mean they are the best. The important thing in choosing the best pepper mill is the grinding mechanism itself.
There's nothing more frustrating than having to continuously grind to get sufficient quantity of cracked pepper to properly season a meal. Just as frustrating is biting into an overly course peppercorn piece not sufficiently ground.
Our favorite pepper mill is the Derwent Pepper Mill made by Cole and Mason. While not a battery-operated model, the size of the mill and the features make this one a winner.
Unlike automatic or electric pepper mills of the same size — where much of the length of the pepper grinder houses 6-AA batteries — this manual version has a clear, high quality acrylic body that holds almost triple the peppercorns for longer periods between fills. Filling requires a simple top off in this model.
The precision hardened carbon steel professional pepper mechanism offers 6 pre-selected options for pepper grades from fine to course — accomplished by a simple twist at the bottom of this 7-1/2″ top of line grinder.
London-based Cole and Mason have been around since 1919 and made their first wooden pepper mill in 1946. Their patented precision mechanism won them the Excellence in Housewares Award in 2011 and in 2012 they received the Gold Award at the Housewares Conference for innovation in the food and preparation category with this grinding mechanism.
This cool kitchen gadget, besides being stylish with its stainless steel accents and premium quality acrylic is easy to wipe clean. This is attractive enough for men or women to set on any table as well as use as a favorite tool in the kitchen. The mechanism comes with a lifetime warranty which ensure years of use and enjoyment for any kitchen gourmet.