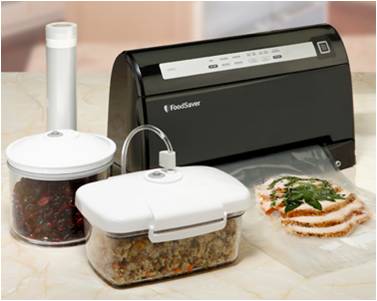 If you are looking for the best food vacuum sealing machine for your home then this is a good place to start.
Here we will detail what the typical food saver sealing system does, what you can use it for as well as the pros and cons of owning one.
We will give you the benefit of our research and will also suggest what, in our opinion, are the top three (3) highest consumer-rated vacuum sealers for home under $170.00.
Finding innovative ways to save money on your household expenses is likely important to you, especially if you are on a tight budget — and, throwing out good food going bad isn't one of them.
Using a vacuum food sealer machine can save you hundreds of dollars every year in food and containers – and even more if your family is larger. It virtually eliminates freezer burn and lets you enjoy the freshness and flavor of foods up to 5 times longer.
If this is your first electric sealer, picking out just the right model can be a little intimidating. So, let's start with the basics to help you determine if this food saving option is a good fit for you.
What is a Food Vacuum Seal Machine?
If you're not familiar with home food sealers, their operation is pretty straightforward. While there are differences in function between the available models, most work on a clamp and heat seal design in three easy steps:
The unit itself sits on your kitchen counter, and you place the food you want to preserve in the specially designed bags.
The vacuum sealer then draws all the air from the bag, and using impulse heating, creates an airtight seal across the top of the bag.
The result is a package of food or series of items, vacuum sealed and air-free. This provides an element of protection and extends the "shelf life" of the item while preserving the taste of wrapped food. Simply cut open the bag when you are ready for use or consumption.
Food Sealer Machine Benefits
There are many benefits to owning a food sealer system and you may be surprised to see that not all are related to food:
Sealed food maintains flavor and freshness up to 5 times longer than conventional refrigerated food storage.
It prevents freezer burn. Why spend the money on a family pack of chicken, pork or even steaks, only to have them get freezer burned because they were stored too long or not properly? This can erase the savings you enjoyed by buying in bulk.
Get your meals ready to go with herbs, seasoning and marinades ahead of time so all you need to do is thaw and cook. All your prep work, done in advance.
Seal and freeze individual servings. Take that pan of lasagna, cut it into individual servings and vacuum seal each for quick easy warm and serve meals.
Take advantage of bumper crop fruits and vegetables, when they're in season, like strawberries, corn on the cob, tomatoes, blueberries, asparagus, etc. and vacuum seal in the freshness and flavor so you can enjoy them off season.
Make your own jerky? It works great for that too.
It's also great for making individual, flavor fresh snack packs if you are always on the go.
Other Vacuum Sealer Uses
Food sealer machines are not just for food, here are some not so obvious other home uses that make this an investment worth considering. Most sealers have the option for airtight sealing as well as providing a watertight only seal.
If you love the outdoors and spend time camping, kayaking, boating or fishing then vacuum seal a set of dry clothes should you accidentally take a spill in the lake.
When camping, some watertight packaging can keep items like matches dry and other dry goods moisture free.
Make your own ice packs and enjoy the chilled water or refreeze them.
Have important papers you want to keep mold and mildew free? Vacuum sealing is great for keeping valuable documents dry.
Vacuum sealers also keep the tarnish off jewelry, cutlery, coins and serving pieces by keeping the air from oxidizing various metals.
Are you a baseball, stamp, autograph, trading or game card collector? This is a great way to preserve a valuable collection.
Do you collect photographs, newspaper clippings or magazine articles of memorable events? Here's another way to ensure your collection stays preserved.
If you have cloth items like handkerchiefs or other keepsakes which are susceptible to humidity, dust or even silverfish, vacuum sealing can help to protect them, too.
Weighing Upside with the Downside
A food sealer machine is not necessarily the "be-all end-all" for food preservation but it does make life a lot easier in the kitchen. Here are a few things to consider though, when you look past all the cool features:
What a food sealer system will NOT do is preserve food outside your freezer where microbes or bacteria occur naturally in foods like meat, poultry and fish. Freezing and cooking are still the only ways to kill these bacteria.
Vacuum sealing is NOT a substitute for the heat process of canning. Perishables still need to be refrigerated or frozen.
Sealing food will NOT reverse the deterioration of food but it will slow down the changes in quality. Sealing fresh food will provide the best return.
Many people find a big drawback of vacuum food sealing to be the price of the sealer bags themselves. Many vacuum sealer manufacturers require you purchase sealer bags unique to their models and not all will work with the less expensive "universal bags" — this can be rather expensive depending on the brand you choose and on how often the sealer is used.
Maintenance is needed as with owning any small appliance. Depending on use, sealing gaskets will need to be replaced over time plus the sealer will need cleaning to ensure no food borne bacteria or juices remain after sealing meat and poultry.
Counter and storage space is another consideration. Finding a multi-featured sealer model with a smaller profile, that takes up less space on your counter or can fit in a drawer, may be a better option if counter space is at a premium.
Considering that the primary food sealer feature for most people is an air-free seal on packaged foods, then think about how much use you would really get out of all the bells and whistles on the more expensive models — there are many lesser priced, quality brands with the key feature you will use most.
Our Top 3 Picks for Kitchen Food Sealers
Here are what we feel to be the top three (3) consumer-rated best picks for a home vacuum sealing machine under $150.00. These are in no particular order and each has features many will find appeal to their specific needs:
NESCO VS-02 Food Sealer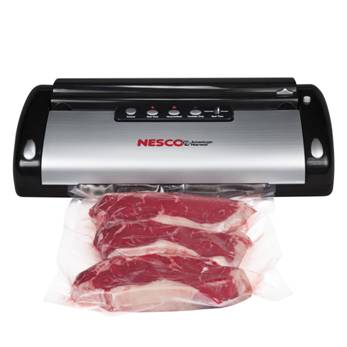 NESCO, famous for their roasters, since the 1920's has a long standing and proven tradition of manufacturing quality electrical small kitchen appliances so you know they have a well established brand in the industry.
Their compact vacuum VS-02 sealer design provides a number of features in addition to bag sealing that makes this an attractive buy for under $100.00.
Not only can you use UNIVERSAL bags and rolls, but this unit comes with a bag cutter so you don't need scissors to cut your bag to size.
It also comes with a CANISTER ONLY option for taking the air out of containers, universal lids, bottle savers and jars. This will keep coffee grounds, cookies, and crackers fresher longer.
The handy "hose port" lets you attach the hose of your airtight container (not included) to this for vacuum sealing your dry canister goods.
Lock and unlock buttons lets you place your bag or roll, press the button and let the machine do the rest. No need to hold the lid down until the operation is complete.
This sealer is wide enough to support 11-inch and 8-inch bags or plastic rolls.
18.3″L by 11.8″W by 5.1″H
Runs on standard household current
Weighs 7 pounds
Two (2) rolls of 8.66"x 9.8" bag material
Five (5) 8.66" x 11.8" bags
Five (5) 11"x 11.8" bags
Uses UNIVERSAL bags or rolls
1-Year Manufacturers Warranty
FOODSAVER FM2100 Sealing System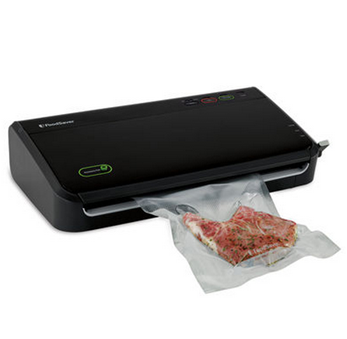 The FoodSaver brand is the only home food sealing system manufacturer that offers a 5-Year limited warranty and this is one of their newest  2000 series models.
Sleek and lightweight in its design, this model FM2100 lets you use both rolls and bags for vacuum sealing fresh fruits and vegetables, leftovers, bulk meat and poultry purchases in an air-free, water tight pouch.
It comes with an accessory port AND hose to vacuum seal canisters and marinade food.
This sealer will work with smaller 8-inch and 11-inch wide bags or rolls only.
You have three sealing options with this model. Wet sealing is for items like marinaded meats, dry sealing is for foods without liquids and straight sealing is for keeping items water tight but not air tight.
There is no control setting, other than on and off, for sealing delicate food items.
17.8″L by 13.3″W by 5.9″H
Runs on standard household current
Weighs 6.6 pounds
Three 1-Quart Bags
Two 1-Gallon Bags
One bag roll 11-inches by 10-feet
Uses UNIVERSAL bags or rolls
One accessory hose
5-Year Manufacturers Warranty
GameSaver Bronze Vacuum Food Sealer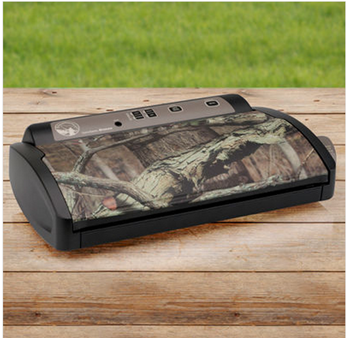 This GameSaver food vacuum by FoodSaver is the largest of those featured here and comes in a unique camo and bronze design.
Unlike the other models reviewed, this model flips up on its base for convenient vertical storage, taking up less counter space and the built-in drip tray catches anything that might otherwise drip on your kitchen counter. The drip tray is dishwasher safe.
It's all dressed up in the official "Mossy Oak Break-Up Infinity" camo pattern and is the ideal vacuum sealer for preserving fresh game and fish for the outdoorsman.
This model comes with built-in roll storage and cutter for custom cutting storage bags to fit your catch.
You have three sealing options on this model, wet airtight sealing, dry goods airtight sealing and watertight sealing.
20.7″L by 15.3″W by 6.7″H
Runs on standard household current
Weighs 8 pounds
Five 1-Quart Bags
Five 1-Gallon Bags
One bag roll 11-inches by 10-feet
One bag roll 8-inches by 10-feet
Uses UNIVERSAL bags or rolls
Accessory port and hose of canisters and marinades
5-Year Manufacturers Warranty
Conclusion
With all of the benefits of vacuum food sealer systems covered above, it is no surprise that they are so popular today. Adding one of these easy-to-operate units to your kitchen, can help you to save a great deal of money on food costs over the course of the year.
You can expect to throw far less food out and to enjoy frozen items that taste much fresher – making freezer burn a thing of the past.
This lets you take full advantage of buying in bulk, enjoying seasonal fruits and vegetables off-season and preparing large meals ahead of time for individual use later — especially when you have that craving without the time to fix that favorite entree.
For all these reasons, a vacuum food sealer can be a smart purchase, that will pay for itself time and again.