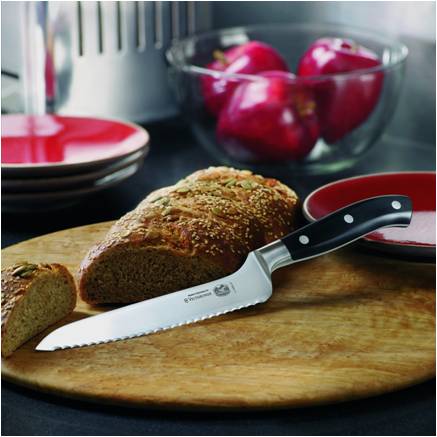 The offset serrated knife is a cut above an ordinary serrated knife and in this review:
we will tell you why
how they're best used
provide the features to look for
give you our Top 5 favorites!
The blade, on an offset serrated knife, is lower than the handle on other knives by about an inch or more giving you an L-shaped profile between the handle and the blade.
The downward sloping handle is designed to be more ergonomic in handling, places less strain on the wrist and is more comfortable for the cook or chef to use when slicing.

Thanks to an offset knife handle, you will never bang or scrape your knuckles on the cutting board and it keeps your fingers away from the food.
While a serrated blade is not the best choice for slicing sushi or where clean cuts are preferred, there are still many other uses that make this a handy option to have in your kitchen arsenal.
Uses for a Serrated Kitchen Knife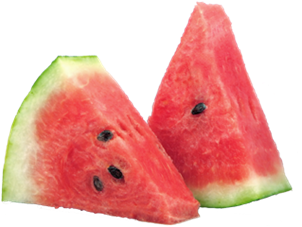 Besides being the best bread knife, a serrated knife works well for slicing both hard and soft surface foods.
For example, slicing through a crusty loaf of bread, you will want a knife with a serrated edge that first grips with the high points of the serration and then slices.
The serrations are normally chisel-ground into the blade, which means they are thinner (thereby cutting better) than the comparable plain blade.
When slicing a tomato, as a soft surface fruit, unless you have a razor sharp straight blade, you will still want the benefit of the serrations to grip the smooth skin surface and glide cleanly through. This also works extremely well with waxy vegetables such as cucumbers and peppers.
A serrated blade knife with an offset handle, where foods are cut with a back and forth sawing motion, can squarely compete with a straight edge when slicing:
Crusty Breads
Bagels
Sandwich Fixings
Pies / Quiches
Pizza
Frittatas
Roasted Meats
Barbecued Meats
Sausages
Ham
Poultry
Burgers
Tomatoes
Pineapples
Watermelon
Cantaloupe
Peppers
Cucumbers
Selecting the Offset Serrated Knife Blade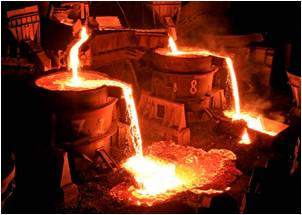 Not all knife blades are equal and you want to select a blade that will deliver on sharpness, hold its edge, be easy to maintain and minimize the need to re-sharpen.
The top 4 characteristics of a good knife blades are:
Edge Retention – Probably the most important considering the knife's main purpose is to cut.
Corrosion Resistance – Stainless knife blades with at least 11% more of chromium are resistant to staining and rusting in areas of high humidity or exposure to water.
Toughness – You want a blade strong enough to absorb impact before fracturing under stress such as when using a cutting board or at temperature extremes.
Ductility – Again, you want a blade that will flex under load, i.e. boning knife.
Below are common offset serrated knife blade metals and what you can expect in terms of performance when owning one.
Stainless Steel
Stainless steel is a metal that contains at least 11% Chromium in its chemical composition. This is what makes stainless steel rust resistant and easy to maintain. The chromium content protects the metal against wear and corrosion making stainless an attractive option for kitchen cutlery.

Today's steel processing now yields stainless materials that retain their sharpness, have longer edge retention and are fairly easy to re-sharpen.
Stainless knife blades are highly rust resistant BUT are not rustproof!
Carbon Steel
Unlike stainless steel blades, carbon steel can get rust spots and can discolor very easily. Carbon steel knife blades need special care meaning they should be cleaned and wiped dry after each use — and, optimally coated with oil between uses.
These are  generally not dishwasher safe blades as the harsh chemicals in dishwasher detergents will eat away at the carbon steel finish promoting rust and discoloration. The rust and discoloration, however, does not impact the blade edge or sharpness.
High Carbon Stainless Steel
This type of knife blade combines the best features in both stainless and carbon steels.
High-carbon stainless blades, also referred to as German steel, are made of 420HC (high carbon) or 440C stainless. Both are very sharp, durable, excellent at resisting stains and corrosion and are favored by many commercial chefs.
Titanium

Many are wowed by this lightweight metal used in aerospace, architecture and medical devices.
Titanium is a hard, silver-gray metal that is 40% lighter than steel, possessing a high tensile strength and amazing corrosion resistant properties.
While titanium is harder than aluminum, it is softer than a good steel knife blade, it dulls too quickly and will not hold a sharp edge.
Even high end titanium will only be about as hard as low end knife blade made with steel. Be prepared to sharpen frequently!
Titanium Bonded Stainless
Titanium bonded stainless steel is completely different than a regular titanium knife blade. This type of blade utilizes a process whereby titanium and chromium nitride is applied to the stainless steel cutting blade, penetrating the steel and creating a permanent bond.
In this application, the bonding process makes the knife blade corrosion resistant and triples the strength of the blade when compared to an untreated steel blade. This extra layer of protection helps the blade to retain its sharp edge longer.
Offset Serrated Knife Handle Options
A serrated blade will not provide its best performance if the knife, as a whole, is not balanced and has a good handle ensuring the user has a comfortable, secure grip for precision cutting.
Serrated knife handles do come in a variety of materials and finishes with variations often tied to price point.
Here are what we found available in an offset knife:
Wood Handles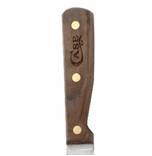 Knife blades with wood handles are beautiful in appearance especially with the many different wood species available and can make an attractive steak knife, however, impractical for a hard-working kitchen knife. Wood handles are not dishwasher safe, will crack and loosen over time and can harbor bacteria if not properly cleaned.
Plastic Handles

Plastic or plastic blend handles are gradually replacing wood handles as more knives go in the dishwasher.
Plastic handles, many are BPA-free, also do not harbor the bacteria that can creep into wood and come in different textures making them easy to grip. They also will not expand, contract or slip when exposed to liquids or extreme temps.
Stainless Steel Handles

Stainless steel knife handles are easy to clean, resistant to food acids and are highly durable. They provide a better balanced knife when combined with a stainless steel blade and compared to wood or plastic handles.
As attractive as they look, they can get slippery if your hands are wet or oily from handling ingredients.
Santoprene Handles

This type of handle is made from a mixture of polypropylene and synthetic rubber. This combination brings together a slip resistant grip regardless of whether your hands are wet or dry.
The Santoprene handle is NSF rated and also durable, easy to wash and fairly attractive.
Best Offset Serrated Knife – Top 5
BRAND
FEATURES
FRIEDR. DICK

BLADE LENGTH:
BLADE MATERIAL:
DISHWASHER SAFE:
HANDLE COLOR:
HANDLE TYPE:
KNIFE LENGTH:
MODEL:
NSF CERTIFIED:
WARRANTY:
COST:





7 INCH 
CARBON STEEL
NO
BLACK
PLASTIC
12 INCHES
8505518
YES
LIMITED LIFETIME
UNDER $25



V-LO

BLADE LENGTH:
BLADE MATERIAL:
DISHWASHER SAFE:
HANDLE COLOR:
HANDLE TYPE:
KNIFE LENGTH:
MODEL:
NSF CERTIFIED:
WARRANTY:
COST:





9 INCH 
HIGH CARBON STEEL
NO
BROWN/GRAY
PLASTIC
14 INCHES
V163-9SC-PCP
YES
LIMITED LIFETIME
UNDER $20

CLAUSS

BLADE LENGTH:
BLADE MATERIAL:
DISHWASHER SAFE:
HANDLE COLOR:
HANDLE TYPE:
KNIFE LENGTH:
MODEL:
NSF CERTIFIED:
WARRANTY:
COST:





9 INCH 
TITANIUM BONDED STEEL
NO - HANDWASH
RED/GRAY
SANTOPRENE
14 INCHES
18748
YES
LIFETIME
UNDER $20

DEXTER-RUSSELL

BLADE LENGTH:
BLADE MATERIAL:
DISHWASHER SAFE:
HANDLE COLOR:
HANDLE TYPE:
KNIFE LENGTH:
MODEL:
NSF CERTIFIED:
WARRANTY:
COST:





8 INCH 
HIGH CARBON STEEL
NO - HANDWASH
WHITE
PLASTIC
12 INCHES
60138
YES
LIMITED LIFETIME
UNDER $30

VICTORINOX

BLADE LENGTH:
BLADE MATERIAL:
DISHWASHER SAFE:
HANDLE COLOR:
HANDLE TYPE:
KNIFE LENGTH:
MODEL:
NSF CERTIFIED:
WARRANTY:
COST:





9 INCH 
CARBON STEEL
NO
BLACK
PLASTIC
14 INCHES
VIC-40550
YES
LIMITED LIFETIME
UNDER $30