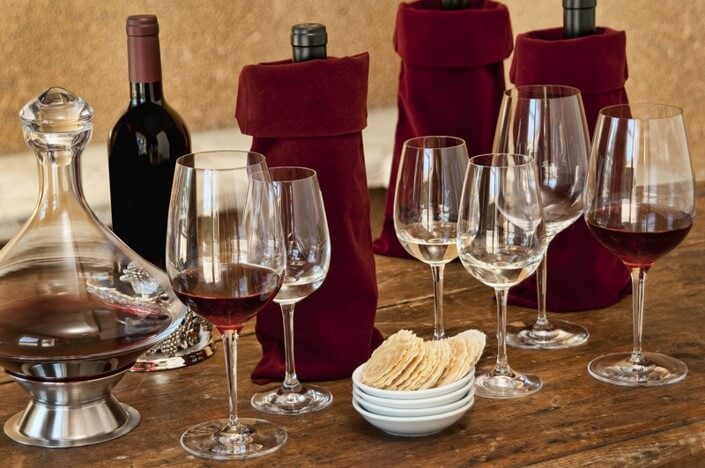 There's a reason when serving wine that it generally doesn't come in single-serve containers. Wine is a drink that is intended to be shared. While you may consider dining without wine, entertaining without wine might just be a different story.
Let's face it, wine can make food at any dinner party or gathering taste better like no other beverage can.
There's a practical side to serving wine with a meal and with that comes several questions and considerations.
Should Guests Be Offered More Than One Wine?
When you offer more than one wine, you encourage comparison, tasting, experimentation and spirited conversation among your guests as they discuss the flavor notes of each.
Depending on the number of courses offered, you may consider a wine for each. Two wine selections are another option…one matched to an appetizer and another the main course or one for the main course with another matched to dessert. More intimate meals work well with just a single selection.
Partner with a Buddy for Serving Wine
To make your entertaining more interactive, invite one of your guests to be a "wine buddy". As you continue to prepare and serve your meal, your "wine buddy" will be responsible for opening, pouring and serving as needed.
Serving an aperitif while guests are standing and before the meal is served sets a relaxed atmosphere. These glasses then go to the kitchen and the table is set with glasses for more wine to come with the meal.
How Many Bottles of Wine Should You Plan Serving?
You get about 5 servings of wine from one 750-milliliter bottle. Assuming your guests will have at least two servings and let say you have 10 guests, that would be about 4 bottles of wine. Multiply those bottles by the number of courses you choose to serve it with.
Choosing the Right Wine for Your Meal
When pairing wine with food, trust your instinct and knowledge of how flavors work together. Wines that are high in acidity (that puckering dryness) or sweetness may overpower or clash with the taste of your food.
Start with serving wines that are light and medium bodied unless you already have a discriminating palate. Here are some guidelines to help you make the right selections:
Full-bodied wines should be served with hearty dishes. The heartier the dish, the heartier the wine selection. Rich, fatty foods like cheese, beef or lamb pair well with "oaky" Chardonnays, red Cabernets or Zinfandels
Oily dishes can tame tannins (found in red wines from the skin of the grape) and make a red wine taste fruitier and smoother. Sparkling wines also work well with oily dishes
Consider light and sweet wines to cool off the spiciness in some foods
Sweet wines work well with foods of a similar sweetness
If you're serving salty foods, consider serving a Riesling, White Zinfandel or Chenin Blanc
Citrus, tomato, vinegar and other highly acidic foods are best suited to serving wines that are highly acidic like a Sauvignon Blanc
Match any wine used in cooking with the wine you are serving
Matching and contrasting taste components with wine can create some great combinations
Top Guides for Wine Pairing in Print
Last updated on February 13, 2018 12:55 am