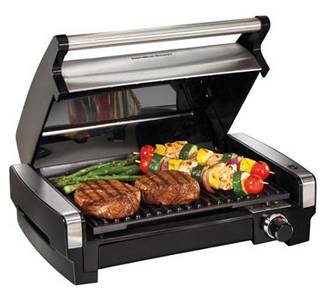 There are plenty of indoor grill options but this review is dedicated solely to the Hamilton Beach 25360 model searing grill and why it just might be worth considering as a must-have small appliance.
In this review, you will get all the facts and features associated with this little indoor grill as well as the warranty and maintenance info you need to know.
In my opinion, it is tough to beat the wood smoke, flame or charcoal grilled flavor infused into food cooked on an outdoor barbecue but there are times and situations when this option is not available and that is where this Hamilton Beach grill really shines.
As an indoor searing grill, it is not subjected to inclement weather, does not require stoking of coals or wood and is not subjected to the condo or apartment rules and covenants that prohibit grilling on patios, decks or balconies — and, as a bonus, you still get your grill marks for well under $100.00!
FEATURES OF THIS HAMILTON BEACH GRILL
When looking for an indoor grill there are basically two things you need to consider — whether it makes a difference to you if the temperature is adjustable (some grills have only one heat setting), and how much grilling surface you need.
Here's how the Hamilton Beach 25360 fits the bill:
This is an open style grill grill meaning that food cooks on one side and then needs to be flipped to cook the other side, as opposed to a contact grill that cooks from the top and bottom at the same time.
It comes with a lid that is great for keeping grease splatters, smoke and steam contained.
The lid also serves to keep the grill heat, at your selected temperature between warm and sear, so it is not continually reheating to maintain temperature.
For a grill, this unit is pretty compact and lightweight and does not take up a large footprint on your kitchen island, counter or stovetop. It measures 16-inches wide by 6-1/2 inches tall by 10 inches deep.
The actual grilling surface measures 12-1/2 inches wide by 9-1/4 deep totaling about 115 square inches for cooking. This size works well for two people unless you cook in sessions, then it can accommodate more.
There are 11 different temperature settings to cover everything from searing a steak or chops to keeping items warm until you are ready to serve them.
The grilling surface has a superior non-stick coating on the side that comes in contact with the food, and does not need pre-treating with oils to ensure its non-stick properties.
While it does require preheating like all grills, that takes less than 10 minutes for the highest sear setting
FACTS, WARRANTY AND MAINTENANCE
Just as important as the features are the facts associated with operation and maintenance plus what Hamilton Beach is willing to do to stand behind their product. Here's what we think you should know:
This indoor searing electric grill comes assembled and consists four (4) main components — the corded grill base with 24-inch attached power cord, the removable grilling plate, the lid and the drip tray. It also comes with a detailed Owner's Manual.
The grilling plate contains the heating loop that grills the food and the plate plugs into the corded base that is then plugged into a wall outlet using standard household current.
The stainless finish lid hooks onto the back of the grill base and is self-supporting in the open position. Note: the underside of this lid will discolor from the heat with use.
The drip tray slides easily into tracks in the grill base to catch juices and fats that drip from cooked foods.
Only the grill plate, drip tray and lid are dishwasher safe, however, in my personal experience, these are just as easily hand washed in soapy water to better clean little stuck on bits that can sometimes hide around ridges and recesses on the lid as well as the plate. You cannot use the "SANI" setting on the dishwasher, per Hamilton Beach, as this will damage these pieces.
Hamilton Beach will warrant the Model 25360 Searing Grill for a period of 1-Year against any defects in material or workmanship to the original owner.
TIPS FOR USING THIS SEARING INDOOR GRILL
There are a few keys, I've have found, to successfully using the Hamilton Beach 25360 searing grill indoors without burning your food or smoking up your kitchen.
Here are the tips that get me predictable results every time:
1) Use your Exhaust Fan
Setting this handy little grill on your stove, under your exhaust fan keeps much of the essence of a backyard barbecue from permeating your whole house.
I have a gas stove and just remove the cast iron burner grates and gas burner plates so the Hamilton Beach grill sits level on the surface. I also have a recirculating vent exhaust fan that I turn on high through the cooking process to keep the those delicious smells mostly confined to the kitchen.
2) Why Olive Oil Works When Searing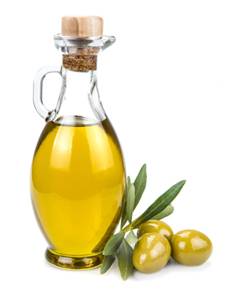 To burn proof your food and tamp down any smoke just season your meat and vegetables first, patting the seasoning into the top on each side and then drizzle a very small amount of olive oil over the top.
Using your hands lightly pat the olive oil over the meat or vegetables so the top is covered.
Patting will keep all your seasoning in place and the olive oil keeps your food from sticking and also seals in juices and flavor while you grill.
If you marinade your food, there is no need to use the olive oil but the marinade should have no more than the same light coating the olive oil would were you to use it instead.
Food completely slathered with marinade will burn on the grill plate and will also make a mess in the drip pan below the grill.
3) The Lid is There for a Reason
Always grill with the lid down, and this is recommended in the Owner's Manual. This is the best way to control splatters, minimize smoking and most importantly, to keep the grill at the proper temperature so you get your food in the shortest grilling time possible.
Leaving the cover open will cause the temperature controller to continually go into preheat mode to maintain the grill temperature you have selected.
4) Get the Grill Mark Advantage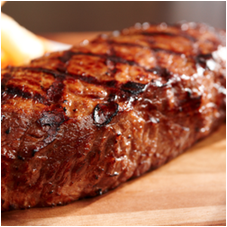 Because we eat with our eyes first, grill marks, accomplished on the sear setting of this Hamilton Beach grill, definitely add to the overall appeal of whatever you are grilling.
Grill marks, for example on a slice of zucchini, a piece of pineapple or a red onion look just a appetizing as those on a steak, chicken breast, boneless pork chop or fish.
There are two popular patterns in grill marking and they are the single strip and the more popular crosshatch.
Regardless of pattern, your meat, chicken, fish or vegetables should start out at a 45 degree angle to the grill grate.
The first sear is usually accomplished in 2 to 3 minutes then rotate the food at a 90 degree angle and sear again. When you are ready to flip your food, just repeat the process. This leaves the diamond style grid that will make you look like a master chef.