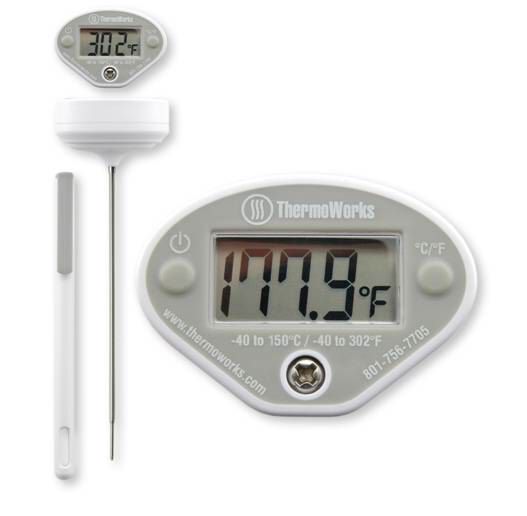 Adding an instant read kitchen thermometer to your collection of cool kitchen gadgets is a smart choice. You may be surprised at the number of conveniences an instant read thermometer can provide. Here are 5 great reasons for choosing an instant read thermometer together with 5 of the top rated thermometers (in no particular order) that actual users own and enjoy.
Top 5 Reasons for Owning an Instant Read Kitchen Thermometer
The slender probe won't let those coveted juices run out of your meat
Ever burn your mouth on too hot tea, chocolate or coffee? See what the temp is in seconds before you drink it
Great for baked goods — monitor the temps of rising dough for yeast breads or the internal temperature for custard pies
Monitor with confidence the liquid temperatures for candies and jellies
Insert in food near the end of an estimated cooking time to prevent overcooking — nothing worse than eating something overcooked or dry!
No. 1 – ES432 Ultra-Fast Water Resistant Pen Shape Stem Thermometer

The title of this instant read thermometer says it all — it's waterproof, is ultra-fast and comes in a pen shape which you can see below. The thinner stem means a small hole for those foods that need piercing. Waterproof means this thermometer can function where it counts when those creative cooks are testing sauces, jams, jellies and candies.
The little ring at the top makes it easy for hanging on a cup cook, close to the stove and it easy reach when you need it. While no "instant-read" thermometer is truly instant, it begins adding degrees toward your final temp immediately on activation.
The LCD display is easy to read and the 10-minute auto-shutoff comes in handy not only for preserving battery power but remembers to turn itself off when you get too busy so you don't have to.
It's advertised to be dishwasher safe, by why take a chance? There are 200+ 5-Star reviews from satisfied customers on Amazon which you can read HERE. This device uses the button-type batteries. The lithium version will provide long life.
No. 2 – Polder Safe-Serve Instant Read Kitchen Thermometer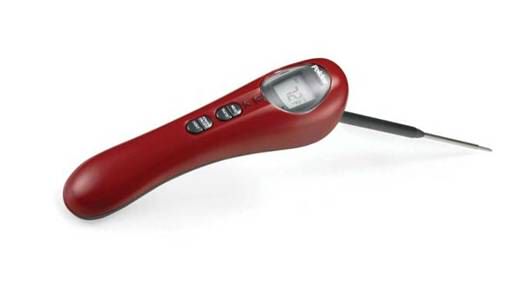 Like some of the other models, Polder also offers a thinner probe which offers the benefit of not creating a hole that will compromise the food you are testing. A long 10-inch probe ensures that your hands are safely away from super hot items that many otherwise feel warm on your skin. Unlike the "pen style" models, this instant read kitchen gem has a larger LDC display and an easier handle grip — great for those avid cooks and grillers that may be faced with a touch of arthritis now and then.
What's great about this instant read thermometer for the kitchen or outdoors is that it comes equipped with a light at the probe-head. This is comes in handy for those grilling "after dark" so they can land the probe exactly where it needs to go.
Unlike the pen-style, this thermometer uses two AA batteries for it's instant read features and directional lighting.
There are only 4 reviews for this model but all four at 5-Star. Check out the reviews HERE.
No. 3 – ThermoWorks RT600C-N Pen-Style Instant Read Thermometer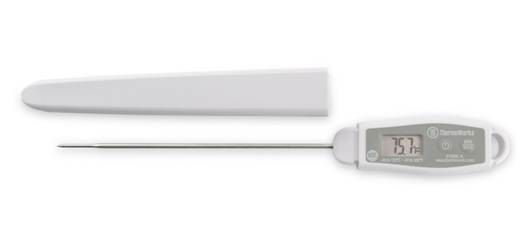 Thermoworks is all about temperature – in fact, that's all they do is produce handheld, infrared, digital, pocket, humidity, alarm and timer devices that deal with the measurement of temperatures. This US company has included 5-6 second read results, rubberized buttons for easy handling, a thin user-friendly probe and includes a lithium button-type battery for operation.
This unit also has an auto-shutoff feature but a one hour in lieu of ten minutes as in one of the models reviewed. This kitchen thermometer measures temperatures up to 212 degrees (the boiling point of water) whereas the other models measure to 190 degrees. That puts this model instant read thermometer in a professional class.
There are 345 owners of this digital kitchen delight on Amazon.com that have rated it 5-Stars and have shared their delight. Read their reviews HERE.
No. 4 – Another Digital Delight from ThermoWorks Model RT301WA Kitchen Thermometer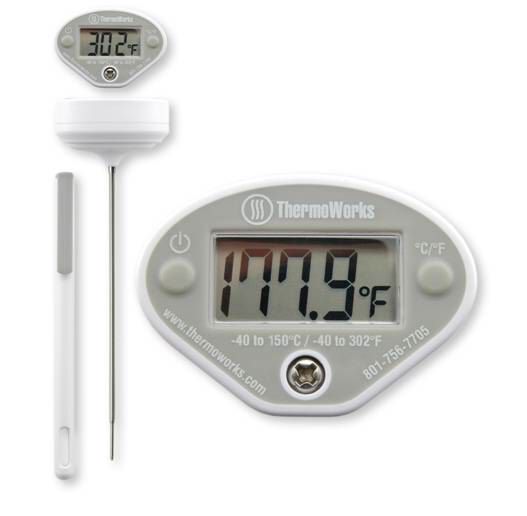 The RT301WA digital pocket kitchen thermometer is a leading Cooking Magazine's top rated selection for digital kitchen thermometers. The Super-Fast ThermoWorks digital instant read thermometer returns temperatures to you in just 5 seconds. Big digits on the display means you may not needing reading glasses for this one. Not only is it easy to read, bit it will fit in any shirt pocket, pants pocket, apron or chef's coat.
This digital thermometer, according to ThermoWorks has been sold for use in thousands of restaurants, food plants, labs and by health inspectors world-wide. It's the perfect digital instant read choice that's very affordable for either home or commercial use.
There are 124 reviews on Amazon that have rated this a 5-Star addition to their kitchen gadget collection. See their reviews HERE.
No.5 – DeltaTrak Offers a Winner in its FlashCheck Digital Instant Read Kitchen Thermometer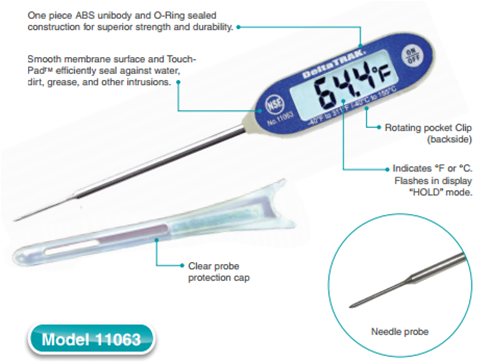 DeltaTrak, Inc., is a leading innovator of temperature monitoring solutions. Their product lines include a wide range of temperature and humidity data loggers and wireless systems but they also manufacture high quality portable test instruments that monitor and record temperatures.
This DeltaTrak Model 11063 provides a large jumbo display for easy reading. It has a smooth membrane surface and touchpad sealed against water, dirt, grease and food particles that might otherwise damage function over time.
It comes with a rotating pocket clip for easy carrying and has a auto-shutoff feature as well as an "auto-calibration" feature for more accurate readings.
The FlashCheck Digital Instant Read Thermometer only has 17 reviews but all reviews are 5-Star. Read the reviews at Amazon HERE.