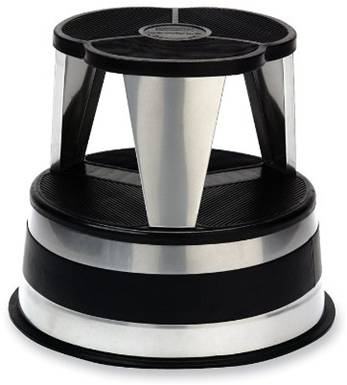 The Kik Step rolling kitchen step stool is the answer to those kitchen cabinets just out of reach that often times don't get used for that very reason.
And like a lot of us aging adults, we shrink a little in height each year making access to those top cabinet and pantry shelves even harder.
Is it time to rediscover retro with Cramer's Kik-Step?
In this review we'll take a detailed look at the stylish and familiar Kik Step brand kitchen stepping stool.
We will outline its features as well as the facts surrounding its quality, use, maintenance, storage and warranty.
While this does not appear, on the surface, to be the cheapest option in kitchen stools, we hope to show you why it may be your best value.
Features of the Kik Brand Kitchen Stepping Stool
The original Kik-Step by Cramer, LLC. has been around for 50 years and the base design (that clearly works with over 4 million sold) has not changed.
What Cramer HAS done is answered the demand of their Kik-Step consumers who wanted color options to match their kitchen decor.
This convenient kitchen stool with castors is now offered in 10 different colors plus a newly released 50th Anniversary "Library Edition" which is a model in stainless steel accents. There's now a color option to satisfy just about every taste.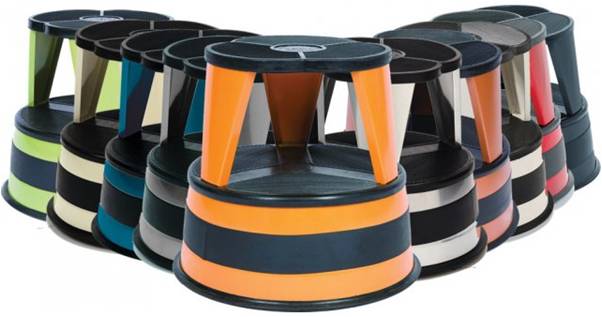 Here are some of the not so obvious features that make this a great value:
This stepping stool comes with a rolled steel frame that is made from powdered coated steel — a hard finish that is much more durable and tougher than conventional painted steel.
Created by Cramer, LLC. with a 125 year legacy, this rolling stool is backed by a well established organization that is committed to conducting business in a manner that protects our natural environment and embraces the principals of sustainability and environmental stewardship using only compliant materials.
The Kik Step stool is an innovation resulting from the "ladder bell" concept created by Cramer engineers. It consisted of a circular housing placed over the casters on ladder legs to protect them from damage. The entire stool design is based on this concept of protecting the retractable castors.
Wrapped in rubbery trim, this step stool offers protection against damage to base boards, cabinet bases and walls when scooting this stool across the floor.
This stool will scoot on wood, vinyl, concrete, tile and other hard surface flooring without damage or scuff marks to the flooring.
There are two (2) convenient steps, each covered with a non-slip step tread. The lower step is about 5-inches off the floor and the top step 14-inches.
The wide base at around 16-inches tapers to a top step of almost 9-inches wide for even weight distribution and to prevent tipping — this provides for a secure reach.
The concealed castors operate on a spring system that allow the rollers to retract when weight is applied to the middle or top steps. This then distributes the weight from the castors to the stool for a firm hold in place.
The stool itself only weighs about 10 pounds but can support body weight up to 500 pounds outdistancing any competitors.
This Kik-Step kitchen stool also comes with a very generous 10-YEAR limited manufacturer's warranty against any defects in materials or workmanship.
Its compact design makes for easy closet storage so you have it when you need it.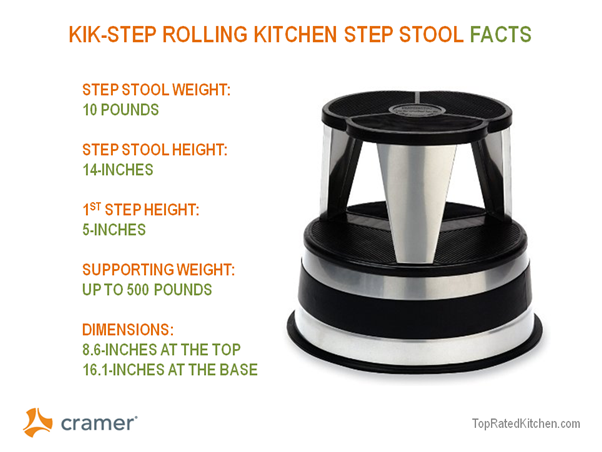 Conclusion
In our opinion and unless you prefer to have more than one around the house, this is a worthy one time purchase that will outlast a lot of other items in the home. The generous 10-year warranty backed by an established company with a 125-year history of engineering quality products makes this a purchase worth considering.
How many lesser quality stools would you need to buy by over that 10-year period? With Kik-Step you can invest in one product with a proven track record that is guaranteed to perform in that same period.
Granted, not the most exciting in gift choices, but this will likely be one of those kitchen must-haves that you or a recipient will wonder how you ever functioned without it.
Pricing for this rolling kitchen stool have been determined by the supplier and not this review website. Pricing WILL vary based on the colors chosen.
Last updated on February 19, 2018 10:26 pm