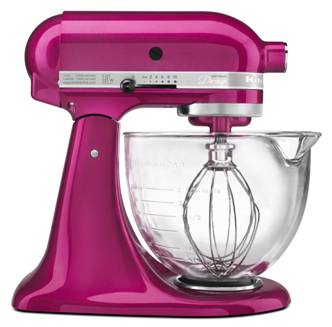 This KitchenAid tilt-head 5-quart stand mixer is from KitchenAid's Artisan Series catering to those who want their small appliances to complement their kitchen design.
An artisan design says you have a unique sense of style, enjoy making a statement while having discriminating tastes.
If you are looking to upgrade an existing stand mixer or are looking for an awesome gift for the baker in your household, then this artisan KitchenAid Model KSM155GBRI mixer has a lot to offer. This may just be the one "appliance" gift that extraordinary someone will enjoy getting on a special day.
Not only does it come in nine (9) stunning color options but it runs quieter than other KitchenAid stand mixer models and has a smaller footprint taking less premium kitchen counter or kitchen island space.
In this review we will cover all the facts and features for the Raspberry Ice artisan tilt-head mixer just because we love the richness in this color. We like the MICROWAVE SAFE glass bowl, too.
After all, in our opinion, why would you pay the price for an "artisan design" and then draw attention away from a unique color with a stainless steel bowl?
There are, however, other artisan mixer colors available (shown in order of color) such as Copper, Electric Blue, Azure Blue, Candy Apple Red, Frosted Pearl White, Plumberry, Sea Glass and Sugar Pearl Silver that share ALL the same features!

You want your stand mixer to cream butter and sugar, blend ingredients and knead dough effortlessly without drowning out a movie or sporting event on television in another room or walking across your kitchen counter.
This mixer will rise to and exceed your expectations in versatility and performance with looks and features, we feel, make this a standout in the kitchen.
KitchenAid Artisan Stand Mixer Features
Owning a stand mixer, that is well made, means you can turn out dozens of delicious cookies, crusty rustic loaves of bread, the fluffiest of egg whites and meringues along with the creamiest frostings and fillings.
With a hub for added accessories, your opportunities to create, in style, are only limited by your imagination. Here are the notable features that ensure this artisan model KitchenAid mixer will deliver for you: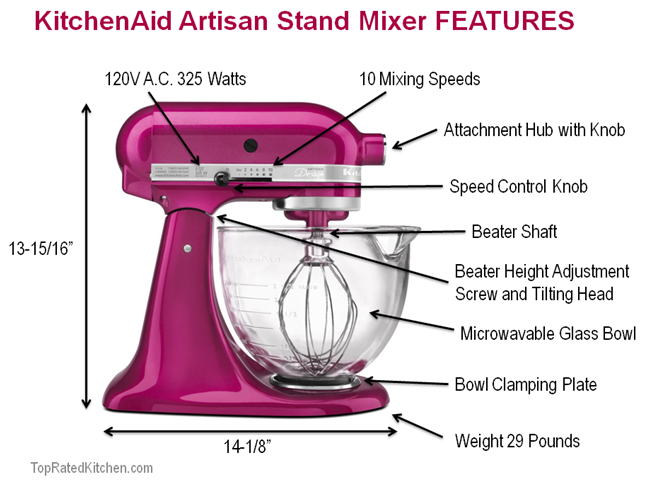 This is a 5-quart stand mixer that has the capacity to handle the ingredients for 9 dozen cookies, 7 pounds of mashed potatoes or 4-1/2 standard loaves of bread.
The attachment hub will provide lots of versatility when supporting KitchenAid's Juicer and Sauce attachment, Ravioli Maker, Pasta Roller and Cutter, Food Processor, Grain Mill and other attachments (sold separately).
You enjoy plenty of hands-free mixing for baking when blending larger batches, get more mixing power, less mess and easy dishwasher safe cleanup.
The tilt up head gives you full range access to ingredients, unlike other KitchenAid mixer models with the adjustable base.
The INCLUDED balloon whisk can beat a mean meringue, heavy cream, sponge cakes or mayonnaise in a fraction of the time while you work on other things.
The INCLUDED dough hook takes all the work out of heavy kneading when making your artisan breads, coffee cakes and rolls.
The INCLUDED flat beater masters ingredients for fluffy cakes, biscuits, meatloaf, quick breads and cream pies.
Using a stable bowl, locked into place on the stand mixer let's you walk away with the knowledge that your mixer won't dance across your counter while rapidly whipping your ingredients.
It prevents the pain, muscle weakness and cramping associated with the potential wrist strain from continuous hand mixing.
The glass bowl features a measurements guide, is dishwasher safe and can be microwaved for softening ingredients like butter or cream cheese.
Preview the Owner's Manual, Warranty and replacement Parts List before you buy.
KitchenAid Stand Mixer Facts
Features and available colors make this a worthy consideration for anyone looking to upgrade their existing stand mixer or buying one new for the first time. Here are the facts surrounding ownership we feel you would want to know:
This KitchenAid Model KSM155GBRI measures 8-3/4 inches WIDE by 13-15/16 inches HIGH by 14-1/8 inches DEEP and weighs 29 pounds. It takes up less space with a lower profile than a toaster oven or coffee maker on your kitchen counter.
KitchenAid offers a one (1) year "Hassel-Free" warranty against any defects in workmanship or materials for this artisan stand mixer. That means if anything happens to your mixer in the first year, they will send you a new one AND take care of your return of the defective model.
What's included in the box is the KitchenAid Artisan mixer base, one (1) 5-quart microwavable glass bowl with measurements, one (1) wire whip, one (1) flat beater and one (1) dough hook. All attachments are burnished metal and not plastic coated. Customers have indicated that the plastic coated attachments are easy to chip.
This model does not come with a pouring shield, but one can be purchased separately.
When compared to other KitchenAid stand mixer models, this runs quieter with less distraction for those in your household not baking.
With extended mixing and heavy use the mixer may feel very warm to the touch HOWEVER, this is normal and expected per the manufacturer.
You may notice an odor on initial use with a new mixer. This is burnoff of factory oils associated with motor assembly. The smell will go away with use.
This operates on 120V standard A.C. household current and has 325 watts of power.
The power cord is approximately 4-feet in length and requires a grounded 3-prong outlet.
Because this Artisan KitchenAid mixer will mix faster than other brand electric stand mixers, mixing times will need to be adjusted so you do not overmix or overbeat the ingredients. Cake batters, as an example, may take up to 50% less time than other models.
The burnished wire whip, flat beater and dough hook are NOT dishwasher safe and should be hand washed.
Pricing for this KitchenAid Model KSM155GBRI stand mixer has been determined by the supplier and not this review website. Amazon's price is 34% BELOW KitchenAid's suggested retail price.
Multipurpose attachment hub, over 15 optional attachments
5-Qt.(2,37 L) Glass Bowl with Measurement Markings
10-Speed Settings
Tilt-head design
Includes burnished metal flat beater, burnished metal dough hook, and wire whip, 1-year warranty
Usually ships in 24 hours
& Free shipping
Last update was in: February 20, 2018 6:58 pm
Multipurpose attachment hub, over 15 optional attachments
5-Qt.(2,37 L) Glass Bowl with Measurement Markings
10-Speed Settings
Tilt-head design
Includes burnished metal flat beater, burnished metal dough hook, and wire whip, 1-year warranty
Multipurpose Attachment Hub
5-Qt.(2,37 L) Glass Bowl with Measurement Markings
59-Point Planetary Mixing Action
Tilt-Head Design
Multiple Colors Available