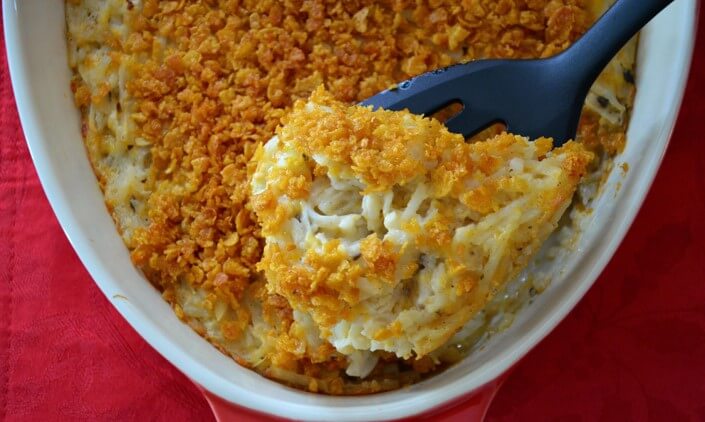 Nothing compliments a baked, fried, roasted or barbecued meats than a warm cheesy potato recipe. A starch just seems to help tie a meal together.
While mashed potatoes are a personal favorite of mine having a cheesy potato recipe that adds a little texture as well as flavor is just as good.
This cheesy potato recipe has been used for years because you can get this lighter hashbrown casserole together in about 10 minutes — it doesn't get any easier than that.
Using lower sodium versions of the canned goods, the fat-free version of sour cream and the lower fat version of the cheese doesn't detract from the warm, creamy cheesy flavor you get with the buttery toasted topping.
Using crushed potato chips adds back some of the salt you eliminate with the low sodium ingredients. Using crushed corn flakes will add more of a toasty flavor and crunch to your topping.
This casserole is an excellent fast pairing for any smoked brisket, deep fried turkey or oven-roasted chicken.
The best part, aside from the taste, is this casserole only has 194 calories per serving. Enjoy!
Cheesy Potato Great Make-Ahead Casserole
Make Ahead Easy Cheesy Potato Recipe
This easy make ahead cheesy potato casserole only has 194 calories per serving which makes it a healthier side dish option.
Ingredients
1-1/2 cups fat-free sour cream
1-1/4 cups reduced fat, finely shredded cheddar cheese
½ cup fat free, low sodium chicken broth
2 tablespoons onion, minced
5 teaspoons melted butter
½ teaspoon cracked black pepper
¼ teaspoon kosher salt
⅛ teaspoon ground red pepper (optional)
1 package (30 ounce) frozen hash browns, thawed
1 can (10.75 ounce) can reduced-fat cream of chicken soup
Cooking Spray
1 cup of coarsely crushed corn flakes or potato chips
2 tablespoons of fresh chopped flat leaf parsley
Instructions
Preheat your oven to 350°F.
Spray a 9x13 baking dish with cooking spray.
Mix first 10 ingredients in a large bowl and then spread into prepared baking dish.
Sprinkle top with corn flakes and bake for 1 hour until bubbly.
Remove from oven and add chopped fresh parsley before serving.