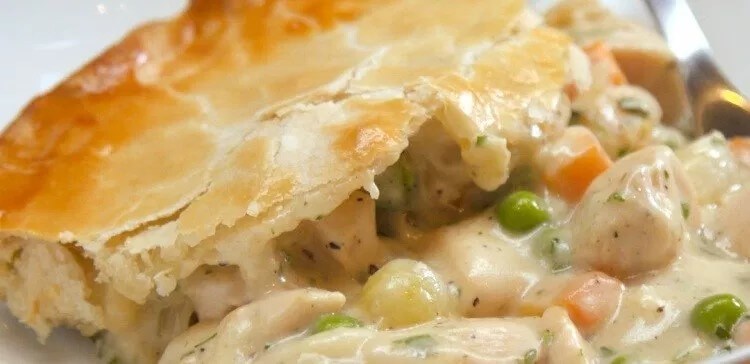 A convenient twist on the traditional chicken pot pie is this chicken pot pie casserole recipe.
We all know that chicken can be prepared in many different ways. Most of us, however, like any recipes that are time saving one dish meals — especially those recipes that preserve flavor and texture while providing that convenience.
Here's an easy and healthy twist on an old standby – a quick and easy chicken pot pie recipe that bakes in a 9×13-inch pan. One of the reasons we enjoy chicken pot pie is its lightly browned, warm, flaky crust and you don't sacrifice that in this recipe. It also fills your kitchen with a warm, comforting aroma!
Great for a family dinner on one of those active week nights, this flavorful chicken pot pie makes 8 servings and the store-bought crust gives it that comfort food look, taste and convenience.
Substitutions in this Chicken Pot Pie Recipe can add Flair
You can kick up the taste on this chicken pot pie recipe by substituting chopped roasted red peppers for the optional sliced pimiento featured in the recipe below.
Not everyone is a fan of pimentos as they are more old-school traditional but roasted peppers or even mushrooms will add that little something extra.
I would caution in using mushrooms as they are full of liquid. This will make the sauce in your casserole a little more liquid unless you saute your mushrooms first.
You can also substitute turkey for chicken. This recipe is flexible so using leftover cooked chicken or turkey can also make this a speedy one dish meal option.
This Chicken Pot Pie Casserole Has Health Benefits
Did you know a single serving of chicken pot pie can provide up to 20 grams of protein and up to 39% of your daily value for protein? Protein is not only essential for muscle growth but is also crucial for eye health as well as hair and nail growth.

Easy, Healthy Chicken Pot Pie Casserole Recipe
Get health benefits, convenience and traditional flavors in this chicken pot pie casserole.
Ingredients
4 Chicken Breasts - Boneless, Skinless
½ cup Green Onion - Chopped Green and White Parts
½ cup Celery - Chopped
1 package (10 oz.) - Frozen Peas and Carrots, Thawed
⅓ cup All Purpose Flour
1 can (14 oz.) Chicken Broth - Low Sodium, Fat Free
1 bouillon cube ground - Chicken
½ teaspoon Cracked Black Pepper
¾ teaspoon Thyme
1 jar (2 oz.) Pimiento Sliced (Optional)
2 ready-made Pie Crust Dough (9-inch)
Instructions
Preheat your oven to 400 F degrees
Cut boneless, skinless chicken breasts into ½ inch cubes
Combine chicken with all remaining ingredients and mix well
Pour into 9x13-inch baking dish (3-quart)
Top with pie crust dough and crimp edges around baking dish
Cut slits in top of pastry crust to allow steam to escape
Convection bake for 30 minutes or until crust is golden brown