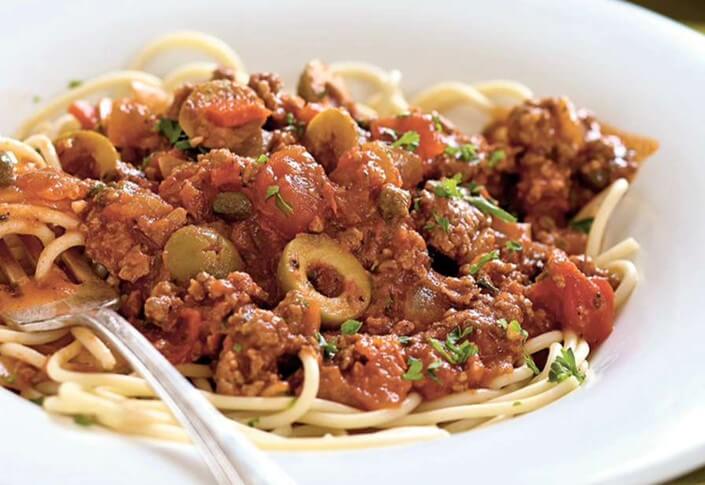 Imagine a crock pot spaghetti sauce so rich and flavorful that you won't be able to go back to the jarred variety.
With so many pre-packaged food options available in our local grocer, it's pretty easy to find a jarred pasta sauce.
The come in many brands with a generous variety of flavors and ingredients and is oftentimes the "go to" when we want a quick-fix meal.
But are we compromising flavor for convenience?
Too often, based on busy schedules, it is just more convenient to take the pre-packaged route. I'll admit I always have jars of pasta sauce in my pantry because I use it often as a base for a lot of my one pot meal recipes.
As a stand alone sauce for pasta, however, I find it a little weak in depth of flavor. For that reason, and when I do want to serve spaghetti as a meal, I make the sauce in my crock pot.
Spaghetti Sauce Health Benefits
Tomato-based pasta sauces according to the Mayo Clinic, contain lycopene which is an antioxidant that helps reduce your risk for cardiovascular disease and cancer.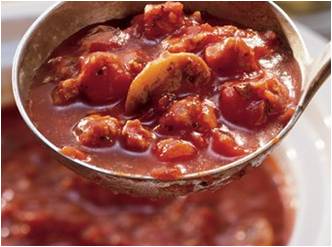 Tomatoes also possess many other healthy nutrients like vitamin C, potassium and folate (a B vitamin that helps build and maintain your cells).
When making the sauce from scratch, as in the crock pot spaghetti sauce recipe below, you get added nutrients from the mushrooms, onions, green peppers and green olives.
Did you know green olives are high in monounsaturated fat (good fat) and Vitamin E?
They also contain polyphenols and flavonoids which have anti-inflammatory properties that protect your heart against diseases, protect your cells from free radicals and can lower your risk for colon cancer.
Why this Crock Pot Spaghetti Sauce?
This recipe certainly has a lot of ingredients but the flavor you get is rich, deep and layered…definitely not a taste you'll ever get from a jar.
The two meats with the wine and the variety of vegetables as well as a crafted blend of seasonings simmered (and unwatched) will give you a sauce worthy of a gourmet chef.
You also can't beat the convenience of a great one pot meal recipe. I hope you'll enjoy this crock pot spaghetti sauce as much as I do!

Best Crock Pot Spaghetti Sauce
Prep time:
Cook time:
Total time:
A thick, rich and flavorful sauce you will want to use time and again. It also freezes well!
Ingredients
½ pound bulk Italian sausage
1 pound lean ground beef
¾ cup chopped green pepper
1 cup chopped red onion
2 garlic cloves, minced
1 can tomatoes, cut up (28-ounce unseasoned)
2 cans tomato paste (6-ounce)
1 cup mushrooms sliced or 1 can sliced mushrooms (6-ounce)
½ cup Burgundy (optional)
½ sliced green olives with pimento
3 bay leaves
1-1/2 teaspoons Worcestershire sauce
1 teaspoon dark brown sugar
½ teaspoon kosher salt
½ teaspoon chili powder
¼ teaspoon ground black pepper
⅓ cup water
2 tablespoon cold water
Parmesan cheese, grated
2 tablespoons cornstarch
Instructions
Brown the ground beef and Italian sausage in a skillet and then drain the fat.
Add the browned meat to your crock pot
Add chopped tomatoes, tomato paste, mushrooms, green pepper, onion, Burgundy, bay leaves, salt, pepper, olives, Worcestershire sauce, chili powder, brown sugar, garlic and the ⅓ cup of water.
Stir, cover and cook on high setting for 6 hours
After 6 hours, blend cornstarch with cold water and slowly stir into spaghetti sauce. Cover and cook an additional 10 minutes
Serve over spaghetti noodles or other favorite pasta.
Top with grated Parmesan cheese