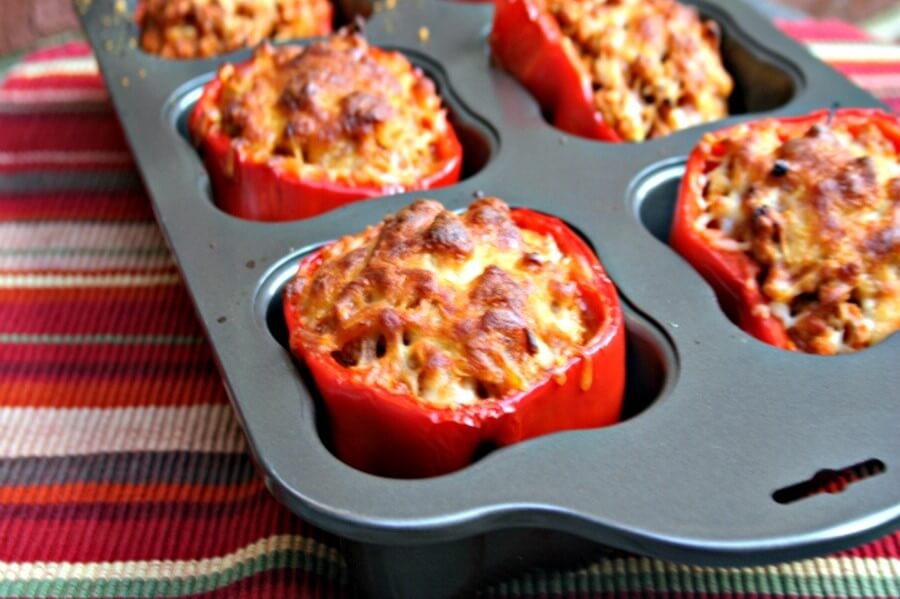 The red bell peppers, in this easy stuffed peppers recipe with ground turkey, adds just a touch of the sweetness often missed when using the more bitter counterpart – green.
This recipe also works well with ground beef or chicken.
You have the option to use whatever color bell peppers you have a taste for or mix it up and use several different varieties for a more colorful presentation – my own preference is using the red.
While green bell peppers have a slightly bitter flavor, the red, yellow and orange bell peppers provide a more mellow, delightful flavor and may cost a little more than their green variety.
Easy Stuffed Pepper Recipe Paired with Healthy Ingredients
Using brown rice, in making this red bell pepper casserole, instead of long grain white rice provides that little extra fiber plus a nuttier flavor and texture and the benefits don't end there.
Did you know that a single cup of brown rice will provide you with up to 88% of your daily requirement for manganese?
There's also been an American Journal of Clinical Nutrition published study that whole grains like brown rice work to maintain a healthy body weight. Did you know that the oil in brown rice lowers cholesterol and substantially lowers the risk for Type 2 Diabetes?
This recipe works just a well using white rice – and the choice is yours – but the health benefits you get with whole grain brown rice are worth considering. Kitchen prep time is quick and assembly is easy.

Red Bell Easy Stuffed Peppers Recipe
This is a fast, healthy casserole using red bell peppers, brown rice and ground turkey.
Ingredients
6 bell peppers (green, red, orange or yellow)
1-1/2 pounds ground turkey or lean ground beef
½ cup yellow onion, chopped
½ cup celery, diced
1 garlic clove, minced
1 teaspoon sea salt or kosher salt
½ teaspoon cracked black pepper
⅛ teaspoon nutmeg
1-1/2 cups cooked white or brown long grain rice
1 can tomato sauce (seasoned or unseasoned 15 ounces)
1 tablespoon dark brown sugar
1 teaspoon fresh lemon juice
1 tablespoon Worcestershire sauce
½ teaspoon basil
1-1/2 cups shredded cheddar cheese (mild or sharp)
½ teaspoon garlic salt
Instructions
Set Oven to Convection Bake 350 degrees F
Clean peppers, cut off tops, remove seeds and membranes
Arrange peppers in a 9x13 inch baking dish
In a skillet, cook ground meat, onion, celery, minced garlic, kosher salt, cracked pepper and nutmeg until meat is browned (about 5 minutes)
Add cooked rice and mix well
Combine tomato sauce, Worcestershire sauce, garlic salt, basil, brown sugar and lemon juice
Pour ¾ of the sauce into the meat/rice mixture
Fill each pepper
Convection bake for 30 minutes until peppers are tender
Serve topped with remaining sauce and cheddar cheese
Bake an additional 5 minutes until cheese is melted