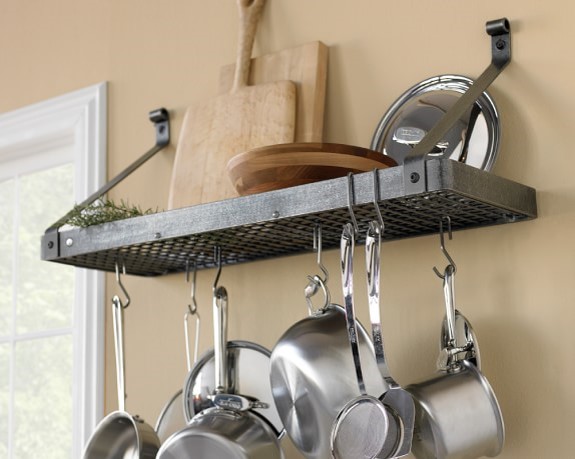 Who can't use a little extra room in the kitchen? A wall mount pot rack might just be the solution to cabinet space problems.
There are a number of designs available to suit any kitchen theme and the right pot and pan rack can give you a shelf or two in addition to hanging hooks or brackets.
Ceiling hung pot racks are popular over kitchen islands but many kitchens cannot accommodate the space (both ceiling and circulation) needed for this style of rack — this makes a wall installed pot rack all the more an attractive option.
Consider these 10 reasons for choosing a wall mounted rack together with 5 top rated styles (in no particular order):
Top 10 Reasons Why a Wall Mount Pot Rack Works
A wall mounted rack for pots and pans comes in a number of finishes like wood, stainless steel, painted metal, aluminum, copper and wrought iron making it easy to find something to complement your kitchen
Mounted on a wall instead of suspended from a ceiling allows you more free space for moving around — especially in smaller kitchens
You are less likely to bump into a wall-mounted pot and pan rack when compared to a ceiling-mounted racks
Some wall mount options offer top and bottom shelving that adds a little extra storage bonus
Hooks on the racks are generally adjustable to accommodate spacing for pots and pans and hooks can be added
A bookshelf-style pot rack not only looks professional but provides easy access for storing cook books and other items you want accessible yet out of the way
Because a wall-mount style pot and pan rack is flat on the wall side you get extra support for heavier cookware – don't worry about hanging some cast iron skillets!
Wall mounted racks are generally more affordable than ceiling hung racks and are easier to install
The big benefit is the space you will gain in cabinets, drawers or your pantry by employing this alternate option for storage
It's not just for kitchen storage — it works for hobby rooms, craft areas, kids rooms, garages and any place you need storage
Here are 5 Top Rated Wall Mount Racks to Consider
Before selecting a wall rack, choosing a spot is the first step in determining the right-sized piece to fit in your kitchen — ideally, this style pot and pan rack works well between or next to cabinets, or mounted over stoves where there is sufficient clearance for your pots, skillets and utensils to hang.
You will want to be sure that the rack is sized to provide adequate clearance around pots and pans and that cabinet doors or drawers won't interfere.
The wall rack is best mounted at a comfortable reaching height so you don't need to strain when removing a heavy skillet or pot from its hook and it is easily accessible for wiping down when you want to clean it. Simply screw into wall studs or attach with some sturdy drywall anchors per manufacturer's recommendations.
No. 1 – Cuisinart Polished Copper Wall Mount Bar-Style Pot Rack

Who doesn't love the elegance of polished copper? Cuisinart is a long standing well-trusted brand synonymous with quality workmanship.
This bar-style pot rack projects a mere 1-1/2 inches from your wall with 4 bolts that attach to wall studs. The rack comes with 5 hooks for pots, pans or utensils and extra hooks can be added as an option.
Cuisinart stands behind their cooking and pot racks with a lifetime warranty ensuring years of use and convenience.
There are 28 reviews on Amazon — All are 5-star rated happy owners.
No. 2 – Old Dutch International Wall Mounted Bookshelf Style Pot Rack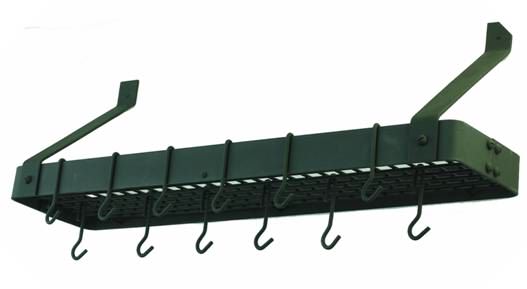 Old Dutch International is an importer, since 1950, of fine kitchenware, giftware and decorative accessories for the entire home. Their pot racks are especially popular and affordable. The heavy gauge black electro-plated metal finish on this pot and pan rack adds a rustic feel to your kitchen. The rack itself is a weighty 30 pounds so installation of this heavy duty option, complete with shelf, is better suited for attaching to wall studs.
It comes with 12 adjustable hooks. Users say it's easy to install and very well built considering its surprisingly affordable price.
28 out of 28 reviews on Amazon are either 4-Stars or 5-Stars and all users would recommend this style rack.
No. 3 – Rogar Wall Mount Double Bookshelf Pot Rack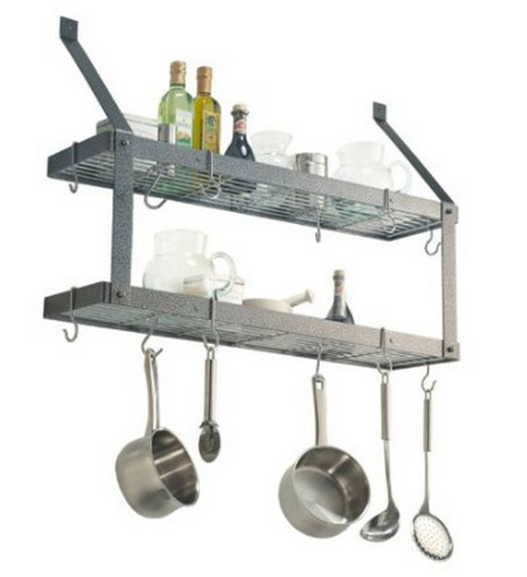 Rogar International Corporation was originally founded in Abilene, Texas back in 1975. Their mission then, as now in their Virigina location, is to design, manufacture and market top quality products with fine craftsmanship. They are a recognized leader in the sales of quality, affordable hanging and wall-mounted pot racks. This double bookshelf-style rack comes in a number of finishes and includes two roomy wire shelves for added storage.
Users have installed this rack in under 20 minutes marveling in the fact that it only takes up 35″ of wall space and can handle upwards of 60 pounds of pot and pans to give someone that extra storage.
Again, a great option for small spaces and not just restricted for use in the kitchen. This will also come in handy for hobby, craft, toy and garage storage alternatives. Get creative!
There are 24 users who have given this wall mounted rack 5 out of 5-stars.
No. 4 – Kinetic Wrought Iron, Enameled Half Round Wall Pot Rack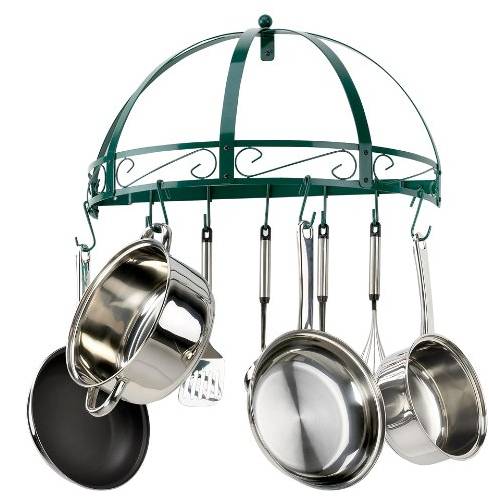 Want to add a little splash of color and tradition to a wall mounted pot and pan rack? Check out this half-dome, wrought iron, painted wall mount rack made by Kinetics. Smaller in actual size than the image, it measures about 24-inches wide and holds up to 40 pounds in weight.
It comes with a 5-year manufacturers warranty and easily installs with a drill, hammer and screwdriver.
Users buying originally for the classic design were wowed by the quality of construction. All 8 out of 8 reviews for this half dome rack gave it 5-stars.
No. 5 – Enclume Artisan Crafted Wall Mounted Corner Pot Rack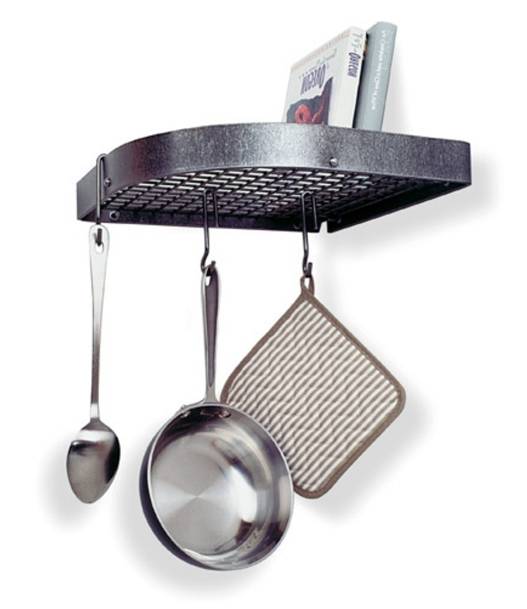 Enclume may not be as main stream as some of the other featured pot manufacturers shown above, however, those who have the pleasure of owning their pot racks can attest to the quality craftsmanship in every piece produced.
Based in Port Hadlock, Washington, their craftsmen employ time-honored French metal-forming equipment, all key fabrication steps are performed by hand. Their best-selling rack, contains six major components and requires over sixty handling steps to complete. The process of multiple "touches" ensures you get superior quality workmanship.
Their products are only produced in small lots of about 30-60 at a time. Because of their attention to detail, some find the cost of this brand pot rack a little more expensive than those that are massed produced.
This featured corner rack measures 12.5 inches wide and 12.5 inches deep,  and is made from hammered steel for a more traditional look. Of the 5 reviews on Amazon for this  pot rack, all 5 rated the workmanship 5-stars.
Sample Wall Mounted Pot Rack Installation Video
While the task of installing a wall mounted pot rack may put some people off from even buying one, here's a short video to show you how easy installation can really be.