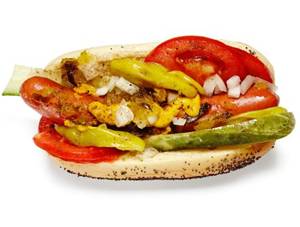 Why let some bad weather spoil your desire for grilled hot dogs when you can get that right-off-the-grill barbecue taste with the Waring Pro HDG150 Professional Hot Dog Griller?
Want a snack while watching your favorite sporting event but don't want to miss a potential big play by standing at the grill?
Now you can set up shop in your kitchen without having to tend to a charcoal or gas grill. If you are a fan of hot dogs, then this is worth a look.
Hot Dog Roller Grill with Bun Warmer Basics
The HDG150 by Waring Pro is one great little hot dog machine that can cook up to 6 hot dogs in 8 minutes — hardly worth heating up an outdoor grill for and you are not restricted to just hot dogs. For a little variety, you can also use this hot dog machine for cooking other favorites like:
You might even choose to get a little creative and use it for kabobs.
This is a 200-watt, 4-roller hot dog cooker that measures just 17.5 inches by 8.75 inches by 5.5 inches. This is easily stored on a kitchen counter, in a kitchen cabinet, under a cabinet or in a pantry.
Features of the Waring Pro Professional Hot Dog Roller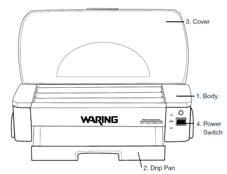 This hot dog roller with bun warmer couldn't be any easier to operate. The power switch located in the front of the hot dog cooker has high, low and off functions. The light above the switch indicates "red" when the unit is on.
The high setting can be used for pre-heating the HDG150 and cooking hot dogs. The low setting can be used for keeping hot dogs warm and for making cleaning easier. Both the high and low settings cause the hot dog rollers to turn.
To clean the hot dog rollers, turn the unit on LOW and wipe rollers with a warm wet dish cloth or paper towel.
There is a drip pan that is located below the hot dog griller that catches any dripping cooking fats or pieces of hot dogs, sausages, fruits or vegetables that may fall through the rollers.
Facts about this Waring HGG150 Hot Dog Roller Machine
Waring Pro offers a one (1) year warranty on any parts that prove defective in material or workmanship
They also offer a limited five (5) year warranty on the hot dog roller motor
The rollers in this hot dog cooker are non-stick coated
This unit is plugged into a standard 120V AC wall outlet
It should be preheated on HIGH for 5 minutes before each use
For the first few uses it MAY emit smoke or odor which is normal due to manufacturing process residue — this is to be expected and is part of the curing process
The drip pan is NOT dishwasher safe and should be hand washed in warm soapy water
Hot dogs will take about 8 minutes to cook
Sausages, depending on thickness may take up to 20 minutes to cook
The hot dog griller cover is plastic and should ALWAYS be open during the cooking process
This Waring Pro griller should be used on a heat-resistant and even surface in a ventilated area
Non-stick utensils are recommended by the manufacturer when removing hot dogs so the non-stick surface is not scratched
Hot dogs and sausages will sizzle while cooking
HOT DOG ROLLER COOKING TIP
To shorten the cooking time for something like thicker sausages, placing them in the microwave for 30 seconds first will start the process — then you can finish the cooking on the Waring Pro to get that crunchy, caramelized skin that makes them taste so good.
Overall, this is a great value with a lot of opportunities for creativity beyond cooking hot dogs. It provides a convenient way to have grilled franks or sausages without having to heat up an entire grill surface or worry about changing weather conditions.
It is also a great idea for apartment and condominiums with wood decks where grills may not be allowed.
Tagged with: hot dog broiler • hot dog machine • hot dog roller • hot dog roller grill • hot dog roller machine • hot dog warmer
Filed under: Small Kitchen Appliances