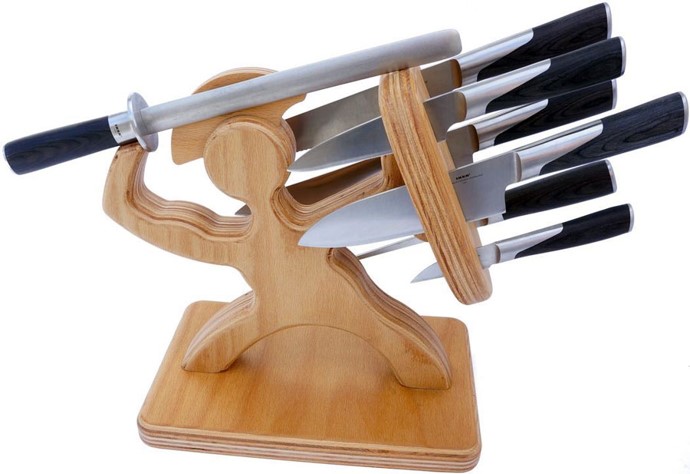 A good kitchen knife or set of knives is a kitchen essential as is kitchen knife storage.
Why research the best kitchen knives to buy and the best way to sharpen a blade without looking at protecting your investment with of a range of kitchen knife blocks?
Knife blocks are available to suit just about anyone's needs.
Not everyone has the counter space to support the iconic knife storage block so there are in drawer knife block alternatives that provide protection — just out of sight.
Because many of us have acquired our assortment, over the years, as single purchases — it's time to get organized. You may find you'll need to sharpen your blade less frequently and your knives will last longer.
Knife blocks come in all shapes and sizes — some are designed as works of art, others in exotic woods, still others for form and function — each catering to the preferences of the buyer.
We've taken a few of the many options available and reviewed those we felt had the most to offer.
Victorinox Swiss Army Swivel Universal Knife Block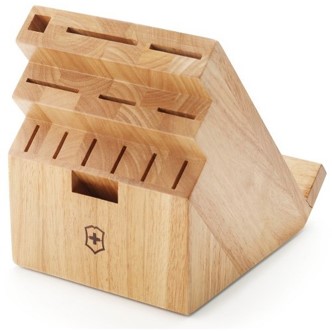 Victorinox came up with a knife block design that addresses form and function in their swivel base wooden knife block. It not only holds up to 11 knives but can also accommodate a pair of kitchen shears and a honing steel for keeping your blades sharp.
With the popularity of tablets and E-readers like those made by Apple, Amazon, Samsung, Microsoft, this wooden block can hold a multi-media device or a cookbook making time spent in the kitchen more convenient.
Victorinox has been in the knife business since opening their first cutlery workshop back in 1884.
Their name and products are synonymous with quality and they are an industry leader and a strong internationally recognized brand.
Facts about this Victorinox Swiss Army kitchen knife block:
Swivel base has 360 degrees of rotation for easy cookbook or multi-media device use
It has 13 slots for various sized knives, kitchen scissors and sharpening steel
Block storage holds up to six (6) steak knives, a 2-inch Chefs-type knife and four (4) other average to smaller width blades
This Victorinox block available in a natural or dark wood stain to compliment any kitchen decor
This wooden (hardwood) knife block weighs just over 6 pounds and measures 9.5 x 6.6 x 8.5 inches
Knives in the block keep it balanced when using it with a cookbook so the swivel works smoothly
Features quality natural hardwood materials — well sealed to prevent staining and water damage
This will likely not accommodate all your kitchen knives but handy for those most used
For a much as we liked the convenience of the swivel base on the Victorinox on counter kitchen knife block, we also liked the under counter or under kitchen island knife storage option like that made by Wusthof.
Wusthof Under Cabinet Swing-style Knife Storage Block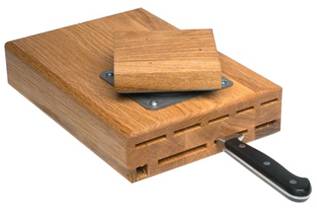 During meal prep it is nice to have your knives ready and waiting at your work counter.
Oftentimes the counter is cluttered with various seasonings and ingredients, so having them handy just below your prep surface may be an option to consider.
If you are short on counter space or have a kitchen island you generally work from when preparing meals then an under-counter mounted knife storage unit may be worth considering.
This Wusthof 8001 wooden knife storage block is also on a swivel that mounts under your kitchen cabinet or island and swings out for easy access to your knives.
There is a strong magnet inside of the wooden storage block that holds the knives securely by their blade.
Made by Wusthof, a seventh generation family business that has been around since 1814, you can be confident they know a little bit about knives.
Facts about this Wusthof Under Cabinet Knife Block:
The 360 degree swivel base mounts with 3 screws under any cabinet or work surface
Rotation allows you to keep knife blade handles hidden — nothing will protrude from under your cabinet
It has 8 slots plus one for a sharpening steel – one slot is wide enough to accommodate an 8-inch Chef's knife
Block features a strong magnet to hold blades securely in place
The sharpening steel slot measures 1/2 inch by 1/2 inch square
Made from oak hardwood, this knife block weighs about 4-1/2 pounds and measures 10-inches by 8-inches by 4-inches
Features quality natural hardwood materials — well sealed to prevent staining and water damage
Those considering this under cabinet knife storage block may need to make adjustments during installation based on the configuration of their cabinets or work surface for secure fit and full base rotation
This provides the convenience of having your most used knives at hand in a space saving design
If you are looking for a little freedom from the slot size restrictions found in traditional knife blocks then a true universal knife holder like the one made by Bodum below is definitely worth a look.
Bodum Bistro Slot-Free Universal Knife Block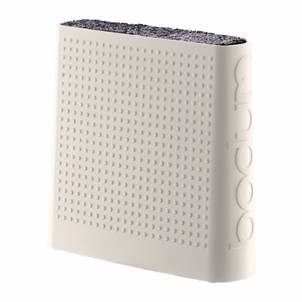 Many wooden traditional knife storage units have 8 or more slots to accommodate different sized kitchen knives.
Most of the slots will handle steak knives, paring knives or smaller utility knives with only a couple large slots for chef knives.
This slot-free universal knife storage block uses densely packed black plastic rods to keep knife blades in place.
Knives are inserted into the rods anywhere within the textured plastic container allowing you to store up to 16 knives for easy access.
The density in which the rods are packed keep the blades from touching ensuring retention of a sharp edge.
Much smaller overall than a wooden block-style holder, this unit saves on counter space, comes in several different colors (if you want a little splash added to your kitchen decor) and is completely dishwasher safe.
The Bodum Bistro block is soft to the touch with a textured finish to keep it from slipping should your hands be wet.
Facts about this Bodum Bistro Universal Knife Block:
The Bodum Bistro measures 2.6 x 8.9 x 8.5 inches
Densely packed removable plastic sticks hold knives in place
There are no magnets or slots required for a secure fit
Takes less counter space than a traditional wooden block knife storage unit
Comes in four (4) different colors of textured plastic to coordinate with kitchen decor
Plastic rods in the Bodum Bistro are removable and can be cleaned in the dishwasher
Silicon feet on the bottom of the knife block keep it from slipping on counter surfaces
All components are man-made materials
Based on measurements, inserting any knives with a blade longer than 8-inches will have a portion of the blade showing if inserted straight and not at an angle
This knife block is not angled like other knife storage blocks so users will need to lift up and out unless they tilt the unit forward when retrieving a knife – knives with longer blades can be inserted at an angle
Featured on America's Test Kitchen with the following comment: "The Bodum, however, represented an upgrade: Not only did its narrow frame hold nine knives in a more compact footprint, but it completely sheathed all but a 12-inch slicer once the knives were inserted diagonally."